This kit selectively zooms into any bacterial population of microbiome samples and provides comprehensive profiling based on all 9 variable 16S rRNA coding regions and barcode-based molecular counting. It also features a multiplex workflow that pools 24 samples into a single tube with less than 3 hours of hands-on time.
It's the perfect kit for labs looking for better data from samples with high background of non-bacterial DNA.

Compatible with all Illumina instruments*
*HiSeqs, NextSeqs, and NovaSeqs are recommended for per base cost benefits.



Supercharge your research with the power of LoopSeq single-molecule, long-read microbiome sequencing:









Multiplex workflow: Pool all samples into a single tube.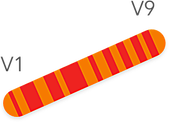 Long-reads: Read V1-V9.






Species classification: Higher resolution microbiome classification






True quantification: Barcode based quantification with no PCR bias

Related Links
Loop Genomics Core Technology
Microbiome NGS Services

Downloads
- Will open in new browser window