Reactive Oxygen Species (ROS) Detection Assay Kit Add to Cart
| | |
| --- | --- |
| Cat#: | K936-100-BV |
| Quantity: | 100 assays |
| Price: | 246 € |
| Supplier: | BioVision |
| Shipping: | Blue Ice |
User Manual
• Measurement of intracellular levels of ROS
• Fluorescence Detection (Ex/Em = 495/529 nm)
• Screening compounds with a stress inducing and/or antioxidant function
• Non-Radioactive, no special handling or disposal required
• High-Throughput
• Reproducible results with low intra & inter assay variability


Constant generation of low levels of reactive oxygen species (ROS) and free radicals is a basic feature of all living cells. Low levels of ROS play an essential role in signaling pathways, whereas increased under oxidative stress, ROS activity result in damage to nucleic acids, proteins and membrane lipids. Accumulation of ROS during oxidative stress is also associated with aging, apoptosis or necrosis, and is implicated in pathological conditions such as; vascular diseases, diabetes, renal ischemia, arteriosclerosis, pulmonary disorders, inflammatory diseases, and cancer. Cellular activity of ROS is offset by antioxidants, numerous repair systems, and replacement of damaged DNA.

Probes for measuring intracellular ROS levels provide important tools to study oxidative stress inducers and effects of antioxidant therapies. BioVision's ROS Detection Assay Kit is designed for detection of hydroxyl, peroxyl, or other reactive oxygen species in live cells. We utilize H2DCFDA, a unique cell-permeable fluorogenic probe, compatible with phenol red, FBS and BSA to detect reactive oxygen species in live cells. Upon the cell entry, H2DCFDA is modified by cellular esterases to form a non-fluorescent H2DCF. Oxidation of H2DCF by intracellular ROS yields highly a fluorescent product that can be detected by FACS, microplate reader, or fluorescence microscope (Ex/Em 495/529 nm). The fluorescence intensity is proportional to the ROS levels.

The kit provides a simple and specific assay for the real-time measurement of global levels of ROS in living cells. Sufficient reagents to perform 100 assays are included as well as a common ROS inducer as a control for measurement of ROS levels or antioxidant activity with high sensitivity, specificity and accuracy.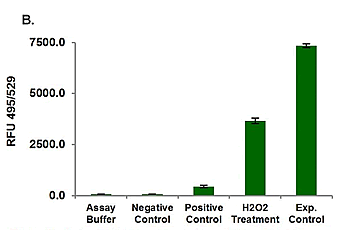 Analysis of oxidative stress in live cells based on ROS staining.
Live cells labeled and treated with ROS Inducer and 100 µM of H2O2 according to the kit protocol. 1x105 Jurkat cells where analyzed on a plate reader. Mean+/- standard deviation plotted for 3 replicates per condition.


Related Links