NirFP-C Vector (Near Infrared Shifted Mutant of TurboFP635 (Katushka) Add to Cart
| | |
| --- | --- |
| Cat#: | FP741-EV |
| Quantity: | 20 ug |
| Price: | 406 € |
| Supplier: | Evrogen |
| Shipping: | RT |

NirFP Fluorescent Protein Vectors
When ordering 2 or more vectors encoding NirFP you will receive a 50% discount on the second and subsequent NirFP vectors.
Please use promotion code EV13 when placing your order.
Other NirFP vectors:
Data Sheet
• Near-infrared fluorescence with emission maximum at 670 nm
• Extremely high photostability
• Fluorescent signal is easily distinguished from background fluorescence
• Recommended for multicolor applications

NirFP (scientific name eqFP670) is a red-shifted variant of TurboFP635 (Katushka) [Shcherbo et al., 2010]. NirFP is characterized by a strong bathochromic shift, with excitation and emission peaks at 605 nm and 670 nm, respectively. It is currently the most red-shifted fluorescent protein available, with approximately half of emission falling in the infrared part of the spectrum.
The brightness of NirFP in the 700 - 900 nm region upon excitation at 635 nm is about 4 times higher than the brightness of TurboFP635 and 1.6 times higher than the brightness of TurboFP650. The protein does not show residual short wavelength fluorescence of intermediate or alternative chromophore forms, in contrast to E2-Crimson, which exhibits a second bright blue emission peak, and mNeptune, which has a pronounced green peak.
NirFP is characterized by high pH stability and extremely high photostability that should allow for accumulation of the fluorescent signal over long exposure times.
NirFP is recommended for multicolor applications. It can also be used for whole body imaging utilizing long wavelengths for excitation (e.g., 633 or 635 nm laser lines).

Performance and Use
NirFP can be easily visualized within living tissues. Mammalian cells transiently transfected with NirFP expression vectors give fluorescent signals in 48 hrs after transfection. No cytotoxic effects or visible protein aggregation are observed.
Despite its dimeric structure, NirFP can be used in some fusions. However, for protein labeling applications we recommend using specially optimized monomeric TagFPs.
NirFP can be used in multicolor labeling applications with blue, cyan, green, yellow, and red (orange) fluorescent dyes.

NirFP can be recognized using Anti-tRFP antibody (Cat# AB233-EV and AB234-EV).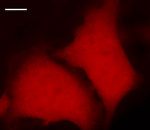 HeLa cells transiently transfected with pNirFP-N vector.
Widefield Leica AFLX 6000 microscope, 63x objective, after 3 days of incubation. Scale bar, 10 um. Image from Shcherbo et al., 2010.
Related Links
Red Fluorescent Proteins Overview
Anti-tRFP Antibody

Reference
Shcherbo, D et al (2010) Near-infrared fluorescent proteins Nat Methods [Epub ahead of print] / pmid: 20818379 .