Exosome Characterization by NanoSight Service (NTA Service, Nanoparticle Tracking Analysis Service) Add to Cart
| | |
| --- | --- |
| Cat#: | CSNANO100A-1-SBI |
| Quantity: | Nanosight Data and Analysis |
| Price: | 610 € |
| Supplier: | System Biosciences |
Please
contact us
for further information.
Send your biofluid samples (serum, urine, media, CSF, etc.) to BioCat - our partner
SBI will isolate and characterize exosomes. Or you can also send exosomes you have already isolated. SBI will perform the nanoparticle tracking analysis. Each sample will be gently vortexed at 2.5k for 10 sec and then bath sonicated for 10 min at 33°C to ensure adequate exosome dispersion in the solution. NanoSight measurements are carried out in 0.02 um filtered PBS to remove any background and then visualized on an LM10 NanoSight instrument.

SBI provides the particle analysis data, measured in triplicate in reports that show the mean, mode diameter size of the exosomes as well as concentration of the exosomes. Each sample is visualized independently and a video recorded of the data collection. This data video is also supplied as a .wmv file included in the service.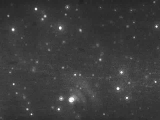 Shown above are exosomes moving in Brownian motion and the laser light scattering is recorded and each particle tracked


Additional costs for shipping your samples to our service partner might apply – please contact us for a quote.
Downloads
- Will open in new browser window