SoluBL21 Chemically Competent E. coli Add to Cart
| | |
| --- | --- |
| Cat#: | C700200-GL |
| Quantity: | 10 x 50 ul |
| Price: | 375 € |
| Supplier: | Genlantis |
| Shipping: | Dry Ice |
User Manual
Express insoluble proteins in soluble form
• Optimized E. coli strain for expressing proteins in soluble form
• Simple and straightforward protocol
• Compatible with all T7 promoter-based expression vectors

SoluBL21 Competent E. coli is a significantly improved BL21 host strain for soluble mammalian protein expression.
Using a directed evolution approach, Genlantis scientists have developed a mutant strain of BL21(DE3) E. coli that can produce soluble protein in the majority of cases where expression in the parent BL21(DE3) yielded no detectable soluble product.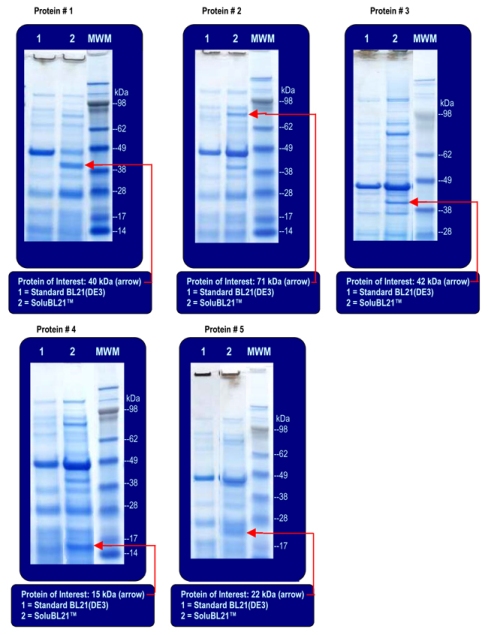 Expression of Insoluble Proteins in SoluBL21 vs. standard BL21(DE3) E. coli:
A panel of 22 clones that produced little or no soluble protein in standard BL21(DE3) cells were induced side-by-side in BL21(DE3) and SoluBL-21 E. coli. These clones encoded for a wide range of proteins including: cell cycle proteins, ATP-binding proteins, transferases, isomerases, kinases, and repair enzymes from human and other mammalian sources. With the SoluBL21 strain, ~70% of previously insoluble proteins were expressed in soluble form. Examples of SoluBL21-expressed proteins are shown above.
With the SoluBL21 strain, a major obstacle to effective protein expression in E. coli has been overcome for many mammalian proteins. This significant improvement should enable scientists to make progress in a wide range of applications quicker and far less expensively than in the past.

Contents
SoluBL21 Chemically Competent E. coli 10 x 50 ul
SOC Medium 5.0 ml
pUC19 Positive Control Plasmid 20 ul (500 pg/ul)

Shipping
The SoluBL21 Chemically Competent E. coli are shipped frozen. For maximum stability and long-term use, store the cells and pUC19 control plasmid at -70ºC upon receipt. All components are guaranteed stable for 6 months when stored properly.
Related Links
SoluBL21 Electrocompetent E. coli
T7 Cloning and Expression System with SUMO Solubility Tag

Downloads
- Will open in new browser window