Swift Amplicon 16S+ITS Panel Add to Cart
| | |
| --- | --- |
| Cat#: | AL-51648-SWI  |
| Quantity: | 48 rxns |
| Price: | 1287 € |
| Supplier: | Swift Biosciences |
| Shipping: | Dry Ice |
User Manual
Comprehensive, solves 16S sequencing issues, and saves costs.
Swift Amplicon 16S+ITS is a microbial identification panel which targets the 16S rRNA gene (V1-V9) and ITS in a single primer pool.

• Covers all variable regions of 16S for bacteria and archaea
• Also covers ITS1 and ITS2 for fungi
• Unique single pool multiplex PCR chemistry
• Solves sequencing complexity issues
• Saves cost and shortens turnaround time
• No PhiX or phased primers required
• Allows 2x150 reads
• Short, 2-hour workflow

Swift Amplicon Panels enable the preparation of high quality targeted next-generation sequencing (NGS) libraries from a variety of sample types. Adapters are included for dual indexing and multiplexing up to 96 samples on a sequencing run. The single-tube workflow from DNA to library can be completed within two hours.

Workflow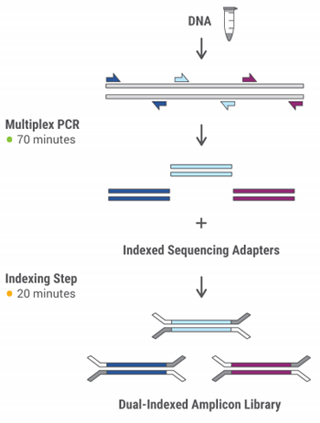 Applications
• Metagenomics: Bacteria, Archaea, Fungi
• Environmental: Air, Water, Wastewater
• Agriculture: Plant microbiome, Soil – ITS for fungal
• Microbiome: Human – skin, GI tract, stool, vagina, Plant – surface, roots and soil
• Forensics: Microbiome to establish time of death
• Detection and characterization of bacterial and fungal structure in complex samples

The kit provides a single primer pool covering all the variable regions of the 16S rRNA
gene (V1-V9) and the Fungal ITS1 and ITS 2 genes, library preparation reagents, and
Illumina®-compatible adapters.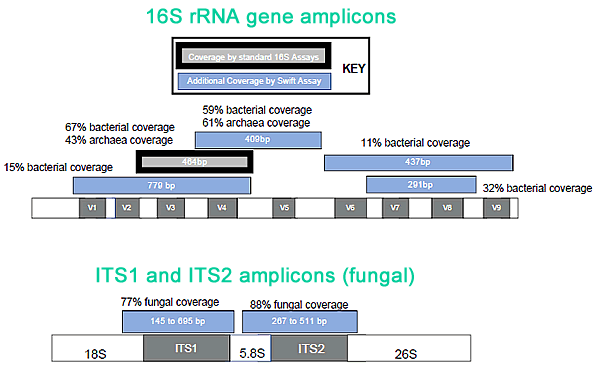 Figure 1. The Swift Amplicon 16S+ITS panel generates libraries covering all variable regions of 16S and fungal ITS1/ITS2 targets, unlike conventional 16S rRNA gene assays that target only V3-V4, or region-specific single-plex primers that require phased reverse primers and result in low complexity libraries with limited sensitivity and low-quality sequencing.


Provides Superior Representation of a Diverse Microbial Community
Versus V3-V4 Only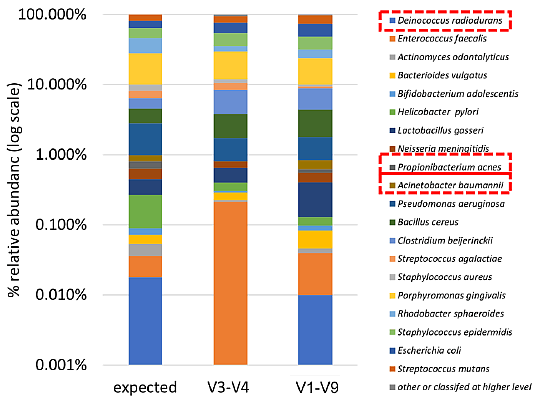 Figure 2. The Swift Amplicon 16S+ITS Panel covering all V1-V9 regions provides sensitive detection and accurate representation of each species in the sample compared to standard methods interrogating the V3-V4 region alone. Organisms marked in red were underrepresented by V3-V4 only method. Input DNA was a mix of 20 bacterial species (ATCC MSA-1003) tested with the Swift Amplicon 16S+ITS Panel, sequenced with Illumina® MiSeq® V3 (2x300bp reads).


Consistent Performance with Varying DNA Input, Sample Type,
and Read Length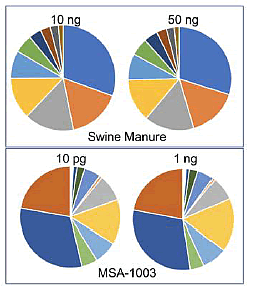 Figure 3. Using the same protocol and cycling conditions, input quantities of 10 pg to 50 ng with both ATCC MSA-1003 (bottom) and swine manure (top) gave consistent and expected sequencing results in terms of sensitivity and relative abundance.







Figure 4. Comparison of 2x150 and 2x300 PE reads. The Swift 16S+ITS Panel identified a comparable number of species from swine manure samples.


Specifications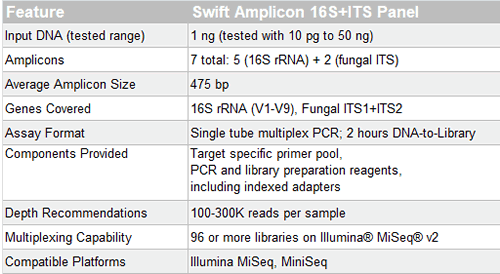 Related Links
96-reaction Kit
Norgen Stool Nucleic Acid Collection and Preservation

Downloads
- Will open in new browser window