Accel-NGS XL Library Kit - (16 rxns) Add to Cart
| | |
| --- | --- |
| Cat#: | 71016-SWI |
| Quantity: | 16 rxns |
| Price: | 5178 € |
| Supplier: | Swift Biosciences |
| Shipping: | Dry Ice |
User Manual
• Generates average read length up to 20 kb
• Ready-to-sequence libraries in 1 day
• Simple assay for whole genome sequencing
• Inputs as low as 2 µg
• Enhanced repair and ligation chemistry
• Reduced labor cost and error rates with less sample processing
• Compatible with a wider range of sample input amounts

The Swift Biosciences Accel-NGS XL Library Kit designed for the Pacific Biosciences (PacBio®) platform is the fastest sequencing solution for genome assembly and haplotype sequencing on PacBio platforms. Long-read sequencing technology provides better coverage to sequence difficult genomic regions including low complexity, repetitive elements, or large structural variation. Until now, the standard protocol has had a long workflow that reduces your productivity.

The Accel-NGS XL Library Kit for PacBio is a novel library preparation kit optimized for Pacific Biosciences' Single Molecule, Real-Time (SMRT®) sequencing. It provides significantly longer read lengths from less sample input along with a simple workflow to accelerate your path to discovery. At the core, this library prep kit leverages Swift's enhanced repair and ligation chemistry to produce a high library conversion rate, while simultaneously preventing adapter dimer formation and preserving DNA integrity.

This kit replaces the PacBio SMRTbell™ Template Prep Kit and works in conjunction with the PacBio DNA Polymerase Binding and MagBead loading kits. It is compatible with the PacBio RS II and Sequel™ platforms and contains sufficient material for constructing 16 sequencing libraries.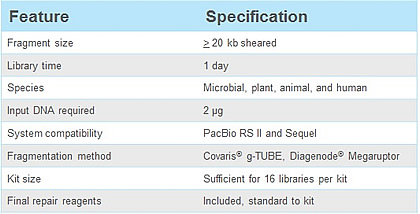 Workflow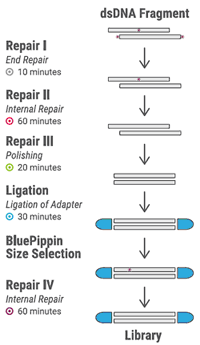 The Accel-NGS XL workflow provides a simple protocol consisting of 2.5 hours of repair steps and a 30-minute ligation step, yielding a ready-to-sequence library in 1 day.
This simple workflow includes 5 incubation steps for internal and end repair, and ligates adapter sequences to the ends of fragmented dsDNA.


Swift's workflow with five bead clean-up steps as compared to the PacBio workflow with overnight ligation and multiple tube transfers



Each color indicates a tube transfer. When comparing workflow diagrams, refer to Pacific Biosciences' Procedure and Checklist - 20 kb Template Preparation Using BluePippin Size-Selection System.


Accel-NGS XL Library Kit Offers Adapter Dimer-Free Ligation Chemistry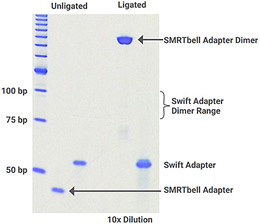 This kit offers a fast, efficient ligation step that prevents adapter dimers. Based on Swift´s proprietary 2S technology, the protocol eliminates laborious post-library prep clean-up steps, thereby allowing use of the BluePippin size selection prior to library preparation, if desired.
Downloads
- Will open in new browser window