Accel-NGS 2S Hyb DNA Library Kit for Illumina - 24 reactions Add to Cart
| | |
| --- | --- |
| Cat#: | 23024-SWI  |
| Quantity: | 24 rxns |
| Price: | 723 € |
| Supplier: | Swift Biosciences |
| Shipping: | Dry Ice |

Select an indexing kit matching your hybridization capture technology:
| | | |
| --- | --- | --- |
| Agilent SureSelect | NimbleGen SeqCap EZ | IDT xGen Lockdown Probes |
Click for selection guide
User Manual
NGS Prep for Hybridization Capture
Whole Exome Sequencing and specific gene panel targeted sequencing -
minimize duplicates, maximize sequencing data

• Compatible with all major capture technologies
• Validated for as low as 1 ng human DNA
• Sequential repair steps for damaged samples
• Compatiblity with low input cfDNA and FFPE samples
• Exceptional library prep efficiency and library complexity for deep sequencing
• Proprietary adapter attachment chemistry minimizes bias and supports low input
• Excellent evenness of coverage, balanced coverage of AT-/GC-rich regions
• Readily automatable

A variety of indexing kits allow for compatiblity with all major hybridization capture technologies:

- Agilent SureSelectXT and SureSelectXT2
- NimbleGen™ SeqCap™ EZ
- IDT® xGen® Lockdown® Probes

Go to the product line overview to choose the indexing kit for your application. For complete functionality of the kit an Indexing Kit is always required.

The Accel-NGS 2S Hyb kit is the right choice for users working with samples of limiting quantity or quality who are looking to take advantage of the sequencing cost savings associated with hybridization capture. The kit utilizes Illumina-compatible adapter sequences and has been validated on the MiSeq® and HiSeq® platforms.


Accel-NGS 2S Hyb Workflow:

Each step is color-coded to make the protocol easy to follow.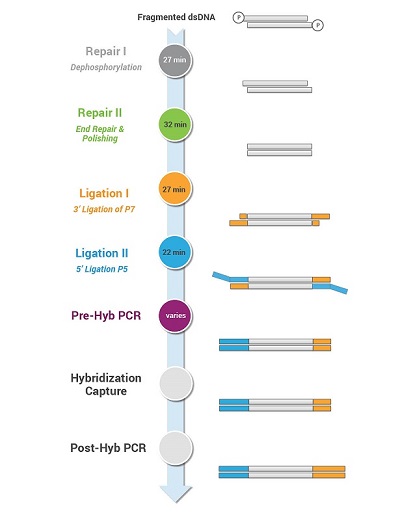 Clean-up beads are not provided with the kit, we recommend the SPRIselect™ Reagent Kit from Beckman Coulter.
Related Links
Product Line Overview
2S Set A and B Indexing Kit Master Mix Volume Calculator
Product Information Sheet

Downloads
- Will open in new browser window
Application Article: Liquid Biopsy NGS with Accel-NGS 2S Hyb