| | |
| --- | --- |
| Cat#: | 2212-500-BL |
| Quantity: | 500 rxns |
| Price: | 336 € |
| Supplier: | BioCat |
| Shipping: | Blue Ice |
User Manual
Quick Extraction and Amplification of DNA from a Variety of Tissues
• Fast – single-tube protocol that eliminates wash steps, giving high-yield, PCR-ready DNA in just 15 minutes
• Simple – few protocol steps greatly reduce the risk of sample loss as well as contamination and minimize manual effort
• Sensitive – incorporates HotStart Taq DNA Polymerase that exhibits increased affinity for DNA, thereby improving the yield of even the most challenging targets
• Specific - HotStart Taq DNA Polymerase is an antibody-mediated hot start enzyme that remains completely inactive during PCR set up to prevent non-specific amplification
• Flexible – ideal for amplifying any target up to 5 kb from DNA extracted from mammalian tissue samples
• Convenient – mastermix facilitates PCR set up and includes a red dye for improved pipetting ease / accuracy and to enable direct gel loading

The ExACT Genotyping Kit offers a convenient, fast and efficient method for the extraction of DNA from a variety of mammalian tissues, particularly from rodent tail or ear samples. The DNA extraction is performed in a single tube, without the need for multiple washing steps, greatly reducing the risk of sample loss and contamination. The extracted DNA is amplified using the advanced HotStart Taq DNA Polymerase Red Mix allowing for fast cycling conditions to minimize the reaction time without compromising PCR specificity or yield. Another advantage of the formulation is that it does not interfere with the PCR and enables the user to load samples directly onto a gel after the PCR without the need to add loading buffer.

Applications
• High-throughput genotyping from mammalian tissue
• Detection of transgenes
• Knockout analysis

How it works



Tissues can be ready for PCR within 15 minutes.


Performance of the ExACT Genotyping Kit
Fast Protocol



Genomic DNA was extracted from mouse tails performing a 5 min. digestion at 75°C, followed by a 10 min. neutralization at 95°C according to the instructions of the manufacturer. After extraction, a two-fold serial dilution of the samples (lanes 1—12) was used for the amplification of a 1 kb fragment (left) and a 2 kb fragment (right) from the mouse CTXN1 gene under fast PCR conditions. Compared to the competitor kit, using the ExACT Genotyping Kit results in higher yields for both the small and the larger fragment even under fast PCR conditions.

High Yields and High Sensitivity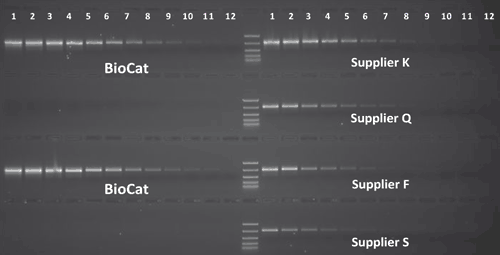 The ExACT Genotyping Kit and kits from other suppliers were used to extract and amplify genomic DNA from 3 mg of mouse tail tissue according to the instructions of the manufacturer. After extraction, a two-fold serial dilution of each sample was amplified using gene-specific primers for a mouse gamma-actin 1 kb fragment (lanes 1—12). Compared to the competitor kits, using the ExACT Genotyping Kit reproducibly results in higher yields.

Sex Determination in Mice
The ExACT Genotyping Kit can be used for routine genotyping experiments like sex determination of mice. For this assay two primers are used to amplify sequences from both the X-chromosome-specific gene Jarid1c and the Y- chromosome-specific gene Jarid1d. The discrimination between these two very similar genes can be made on the basis of size alone. In Jarid1c, the intron is 114 bp long, in Jarid1d, however, the intron length is only 85bp. Consequently, a PCR directed to this region of DNA from male mice would amplify two DNA fragments simultaneously (331 bp from Jarid1c and 302 bp from Jarid1d), but would yield only a single fragment of 331 bp in samples from female mice, see below.



2 mm snips of tail tissue were removed from each mouse and treated as described in the user manual of the ExACT Genotyping Kit. PCR products obtained by simultaneous amplification of X- and Y-chromosome-specific genes using Jarid primers are shown. Lanes 1, 3, 5, 7 and 9: Female adult mice. Lanes 2, 4, 6 and 8: Male adult mice. Lanes C1, C2 and C3: Female adult controls.