Home
-> Tools for SARS-CoV-2 Omicron Variant Research
Tools for SARS-CoV-2 Omicron Variant Research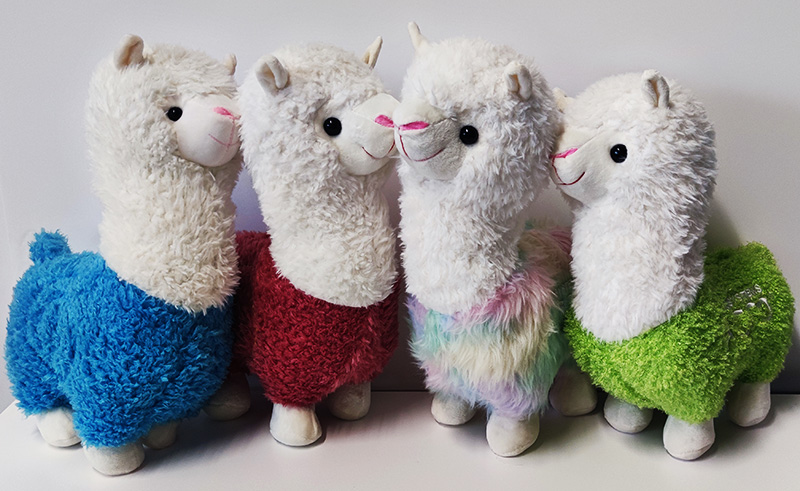 Get your ACROBiosystems llama while supply lasts.
As SARS-CoV-2 continues to spread, emerging variants of the virus like Omicron (B.1.1.529) are being identified around the globe. To limit the spread of the SARS-CoV-2 variants, surveillance is needed to investigate how these variants may impact the virus' transmissibility, the associated disease severity as well as the effectiveness of vaccines, therapeutic medicines and diagnostic tools.
BioCat offers a comprehensive selection of swab and saliva sample collection & preservation kits, virus RNA isolation kits, real-time PCR kits, recombinant proteins, antibodies and pseudotype lentivirus products to support your research and development related to SARS-CoV-2 variants including Omicron.
SARS-CoV-2 Research Reagents Overview
SARS-CoV-2 Omicron Variant Detection by Real-Time RT-PCR
| | | | | |
| --- | --- | --- | --- | --- |
| GenomeCoV19 Detection Kit, upgraded Version - CE-marked (for IVD) | G628.v2-ABM | 100 rxn(s) | | 326.00 € |
| COVID-19 TaqMan RT-PCR Kit (E/RdRP genes- Charité/Berlin protocol) | TM67240-NB | 40 rxn(s) | | 269.00 € |
| COVID-19 TaqMan RT-PCR Kit (E/RdRP genes- Charité/Berlin protocol) | TM67200-NB | 500 rxn(s) | | 3076.00 € |
| COVID-19 TaqMan RT-PCR Kit (E/RdRP genes- Charité/Berlin protocol) - CE-marked (for IVD) | DxTM67200-NB | 500 rxn(s) | | 3302.00 € |
| 2019-nCoV TaqMan RT-PCR Kit (N1/N2/RNaseP- CDC protocol) | TM67100-NB | 50 rxn(s) | | 333.00 € |
| 2019-nCoV TaqMan RT-PCR Kit (N1/N2/RNaseP- CDC protocol) | TM67120-NB | 500 rxn(s) | | 3076.00 € |
| 2019-nCoV TaqMan RT-PCR Kit (N1/N2/RNaseP- CDC protocol) - CE-marked (for IVD) | DxTM67100-NB | 50 rxn(s) | | 355.00 € |
| 2019-nCoV TaqMan RT-PCR Kit (N1/N2/RnaseP- CDC protocol) - CE-marked (for IVD) | DxTM67120-NB | 500 rxn(s) | | 3301.00 € |
| COVID-19 TaqMan RT-PCR Kit (N/ORF1ab genes) | TM67300-NB | 500 rxn(s) | | 3076.00 € |
| COVID-19 TaqMan RT-PCR Kit (N/ORF1ab genes)- CE-marked (for IVD) | DxTM67300-NB | 500 rxn(s) | | 3302.00 € |
SARS-CoV-2 Omicron Spike Recombinant Proteins
| | | | | |
| --- | --- | --- | --- | --- |
| Recombinant SARS-CoV-2 Spike S1 Protein (C-His Tag) (Omicron) | PKSV030480-100ug-ELS | 100 ug | 1104.00 € | 883.20 € |
| Recombinant SARS-CoV-2 Spike RBD Protein (C-6His-Avi) (Omicron), Biotinylated | PKSV030479-100ug-ELS | 100 ug | 1104.00 € | 883.20 € |
| Recombinant SARS-CoV-2 S1+S2 trimer Protein (C-His Tag) (Omicron) | PKSV030478-100ug-ELS | 100 ug | 1104.00 € | 883.20 € |
| Recombinant SARS-CoV-2 Spike RBD Protein (C-His Tag) (Omicron) | PKSV030477-100ug-ELS | 100 ug | 1104.00 € | 883.20 € |
| Recombinant SARS-CoV-2 Spike RBD Protein (C-hFc Tag) (Omicron) | PKSV030476-100ug-ELS | 100 ug | 1104.00 € | 883.20 € |
| Recombinant SARS-CoV-2 Spike RBD Protein (N-His Tag) (Omicron) | PKSV030475-100ug-ELS | 100 ug | 1104.00 € | 883.20 € |
| Recombinant SARS-CoV-2 Spike RBD Protein (mFc Tag) (Omicron) | PKSV030474-100ug-ELS | 100 ug | 1104.00 € | 883.20 € |
| Recombinant SARS-CoV-2 Spike S1 NTD Protein (ECD, C-His Tag) (Omicron) | PKSV030473-100ug-ELS | 100 ug | 1104.00 € | 883.20 € |
| Recombinant SARS-CoV-2 S1+S2 Protein (ECD, C-His Tag) (Omicron) | PKSV030471-100ug-ELS | 100 ug | 1104.00 € | 883.20 € |
| Recombinant SARS-CoV-2 Nucleocapsid Protein (N-His Tag) (Omicron) | PKSV030470-100ug-ELS | 100 ug | 1104.00 € | 883.20 € |
| SARS-CoV-2 Spike S1, His Tag (B.1.1.529/Omicron) | S1N-C52Ha-100ug-AC | 100 ug | | 457.00 € |
| SARS-CoV-2 Spike S1, His Tag (B.1.1.529/Omicron) | S1N-C52Ha-1mg-AC | 1 mg | | 2820.00 € |
| SARS-CoV-2 Nucleocapsid protein, His Tag (B.1.1.529/Omicron) | NUN-C52Ht-100ug-AC | 100 ug | | 476.00 € |
| SARS-CoV-2 Nucleocapsid protein, His Tag (B.1.1.529/Omicron) | NUN-C52Ht-1mg-AC | 1 mg | | 2871.00 € |
| SARS-CoV-2 Spike Trimer, His Tag (B.1.1.529/Omicron) | SPN-C52Hz-50ug-AC | 50 ug | | 529.00 € |
| SARS-CoV-2 Spike Trimer, His Tag (B.1.1.529/Omicron) | SPN-C52Hz-500ug-AC | 500 ug | | 3078.00 € |
| Biotinylated SARS-CoV-2 Spike Trimer, His,Avitag™ (B.1.1.529/Omicron) (MALS verified) | SPN-C82Ee-25ug-AC | 25 ug | | 658.00 € |
| Biotinylated SARS-CoV-2 Spike Trimer, His,Avitag™ (B.1.1.529/Omicron) (MALS verified) | SPN-C82Ee-200ug-AC | 200 ug | | 2438.00 € |
| SARS-CoV-2 Spike RBD, His Tag (B.1.1.529/Omicron) | SPD-C522e-100ug-AC | 100 ug | | 476.00 € |
| SARS-CoV-2 Spike RBD, His Tag (B.1.1.529/Omicron) | SPD-C522e-1mg-AC | 1 mg | | 2871.00 € |
| Biotinylated SARS-CoV-2 Spike RBD, His,Avitag™ (B.1.1.529/Omicron) | SPD-C82E4-25ug-AC | 25 ug | | 457.00 € |
| Biotinylated SARS-CoV-2 Spike RBD, His,Avitag™ (B.1.1.529/Omicron) | SPD-C82E4-200ug-AC | 200 ug | | 1778.00 € |
| SARS-CoV-2 Spike NTD, His Tag (B.1.1.529/Omicron) (MALS verified) | SPD-C522d-100ug-AC | 100 ug | | 476.00 € |
| SARS-CoV-2 Spike NTD, His Tag (B.1.1.529/Omicron) (MALS verified) | SPD-C522d-1mg-AC | 1 mg | | 2871.00 € |
SARS-CoV-2 Omicron Spike mRNA
| | | | | |
| --- | --- | --- | --- | --- |
| ''S'' SARS-CoV-2 Spike Omicron Glycoprotein mRNA, Transfection-ready | CVD19-440A-1-SBI | 10 ug | | 488.00 € |
| ''S'' SARS-CoV-2 Spike Omicron Glycoprotein mRNA, Transfection-ready | CVD19-445A-1-SBI | 20 ug | | 695.00 € |
SARS-CoV-2 Omicron Variant Inhibitor Screening
| | | | | |
| --- | --- | --- | --- | --- |
| SARS-CoV-2 (B.1.1.529, Omicron) Inhibitor Screening Kit (Spike RBD) | EP-115-96tests-AC | 96tests | | 785.00 € |
SARS-CoV-2 Omicron Spike Pseudotyped Lentivirus Production
| | | | | |
| --- | --- | --- | --- | --- |
| pPACK-SPIKE-Omicron (B.1.1.529), SARS-CoV2 S pseudotyped-Omicron (B.1.1.529) Variant-Lentivector Packaging Mix | CVD19-660A-1-SBI | 10 rxn(s) | | 815.00 € |
| pPACK-SPIKE-Omicron (B1.1.529), SARS-CoV2 S pseudotyped-Omicron (B1.1.529) Variant-Lentivector Packaging Mix | CVD19-665A-1-SBI | 25 rxn(s) | | 1588.00 € |
| pPACK-SPIKE Omicron Combo kit, includes Cat#CVD19-660A-1 plus PureFection Transection Reagent (Cat#LV750A-1) and Peg-It Virus Concentration solution | CVD19-669A-KIT-SBI | 1 kit(s) | | 1327.00 € |
Ready-to-Use SARS-CoV-2 Omicron Spike Pseudotyped Lentivirus
| | | | | |
| --- | --- | --- | --- | --- |
| HLUC-Lv201 Firefly Luciferase + eGFP Lentifect SARS-CoV-2 full-length (Omicron B.1.1.529) Spike-Pseudotyped Lentiviral Particles | SP115-100-GVO-GC | 100 ul (> 1x 10^5 TU/ml) | | 1090.00 € |
| HLUC-Lv201 Firefly Luciferase + eGFP Lentifect SARS-CoV-2 (Omicron B.1.1.529) Spike-Pseudotyped Lentiviral Particles, ER retention signal removed | SP015-100-GVO-GC | 100 ul (> 1x 10^5 TU/ml) | | 1090.00 € |
| SARS-CoV-2-S-B.1.1.529 (21K/Omicron) Pseudotyped GFP Lentivirus (titered in Cellecta HeLa-ACE2 Cells) | RSCOV2-SDB11529G-2-GVO-CT | 2 mls (10^4 TU/ml) | | 1064.00 € |
| SARS-CoV-2-S-B.1.1.529 (21K/Omicron) Pseudotyped GFP Lentivirus (titered in Cellecta HeLa-ACE2 Cells) | RSCOV2-SDB11529G-10-GVO-CT | 10 mls (10^4 TU/ml) | | 2077.00 € |
| SARS-CoV-2-S-B.1.1.529 (21K/Omicron) Pseudotyped GFP Lentivirus (titered in Cellecta HeLa-ACE2 Cells) | RSCOV2-SDB11529G-50-GVO-CT | 50 mls (10^4 TU/ml) | | 4103.00 € |
| SARS-CoV-2-S-B.1.1.529 (21K/Omicron) Pseudotyped Luciferase Lentivirus (assayed using Cellecta HeLa-ACE2 Cells) | RSCOV2-SDB11529L-2-GVO-CT | 2 mls (10^4 TU/ml) | | 1064.00 € |
| SARS-CoV-2-S-B.1.1.529 (21K/Omicron) Pseudotyped Luciferase Lentivirus (assayed using Cellecta HeLa-ACE2 Cells) | RSCOV2-SDB11529L-10-GVO-CT | 10 mls (10^4 TU/ml) | | 2077.00 € |
| SARS-CoV-2-S-B.1.1.529 (21K/Omicron) Pseudotyped Luciferase Lentivirus (assayed using Cellecta HeLa-ACE2 Cells) | RSCOV2-SDB11529L-50-GVO-CT | 50 mls (10^4 TU/ml) | | 4103.00 € |