RNA Methyl Sequencing
EpiNext™ 5-mC RNA Bisulfite-Seq Easy Kit
For RNA bisulfite conversion followed by NGS library preparation.

The EpiNext 5-mC RNA Bisulfite-Seq Easy Kit (Illumina) is a complete set of optimized reagents designed for easily carrying out RNA bisulfite conversion, followed by a "post-bisulfite" library preparation process for Illumina platform-based bisulfite sequencing, all in one kit.
High sensitivity and efficiency
Easy and streamlined procedure
Complete conversion
Extremely convenient
Minimal bias
Broad sample suitability
Intended applications include whole transcriptome RNA bisulfite sequencing and various other RNA bisulfite-based next generation sequencing techniques for 5-methylcytosine (5-mC) based RNA methylation analysis. The optimized protocol and components of the kit allow the RNA to be bisulfite converted and fragmented simultaneously, followed by quick non-barcoded (singleplexed) and barcoded (multiplexed) library construction using low-nanogram quantities of bisulfite converted RNA.
Starting materials can be total RNA isolated from various tissue/cell samples such as fresh and frozen tissues, cultured cells from a flask or microplate, microdissection samples, and body fluid samples, etc. The amount of RNA for each bisulfite reaction can be 5 ng to 500 ng.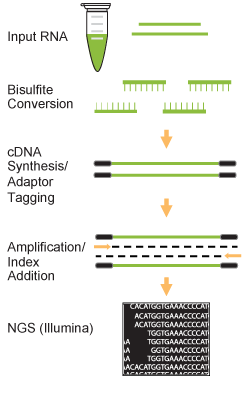 Workflow EpiNext™ 5-mC RNA Bisulfite-Seq Easy Kit.