ChIP Sequencing
EpiNext™ ChIP-Seq High-Sensitivity Kit
Complete Set for ChIP and Library Preparation.

The EpiNext ChIP-Seq High-Sensitivity Kit (Illumina) is a complete set of reagents required for carrying out a successful ChIP-Seq starting from mammalian cells or tissues. The kit is designed to selectively enrich a chromatin fraction containing specific DNA sequences from various species, particularly mammals, and to prepare a ChIP-Seq library for next generation sequencing using Illumina platforms such as Illumina Genome Analyzer II, HiSeq and MiSeq systems.
Minimal ChIP background
Highest capture efficiendy for ChIP
For both singleplexed and multiplexed library preparation
Fast (< 7h)
Minimal bias by optional PCR-free step
The optimized protocol and components of the kit allow capture of low abundance protein/DNA complexes with minimized non-specific background levels and the ability to construct both non-barcoded (singleplexed) and barcoded (multiplexed) ChIP-Seq libraries quickly with reduced bias.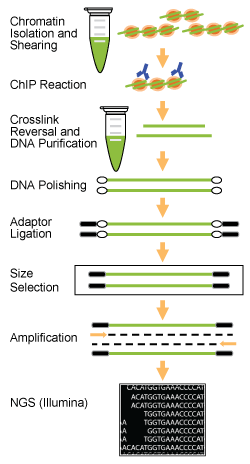 Workflow EpiNext ChIP-Seq High-Sensitivity Kit (Ilumina).