TissueScan qPCR Arrays (Tissue-specific cDNA Panels)
TissueScan™ Cancer and Normal Tissue cDNA Arrays
Obtain qPCR gene expression results of hundreds of human samples in 2 hours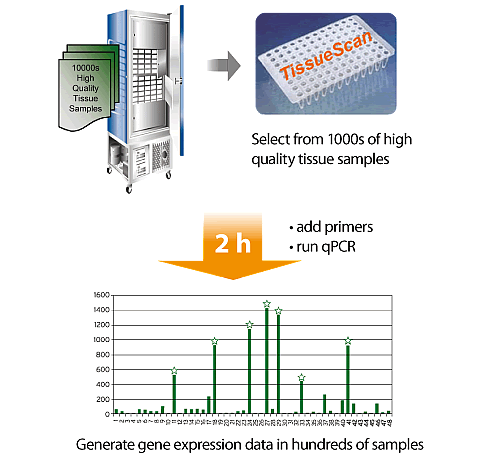 TissueScan™ Cancer and Normal Tissue cDNA Arrays are developed for differential gene expression analysis and validation among hundreds of different human tissues in less than two hours. Tissue cDNAs of each array are synthesized from high quality total RNAs of pathologist-verified tissues, normalized and validated with beta-actin in two sequential qPCR analyses, and provided with clinical information and QC data.
Broad Applications
• Biomarker discovery and validation among different cancer types at different stages
• Drug target identification and validation against a specific cancer type
• Cell signaling pathway analysis among different cancer types and stages
Biological Relevance
• The most relevant model to understand human cancers
• Clinical information including disease stages and donor's basic demographic
Time and Cost Savings
• Have gene expression results of hundreds of human samples in less than two hours
• Avoid tedious time-consuming tissue acquisition and sample preparation processes
•TissueScan Starter Kit, containing two identical cDNA sets covering 20 cancer and 4 normal tissues, with survivin and beta-actin primers available (Cat. # TSRT101-OR)
• Have custom qPCR-ready tissue cDNA arrays prepared by your gene experts:
All TissueScan™ cDNA Arrays are in PCR microplates from Abgene (AB-0600). According to the plate manufacturer, the microplates will fit in Standard Thermocyclers and qPCR thermocyclers including:
- ABI Prism 7000, 7700, 7300, 7500, and 9500 (except fast block formats)
- BioRad iCycler and MyiQ
- Stratagene MX4000, MX3000p, and MX3005p
Custom TissueScan™ cDNA Array Service
If your thermocycler is not listed or you would like to convert arrays from 96-well to 384-well format (or vice versa), BioCat offers OriGene´s Custom TissueScan™ cDNA Array Service with your specific PCR microplates for a small service fee.
Please contact us for a quote
.
---
Related Links
TissueScan Tutorial Video
Contact us regarding your Custom cDNA Array needs

---
PDF-Downloads
- Will open in new browser window