Target Vector Construction
Red/ET Cloning (Recombineering): Homologous Recombination made easy
Red/ET is a powerful technology for modifying DNA molecules independently of their size and sequence.
It combines the flexibility of homologous recombination with the advantage of very short homology arms (50 bp). These short arms can easily be synthesized as oligonucleotides and added in a PCR reaction (PRECISOR High Fidelity DNA Polymerase is recommended) to a great variety of functional DNA cassettes, such as selection markers or minimal subcloning vectors.
Red/ET Kits for convenient recombineering
:
All Red/ET kits come with tailored control experiments and harbor the same Red/ET proficiency plasmid providing the opportunity to use this novel technology for your individual experiments.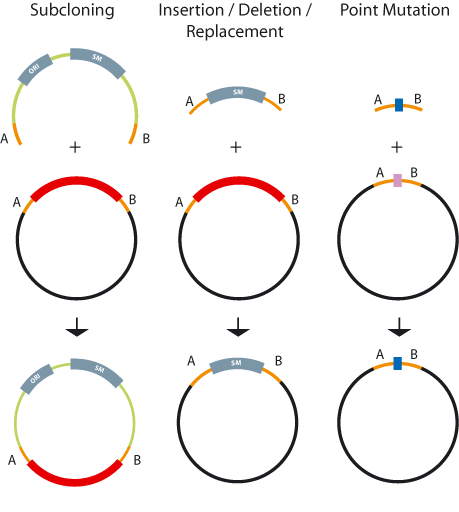 Alternatively you can use Red/ET DNA Engineering Services:
The range of services includes the generation of targeting vectors and modification of E. coli genomes.
---
Related Links
PRECISOR High Fidelity Thermostable DNA Polymerase
E. coli Gene Deletion Kit using Recombineering
Red/ET DNA Engineering Services
Visit www.genebridges.com