SARS-CoV-2 (COVID-19) Protein Arrays
Our partner RayBiotech developed a protein array for semi-quantitative detection of IgM and IgG antibodies in serum or plasma to the SARS-CoV-2 (COVID-19) spike (S) protein.
Applications
• Vaccine development: Identify IgG and IgM antibody responses to COVID-19
• In vitro diagnostics research: Identify and characterize immunodominant epitopes
• Epitope profiling: Profile epitope-specific antibody responses against the spike protein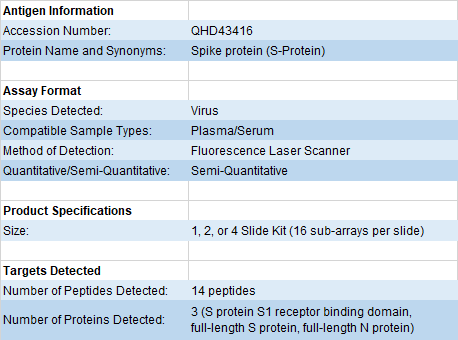 Workflow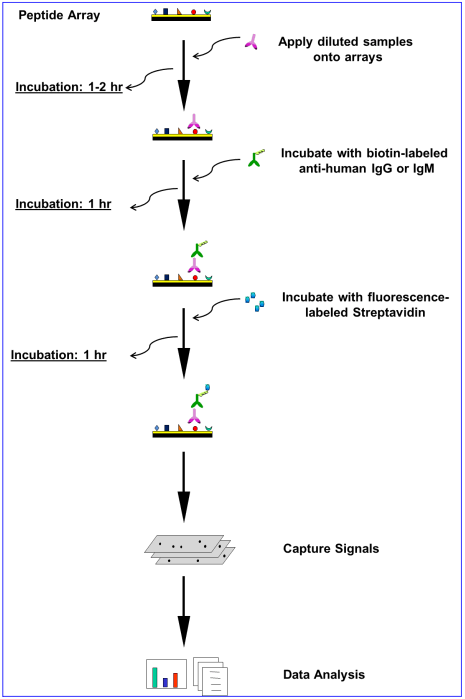 This product is furnished for LABORATORY RESEARCH USE ONLY.
Not for diagnostic or therapeutic use.
| Description | Cat# | Size | Price | | |
| --- | --- | --- | --- | --- | --- |
| COVID-19 Spike Protein Array (Glass Slide) | PAH-SASP-G1-1-RB | 16 Sample Kit | 1063 € | DETAILS | Add to Cart |
| COVID-19 Spike Protein Array (Glass Slide) | PAH-SASP-G1-2-RB | 32 Sample Kit | 1708 € | DETAILS | Add to Cart |
| COVID-19 Spike Protein Array (Glass Slide) | PAH-SASP-G1-4-RB | 64 Sample Kit | 3181 € | DETAILS | Add to Cart |