Stellaris Customized RNA FISH Probe Set for Single Copy mRNA Detection in situ
Custom Stellaris RNA FISH Probe Sets
can be designed against almost any RNA target to allow for visualization, localization, and quantification of individual mRNA transcripts.
How to order Customized Stellaris RNA FISH Probe Sets
To proceed with your order for Custom Stellaris RNA FISH Probe Sets, the corresponding target sequences are required. These can be provided using the following options:
1) If you have not yet designed the probe sets, please send us your target sequences (accession number and description of the target you are interested in) using our
contact form
and we will do the design for you.
2) Alternatively, you can quickly design Stellaris RNA FISH Probes possessing optimal binding properties for your target RNA sequence using LGC Biosearch Technologies' free, web-based
Stellaris Probe Designer
Please send the resulting sequences to info@biocat.com using the
Custom Stellaris FISH Probes Order Form
Stellaris Dyes
Please select the appropriate fluorophore that best matches the filter set of your fluorescence microscope, see table below.
For more information on dyes and multiplexing options, see the
Stellaris Dyes and Modifications page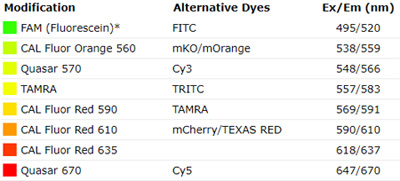 * Please note that due to variable auto-fluorescence in the green channel inherent to cells and tissue, we do not recommend use of the FAM (fluorescein) for some Stellaris RNA FISH applications. We recommend testing your sample for green channel autofluorescence before ordering FAM labeled sets or ordering an alternative dye that is compatible with your experiment.
Please check out our
DesignReady Stellaris RNA FISH Probe Sets
for a large selection of professionally designed targets. We also recommend selecting a
Positive Control (ShipReady) Probe Set
to complement your experiment.
RNA FISH Buffers
are the perfect accompaniment to your experiment, allowing for even more robust RNA detection and analysis through reduced background signal.
Before getting started with your first experiments, please visit our
Stellaris RNA FISH
information page and download our
Getting Started Guide
---
Related Links
Stellaris RNA FISH Technology Overview
Stellaris Protocols
Send us your sequence of interest
Custom Stellaris FISH Probes Order Form
Premade Stellaris DesignReady FISH Probes
Premade Stellaris Positive Control FISH Probes
Stellaris Buffers
Stellaris Getting Started Guide
Flyer Stellaris RNA FISH Probes
Flyer Stellaris RNA FISH Probes for Detection of lncRNA

| Description | Cat# | Size | Price | | |
| --- | --- | --- | --- | --- | --- |
| Stellaris FISH Probes, Custom Assay with Fluorescein (Emission 520 nm) | SMF-1025-5-BS | 5 nmol Total Oligo Pool | 809 € | DETAILS | Add to Cart |
| Stellaris FISH Probes, Custom Assay with CAL Fluor Orange 560 Dye | SMF-1081-5-BS | 5 nmol Total Oligo Pool | 809 € | DETAILS | Add to Cart |
| Stellaris FISH Probes, Custom Assay with Quasar 570 Dye | SMF-1063-5-BS | 5 nmol Total Oligo Pool | 809 € | DETAILS | Add to Cart |
| Stellaris FISH Probes, Custom Assay with TAMRA (Emission 583 nm) | SMF-1001-5-BS | 5 nmol Total Oligo Pool | 809 € | DETAILS | Add to Cart |
| Stellaris FISH Probes, Custom Assay with CAL Fluor Red 590 Dye | SMF-1083-5-BS | 5 nmol Total Oligo Pool | 809 € | DETAILS | Add to Cart |
| Stellaris FISH Probes, Custom Assay with CAL Fluor Red 610 Dye | SMF-1082-5-BS | 5 nmol Total Oligo Pool | 809 € | DETAILS | Add to Cart |
| Stellaris FISH Probes, Custom Assay with CAL Fluor Red 635 Dye | SMF-1084-5-BS | 5 nmol Total Oligo Pool | 809 € | DETAILS | Add to Cart |
| Stellaris FISH Probes, Custom Assay with Quasar 670 Dye | SMF-1065-5-BS | 5 nmol Total Oligo Pool | 809 € | DETAILS | Add to Cart |
| Stellaris FISH Probes, Custom Assay with Biotin Label | SMF-1004-5-BS | 5 nmol | 809 € | DETAILS | Add to Cart |
| Stellaris FISH Probes, Custom Assay with Amine Label | SMF-1005-5-BS | 5 nmol | 809 € | DETAILS | Add to Cart |