Exosomal RNA Purification
Choose from a range of exosomal RNA Purification Kits.
Obtain high yields of total EV RNA, including small RNAs, from already isolated EVs with
SBI´s EVeryRNA™ EV RNA Purification System
.
• High-yield exoRNA isolation completed in <30 minutes
• Phenol-level yields with a safer column-based method
• More RNA for each downstream reaction with EVeryRNA's small-volume elutions
• Highly pure RNA by using the included DNaseI
• Compatible with RNA-seq, miRNA profiling and more
• Works with EVs isolated with commonly-used methods, such as
ExoQuick
,
SmartSEC
, and ultracentrifugation.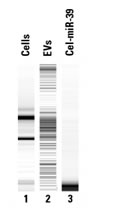 Fig.1. Ability of the EVeryRNA EV RNA Purification System to capture the full range of RNAs
Lane 1: RNA from 10,000 cells, Lane 2: RNA from EVs that were isolated from 250 µL of serum using SmartSEC Single and Lane 3: RNA from buffer spiked with 0.1 pmol of Cel-miR-39. The high quality of the isolated RNA can be seen in lane 1, where the RNA integrity number (RIN) is 9.9 and the 28S/18S RNA ratio is 1.5. The multiple bands in lane 2 demonstrate that EVeryRNA captures RNAs of different lengths.
The EVeryRNA EV RNA Purification System comes with sufficient reagents to perform 20 purification reactions. EVeryRNA technology is also available bundled with SBI's powerful EV isolation technologies as well as a cDNA Synthesis and Pre-amplification Kit.
SBI also offers
SeraMir Exosome RNA Purification Kits
for combined exosome isolation and subsequent exosomal RNA isolation:
• Precipitate exosomes from patient biofluids easily with ExoQuick
• Purify exoRNAs with SeraMir columns
• Tail and tag all exoRNAs for qPCR, cDNA amplification and T7 IVT
• No RNA ligase used - avoid adaptor concatemer artifacts
• Amplify exoRNAs for Microarrays and NextGen Sequencing
Other exosomal RNA Purification kits are available from our partners Norgen, BioVision and RayBiotech.
---
Related Links
Plasma/Serum Circulating and Exosomal RNA Purification Kits

Description
Cat#
Size
Price
EVeryRNA EV RNA Purification System
EVery100A-1-SBI
20 preps
486 €
DETAILS
Add to Cart
EVeryRNA EV RNA Purification System with ExoQuick EV Isolation
EVery106EQ-1-SBI
20 preps
639 €
DETAILS
Add to Cart
EVeryRNA EV RNA Purification System with ExoQuick-TC EV Isolation
EVery106TC-1-SBI
10 preps
639 €
DETAILS
Add to Cart
EVeryRNA EV RNA Purification System with SmartSEC Single
EVery110SS-1-SBI
10 preps
639 €
DETAILS
Add to Cart
SeraMir Exosome RNA Purification Kit for Serum, Plasma, Tumor Ascites Fluid (5ml Exoquick and 20 exoRNA Columns)
RA806A-1-SBI
20 preps
591 €
DETAILS
Add to Cart
SeraMir TC Exosome RNA Purification Kit for Cell Culture Media, Urine, Spinal Fluid (10ml ExoQuick-TC and 10 exoRNA columns)
RA806TC-1-SBI
10 preps
591 €
DETAILS
Add to Cart
SeraMir Exosome RNA Purification Column Kit
RA808A-1-SBI
20 exoRNA columns
475 €
DETAILS
Add to Cart
Exosomal RNA Isolation Kit
58000-NB
50 preps

Special


401.40 €
DETAILS
Add to Cart
Urine Exosome Total RNA Isolation Kit
47200-NB
50 preps

Special


702.00 €
DETAILS
Add to Cart
BasicExoRNA Basic RNA extraction kit (Pre-isolated exosomes, 25 reactions)
K1222-25-BV
25 rxns
737 €
DETAILS
Add to Cart
BasicExoRNA Basic RNA extraction kit (Pre-isolated exosomes, 50 reactions)
K1222-50-BV
50 rxns
1207 €
DETAILS
Add to Cart
Exosomal RNA Extraction Kit
EXO-RNA-50-RB
50 samples
405 €
DETAILS
Add to Cart