Cell Lines for Retroviral Applications
Platinum Retroviral Packaging Cell Lines
• Higher retroviral yields: average titer 10
6
to 10
7
infectious units/mL with transient transfection
• Longer stability: up to 4 months in the presence of drug selection
• Three versions: ecotropic (Plat-E), amphotropic (Plat-A), and pantropic (Plat-GP)
Conventional cells used for retrovirus packaging, such as those based on NIH3T3 cells, have limited stability and produce relatively low yields of retrovirus, mainly due to the poor expression of retroviral structure proteins (gag, pol and env) in the cells.
The Platinum Retroviral Packaging Cell Lines are based on the 293T cell line. They exhibit longer stability and produce higher yields of retroviral structure proteins. Plat-A and Plat-E cells contain gag, pol and env genes, allowing retroviral packaging with a single plasmid transfection.
Selection Guide for Retroviral Packaging Cells by Target Cell Species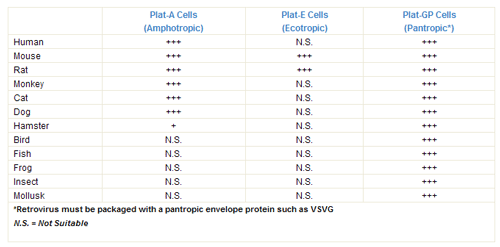 NOTE: Platinum Retroviral Packaging Cells are available for sale to academic, government and non-profit research laboratories. All other purchasers require a commercial license for all fields including research use. Please contact info@biocat.com to ask for licensing conditions.
| Description | Cat# | Size | Price | | |
| --- | --- | --- | --- | --- | --- |
| 293RTV Retroviral Packaging Cell Line | RV-100-GVO-CB | 1 x 10^6 cells | 528 € | DETAILS | Add to Cart |
| Platinum-A Retroviral Packaging Cell Line, Amphotrophic | RV-102-GVO-CB | 3 x 10^6 cells | 893 € | DETAILS | Add to Cart |
| Platinum-E Retroviral Packaging Cell Line, Ecotrophic | RV-101-GVO-CB | 3 x 10^6 cells | 893 € | DETAILS | Add to Cart |
| Platinum-GP Retroviral Packaging Cell Line, Pantrophic | RV-103-GVO-CB | 3 x 10^6 cells | 893 € | DETAILS | Add to Cart |