TaqMan Probe Synthesis and Purification Service

Over the last decade, TaqMan probes have become the traditional linear, dual-labeled FRET probes of choice now incorporating a Black Hole Quencher dye and a fluorophore reporter molecule covalently linked to either the 3´ or 5´ end of a 20 to 30 bp oligo. TaqMan probes are routinely used to detect the presence and quantify the amount of specific target sequences by employing the 5´-> 3´ exonuclease activity of Taq polymerase and the subsequent increase in fluorescence detected during repeated amplification cycles. The TaqMan assay offers a sensitive method to determine the presence or absence of specific target sequences.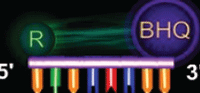 TaqMan Probe
Dual-labeled, linear, sequence-specific probe, used with a pair of forward and reverse primers.
The 5´ nuclease assay has now become a staple of real-time PCR quantification techniques. In the 5´ nuclease assay, fluorescent signals are generated from the exponential range of the reaction, where component concentrations are not limiting. As a result, initial template levels can be determined with high accuracy.
Multiplex assays are now possible that can detect several targets using multiple spectrally resolved fluorescent probes, see Multiplexing Recommendations Table (link below).
Custom TaqMan probes labeled with a variety of fluorophores and quenchers to accommodate all assays and thermocyclers are offered, see table below.
---
Related Links
Real-Time PCR Dyes from Biosearch Technologies

---
PDF-Downloads
- Will open in new browser window
Multiplexing Recommendations Table

| Description | Cat# | Size | Price | | |
| --- | --- | --- | --- | --- | --- |
| Custom Synthesis and Cartridge Purification of Primer (up to 30 bases) with TaqMan Probe Purchase | PPC-1-BS | 1 umol Scale (provides 225-450 nmol pure primer) | 86 € | DETAILS | Add to Cart |
| Custom Synthesis and Cartridge Purification of Primer (up to 30 bases) with TaqMan Probe Purchase | PPC-2-BS | 200 nmol Scale (provides 45-90 nmol pure primer) | 78 € | DETAILS | Add to Cart |
| Custom Synthesis and Cartridge Purification of Primer (up to 30 bases) with TaqMan Probe Purchase | PPC-5-BS | 50 nmol Scale (provides 11,25-22,5 nmol pure primer) | 76 € | DETAILS | Add to Cart |
| Custom Synthesis and Desalting of Primer (up to 30 bases) with TaqMan Probe Purchase | PP-1-BS | 1 umol Scale (provides 400-800 nmol pure primer) | 81 € | DETAILS | Add to Cart |
| Custom Synthesis and Desalting of Primer (up to 30 bases) with TaqMan Probe Purchase | PP-2-BS | 200 nmol Scale (provides 80-160 nmol pure primer) | 73 € | DETAILS | Add to Cart |
| Custom Synthesis and Desalting of Primer (up to 30 bases) with TaqMan Probe Purchase | PP-5-BS | 50 nmol Scale (provides 20-40 nmol pure primer) | 67 € | DETAILS | Add to Cart |
| Dual Labeled Probe: 3 | DLO-B2P6-1-BS | 1 umol Scale (provides 40 nmol pure probe) | 846 € | DETAILS | Add to Cart |
| Dual Labeled Probe: 3 | DLO-B2P6-2-BS | 200 nmol Scale (provides 10 nmol pure probe) | 613 € | DETAILS | Add to Cart |
| Dual Labeled Probe: 5 | DLO-C590B2-1-BS | 1 umol Scale (provides > 60 nmol pure probe) | 532 € | DETAILS | Add to Cart |
| Dual Labeled Probe: 5 | DLO-C590B2-2-BS | 200 nmol Scale (provides > 25 nmol pure probe) | 405 € | DETAILS | Add to Cart |
| Dual Labeled Probe: 5 | DLO-C590B2-5-BS | 50 nmol Scale (provides > 10 nmol pure probe) | 340 € | DETAILS | Add to Cart |
| Dual Labeled Probe: 5 | DLO-C635B2-1-BS | 1 umol Scale (provides > 40 nmol pure probe) | 718 € | DETAILS | Add to Cart |
| Dual Labeled Probe: 5 | DLO-C635B2-2-BS | 200 nmol Scale (provides > 10 nmol pure probe) | 527 € | DETAILS | Add to Cart |
| Dual Labeled Probe: 5 | DLO-C635B2-5-BS | 50 nmol Scale (provides > 3 nmol pure probe) | 411 € | DETAILS | Add to Cart |
| Dual Labeled Probe: 5 | DLO-CAB2-1-BS | 1 umol Scale (provides > 60 nmol pure probe) | 632 € | DETAILS | Add to Cart |
| Dual Labeled Probe: 5 | DLO-CAB2-2-BS | 200 nmol Scale (provides > 25 nmol pure probe) | 456 € | DETAILS | Add to Cart |
| Dual Labeled Probe: 5 | DLO-CAB2-5-BS | 50 nmol Scale (provides > 10 nmol pure probe) | 364 € | DETAILS | Add to Cart |
| Dual Labeled Probe: 5 | DLO-CGB1-1-BS | 1 umol Scale (provides > 60 nmol pure probe) | 545 € | DETAILS | Add to Cart |
| Dual Labeled Probe: 5 | DLO-CGB1-2-BS | 200 nmol Scale (provides > 25 nmol pure probe) | 411 € | DETAILS | Add to Cart |
| Dual Labeled Probe: 5 | DLO-CGB1-5-BS | 50 nmol Scale (provides > 10 nmol pure probe) | 340 € | DETAILS | Add to Cart |
| Dual Labeled Probe: 5 | DLO-COB1-1-BS | 1 umol Scale (provides > 60 nmol pure probe) | 545 € | DETAILS | Add to Cart |
| Dual Labeled Probe: 5 | DLO-COB1-2-BS | 200 nmol Scale (provides > 25 nmol pure probe) | 411 € | DETAILS | Add to Cart |
| Dual Labeled Probe: 5 | DLO-COB1-5-BS | 50 nmol Scale (provides > 10 nmol pure probe) | 340 € | DETAILS | Add to Cart |
| Dual Labeled Probe: 5 | DLO-F(T-B1)-1-BS | 1 umol Scale (provides > 30 nmol pure probe) | 677 € | DETAILS | Add to Cart |
| Dual Labeled Probe: 5 | DLO-F(T-B1)-2-BS | 200 nmol Scale (provides > 10 nmol pure probe) | 433 € | DETAILS | Add to Cart |
| Dual Labeled Probe: 5 | DLO-FB1-1-BS | 1 umol Scale (provides > 60 nmol pure probe) | 503 € | DETAILS | Add to Cart |
| Dual Labeled Probe: 5 | DLO-FB1-2-BS | 200 nmol Scale (provides > 25 nmol pure probe) | 381 € | DETAILS | Add to Cart |
| Dual Labeled Probe: 5 | DLO-FB1-5-BS | 100 nmol Scale (provides > 10 nmol pure probe) | 300 € | DETAILS | Add to Cart |
| Dual Labeled Probe: 5 | DLO-FT-1-BS | 1 umol Scale (provides > 60 nmol pure probe) | 503 € | DETAILS | Add to Cart |
| Dual Labeled Probe: 5 | DLO-FT-2-BS | 200 nmol Scale (provides > 25 nmol pure probe) | 381 € | DETAILS | Add to Cart |
| Dual Labeled Probe: 5 | DLO-FT-5-BS | 100 nmol Scale (provides > 10 nmol pure probe) | 300 € | DETAILS | Add to Cart |
| Dual Labeled Probe: 5 | DLO-HB1-1-BS | 1 umol Scale (provides > 60 nmol pure probe) | 602 € | DETAILS | Add to Cart |
| Dual Labeled Probe: 5 | DLO-HB1-2-BS | 200 nmol Scale (provides > 25 nmol pure probe) | 451 € | DETAILS | Add to Cart |
| Dual Labeled Probe: 5 | DLO-HB1-5-BS | 50 nmol Scale (provides > 10 nmol pure probe) | 351 € | DETAILS | Add to Cart |
| Dual Labeled Probe: 5 | DLO-JB1-1-BS | 1 umol Scale (provides > 30 nmol pure probe) | 850 € | DETAILS | Add to Cart |
| Dual Labeled Probe: 5 | DLO-JB1-2-BS | 200 nmol Scale (provides > 10 nmol pure probe) | 647 € | DETAILS | Add to Cart |
| Dual Labeled Probe: 5 | DLO-Q5B2-1-BS | 1 umol Scale (provides > 60 nmol pure probe) | 602 € | DETAILS | Add to Cart |
| Dual Labeled Probe: 5 | DLO-Q5B2-2-BS | 200 nmol Scale (provides > 25 nmol pure probe) | 456 € | DETAILS | Add to Cart |
| Dual Labeled Probe: 5 | DLO-Q5B2-5-BS | 50 nmol Scale (provides > 10 nmol pure probe) | 364 € | DETAILS | Add to Cart |
| Dual Labeled Probe: 5 | DLO-Q6B2-1-BS | 1 umol Scale (provides > 40 nmol pure probe) | 632 € | DETAILS | Add to Cart |
| Dual Labeled Probe: 5 | DLO-Q6B2-2-BS | 200 nmol Scale (provides > 20 nmol pure probe) | 456 € | DETAILS | Add to Cart |
| Dual Labeled Probe: 5 | DLO-Q6B2-5-BS | 50 nmol Scale (provides 10 nmol pure probe) | 379 € | DETAILS | Add to Cart |
| Dual Labeled Probe: 5 | DLO-Q7B2-1-BS | 1 umol Scale (provides > 40 nmol pure probe) | 632 € | DETAILS | Add to Cart |
| Dual Labeled Probe: 5 | DLO-Q7B2-2-BS | 200 nmol Scale (provides > 10 nmol pure probe) | 456 € | DETAILS | Add to Cart |
| Dual Labeled Probe: 5 | DLO-Q7B2-5-BS | 50 nmol Scale (provides >3 nmol pure probe) | 379 € | DETAILS | Add to Cart |
| Dual Labeled Probe: 5 | DLO-Q7B3-1-BS | 1 umol Scale (provides > 40 nmol pure probe) | 632 € | DETAILS | Add to Cart |
| Dual Labeled Probe: 5 | DLO-Q7B3-2-BS | 200 nmol Scale (provides > 10 nmol pure probe) | 456 € | DETAILS | Add to Cart |
| Dual Labeled Probe: 5 | DLO-Q7B3-5-BS | 50 nmol Scale (provides >3 nmol pure probe) | 379 € | DETAILS | Add to Cart |
| Dual Labeled Probe: 5 | DLO-RB2-1-BS | 1 umol Scale (provides > 30 nmol pure probe) | 850 € | DETAILS | Add to Cart |
| Dual Labeled Probe: 5 | DLO-RB2-2-BS | 200 nmol Scale (provides > 10 nmol pure probe) | 647 € | DETAILS | Add to Cart |