Real Time PCR Custom Probes and Primers
Real-Time PCR Probes and Primers with CAL Fluor and Quasar Dyes
• All major probe formats
• Easy and cost effective probe synthesis
• More stable than conventional probes
• Optimized for use in multiplex real-time quantitative PCR
• Duplex, triplex, and even quadraplex capability
Our partner Biosearch has developed two new series of performance-optimized dyes for multiplex real-time, quantitative PCR - the CAL Fluor and Quasar dyes. Having emission maxima ranging from 540 nm to 705 nm, these new dyes are a high performing, low cost alternative for fluorophores commonly used on real-time thermocyclers (such as TET, JOE, VIC, HEX, Texas Red, Cy3, Cy5, and Cy5.5). Coupled with Biosearch's BHQ dark quenchers you now can utilize the full potential of your qPCR thermocycler!
Dual-labeled probes represent a significant cost investment of qPCR. And, if you're considering duplex, triplex and even quadraplex qPCR, your probe costs grow significantly.
Dual-labeled probes synthesized with JOE, VIC and Texas Red (only available as esters whose use is labor intensive), TET and HEX (which suffer from instability during post DNA synthesis work-up), and Cy3 and Cy5 (which are expensive dyes) require careful and experienced handling during synthesis and purification to guarantee probes of outstanding quality.
The CAL Fluor and Quasar dyes overcome each of these disadvantages: Probe synthesis with the CAL Fluor and Quasar dyes can be automated, as they are extremely stable to DNA probe work-up conditions and this translates into time and cost savings to you.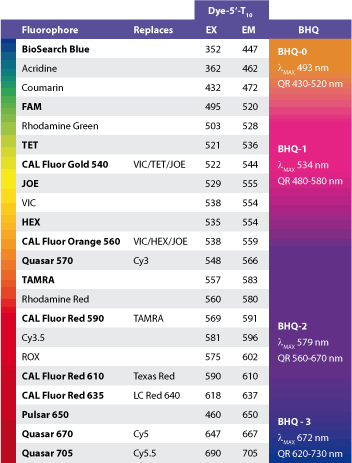 The CAL Fluor, Quasar and BHQ dyes can be incorporated into a variety of popular probe designs, including dual-labeled TaqMan and Molecular Beacon probes, Biosearch's proprietary Black Hole Scorpions (primer probes with increased sensitivity) and Amplifluor Direct primer systems, see links above.
And, they are fully compatible with the range of real-Time PCR instruments including the Applied Biosystems and Stratagene machines, the Corbett Rotor-Gene 6000, the Bio-Rad iQ5, the Cepheid SmartCycler, and the Roche LightCycler, amongst others. See also ´Multiplexing Recommendations´ table (link below).
An additional advantage in using the CAL Fluor and Quasar dyes lies in multiplex qPCR. Their pairing with Biosearch's proprietary BHQ dark quenchers in dual-labeled qPCR probes enables not only duplex but also triplex and quadraplex qPCR capability.
BHQ dyes are a new class of dark quenchers that prevent fluorescence until a hybridization event occurs. In addition, these new dyes have no native fluorescence, virtually eliminating background problems seen with other quenchers. Probes made with the BHQ dyes are powerful and highly specific tools that enable the identification and quantification of a variety of biomolecules.
You can order your gene-specific TaqMan, Molecular Beacon, Black Hole Scorpions or Amplifluor Direct probes and primers as a custom service, see links above. Or you can buy the Biosearch Technologies dyes as easy-to-use amidites, carboxy acids, amines, or esters, or on CPG columns for your own syntheses, see link below.
---
Related Links
Real Time PCR Dyes from Biosearch Technologies
SuperROX Passive Reference Dye

---
PDF-Downloads
- Will open in new browser window
Probe and Primer Comparison Chart
Multiplexing Recommendations Table