Probe-based qPCR Kits
TaqProbe qPCR Mastermix formulations of our partner
ABM
are optimized for different real-time PCR instruments. Please use the following table as a guideline for the selection of qPCR Mastermix appropriate for your particular instrument model.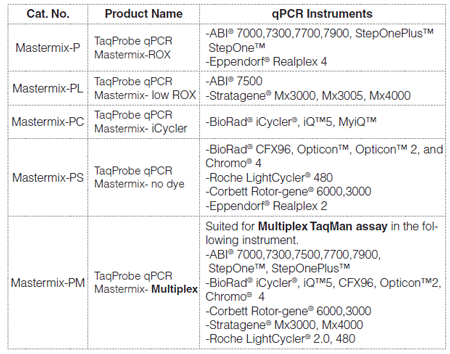 GeneCopoeias´
BlazeTaq™ Probe qPCR mix is designed for highly sensitive and accurate quantitative PCR (qPCR) that uses hydrolysis probes and DNA as starting material. The kit is supplied with a ready-to-use 5X master mix with a hot-start Taq DNA polymerase, dNTP and all optimized buffer components. Tests show that the BlazeTaq™ Probe qPCR Mix is compatible with diverse real-time PCR instruments and outperforms competitors´ products on the sensitivity and specificity of cDNA and genomic DNA detection.
BlazeTaq™ Probe qPCR Mix allows sensitive and potent target DNA detection and quantification using hydrolysis probes. cDNA or genomic DNA as template is amplified by a hot-start Taq DNA polymerase. During DNA amplification, the target-specific probes bound to the target site on DNA are cleaved by the 5´-3´ exonuclease of Taq DNA polymerase. Upon cleavage, the unquenched probes generate fluorescence for real-time quantification.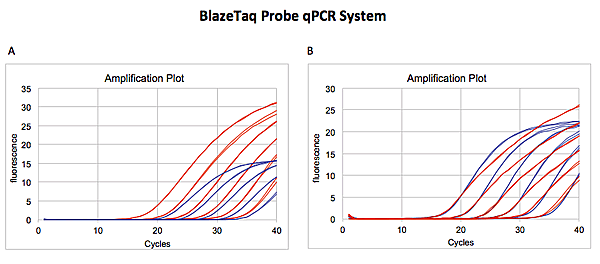 qPCR targeting ACTB (A), and B2M (B) using the BlazeTaq Probe qPCR (red) kit and competitor´s Taqman qPCR kit (blue) with cDNA from HeLa RNA extract ranging from 100 ng to 1 pg in duplicates.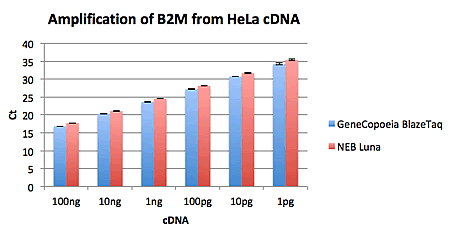 Performance comparison of BlazeTaq Probe qPCR kit with competitor´s qPCR kit by the amplification of B2M from cDNA of HeLa cells.
Please see individual products for more information.
---
Related Links
Probe-based qRT-PCR Kits
SYBR Green qPCR Kits
SYBR Green qRT-PCR Kits
EvaGreen qPCR Kits
Eva Dye qRT-PCR Kits

| Description | Cat# | Size | Price | | |
| --- | --- | --- | --- | --- | --- |
| 2 x qPCR Mastermix for Probe based qPCR with Regular ROX (4 x 1.25 ml) | MasterMix-P-ABM | 500 rxns (in 20 ul volumes) | 276 € | DETAILS | Add to Cart |
| 5 x qPCR Mastermix for Probe based qPCR with Regular ROX (4 x 1 ml) | MasterMix-5P-ABM | 1000 rxns (in 20 ul volumes) | 390 € | DETAILS | Add to Cart |
| 2 x qPCR Mastermix for Probe based qPCR with Low ROX (4 x 1.25 ml) | MasterMix-PL-ABM | 500 rxns (in 20 ul volumes) | 276 € | DETAILS | Add to Cart |
| 5 x qPCR Mastermix for Probe based qPCR with Low ROX (4 x 1 ml) | MasterMix-5PL-ABM | 1000 rxns (in 20 ul volumes) | 390 € | DETAILS | Add to Cart |
| 2 x qPCR Mastermix for Probe based qPCR for iCycler (4 x 1.25 ml) | MasterMix-PC-ABM | 500 rxns (in 20 ul volumes) | 276 € | DETAILS | Add to Cart |
| 5 x qPCR Mastermix for Probe based qPCR for iCycler (4 x 1 ml) | Mastermix-5PC-ABM | 1000 rxns (in 20 ul volumes) | 390 € | DETAILS | Add to Cart |
| 2 x qPCR Mastermix for Probe based qPCR without ROX (4 x 1.25 ml) | MasterMix-PS-ABM | 500 rxns (in 20 ul volumes) | 276 € | DETAILS | Add to Cart |
| 5 x qPCR Mastermix for Probe based qPCR without ROX (4 x 1 ml) | MasterMix-5PS-ABM | 1000 rxns (in 20 ul volumes) | 390 € | DETAILS | Add to Cart |
| 2 x qPCR Mastermix for Probe based qPCR, Multiplex Applications (4 x 1.25 ml) | MasterMix-PM-ABM | 500 rxns (in 20 ul volumes) | 276 € | DETAILS | Add to Cart |
| 5 x qPCR Mastermix for Probe based qPCR, Multiplex Applications (4 x 1 ml) | MasterMix-5PM-ABM | 1000 rxns (in 20 ul volumes) | 390 € | DETAILS | Add to Cart |
| BlazeTaq Probe qPCR Mix (with ROX) | QP035-GC | 100 qPCR reactions | 124 € | DETAILS | Add to Cart |
| BlazeTaq Probe qPCR Mix (with ROX) | QP036-GC | 200 qPCR reactions | 220 € | DETAILS | Add to Cart |
| BlazeTaq Probe qPCR Mix (with ROX) | QP037-GC | 600 qPCR reactions | 410 € | DETAILS | Add to Cart |
| BlazeTaq Probe qPCR Mix (with ROX) | QP039-GC | 1000 qPCR reactions | 835 € | DETAILS | Add to Cart |
| BlazeTaq Probe qPCR Mix (without ROX) | QP045-GC | 100 qPCR reactions | 124 € | DETAILS | Add to Cart |
| BlazeTaq Probe qPCR Mix (without ROX) | QP046-GC | 200 qPCR reactions | 220 € | DETAILS | Add to Cart |
| BlazeTaq Probe qPCR Mix (without ROX) | QP047-GC | 600 qPCR reactions | 410 € | DETAILS | Add to Cart |
| BlazeTaq Probe qPCR Mix (without ROX) | QP049-GC | 1000 qPCR reactions | 835 € | DETAILS | Add to Cart |
| Fast Pro QPCR SuperMix Kit - ROX premixed | K5058200-BC | 200 rxn | 263 € | DETAILS | Add to Cart |
| Fast Pro QPCR SuperMix Kit - ROX premixed | K5058400-BC | 400 rxn | 409 € | DETAILS | Add to Cart |
| Pro qPCR SuperMix Kit | K5053200-BC | 200 rxn | 240 € | DETAILS | Add to Cart |
| Pro qPCR SuperMix Kit | K5053400-BC | 400 rxn | 361 € | DETAILS | Add to Cart |
| Pro QPCR SuperMix Kit - ROX premixed | K5056200-BC | 200 rxn | 240 € | DETAILS | Add to Cart |
| Pro QPCR SuperMix Kit - ROX premixed | K5056400-BC | 400 rxn | 361 € | DETAILS | Add to Cart |