EvaGreen qPCR Kits
High-performance real-time PCR using BrightGreen 2X qPCR MasterMix
• Strong signals and high sensitivity due to BrightGreen fluorescent dye
• High specificity - no primer dimers, no NTC signal
• Antibody hot-start technology provides superior specificity
• Enable streamlined protocol in a simple reaction set-up
• Allow accurate quantification of a variety of gene targets
• Reduce pipetting steps to minimize the risk of contamination
• Compatible with most real-time PCR instruments
BrightGreen 2X qPCR MasterMix developed by abm provides all ingredients necessary for quantitative PCR in a premixed and optimized format. Available with the option of ROX or fluorescein as the internal passive reference dye, BrightGreen 2X qPCR MasterMix offers unparalleled performance in sensitivity, signal-to-noise ratio, and complete elimination of primer dimers.
Another advantage is the elimination of non-specific signal in the ´no template control´ (NTC) -often associated with other qPCR Mastermix formulations or miRNA qPCR amplification.
Applications
• Gene-expression analysis
• Gene knockdown validation
• Microarray validation
• High throughput applications
• Virus detection and quantification
BrightGreen Method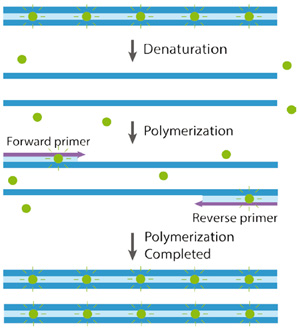 When the DNA polymerase synthesizes the complementary strand to the template, the intercalating dye, BrightGreen, incorporates itself into the dsDNA and emits a strong fluorescent signal which can be detected by the thermal cycler.
High Sensitivity and High Specificity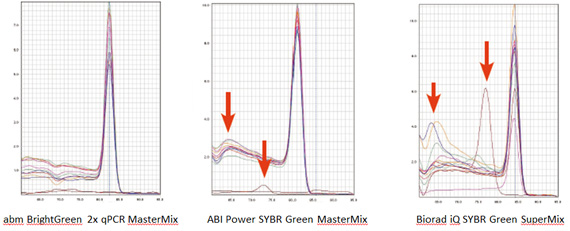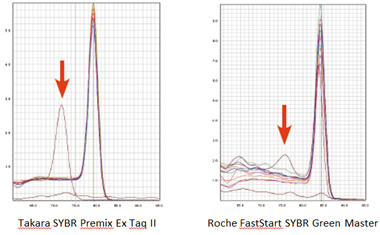 Compared to qPCR master mixes from other suppliers, abm's BrightGreen 2X qPCR MasterMix is the ultimate solution for reducing non-specific amplification in qPCR, see melting curves above. The optimized buffer system works in tandem with a highly efficient HotStart DNA polymerase to minimize signal-to-noise ratio.
Please refer to the
qPCR MasterMix Selection Guide
(see link below) for selecting the appropriate qPCR formulation applicable to your particular instrument model.
Please note: The abm qPCR MasterMixes have been re-branded from EvaGreen to BrightGreen to reflect the renowned ISO quality standard. The catalog numbers for the qPCR MasterMixes remained the same, and there have been no changes to the proprietary, superior formulation.
---
Related Links
EvaGreen qRT-PCR Kits
SYBR Green qPCR Kits
SYBR Green qRT-PCR Kits
Probe-based qPCR Kits
Probe-based qRT-PCR Kits

---
PDF-Downloads
- Will open in new browser window
Selection Guide: Find the right mix for your qPCR machine

| Description | Cat# | Size | Price | | |
| --- | --- | --- | --- | --- | --- |
| 2 x BrightGreen qPCR Mastermix with Regular ROX (4 x 1.25 ml) | MasterMix-R-ABM | 500 rxns (in 20 ul volumes) | 276 € | DETAILS | Add to Cart |
| 2 x BrightGreen qPCR Mastermix with Regular ROX (16 x 1.25 ml) | MasterMix-R-XL-ABM | 2000 rxns (in 20 ul volumes) | 699 € | DETAILS | Add to Cart |
| 5 x BrightGreen qPCR Mastermix with Regular ROX (4 x 1 ml) | MasterMix-5R-ABM | 1000 rxns (in 20 ul volumes) | 390 € | DETAILS | Add to Cart |
| 2 x BrightGreen qPCR Mastermix with Low ROX (4 x 1.25 ml) | MasterMix-LR-ABM | 500 rxns (in 20 ul volumes) | 276 € | DETAILS | Add to Cart |
| 2 x BrightGreen qPCR Mastermix with Low ROX (16 x 1.25 ml) | MasterMix-LR-XL-ABM | 2000 rxns (in 20 ul volumes) | 699 € | DETAILS | Add to Cart |
| 5 x BrightGreen qPCR Mastermix with Low ROX (4 x 1 ml) | MasterMix-5L-ABM | 1000 rxns (in 20 ul volumes) | 390 € | DETAILS | Add to Cart |
| 2 x BrightGreen qPCR Mastermix for iCycler (4 x 1.25 ml) | MasterMix-iC-ABM | 500 rxns (in 20 ul volumes) | 276 € | DETAILS | Add to Cart |
| 2 x BrightGreen qPCR Mastermix for iCycler (16 x 1.25 ml) | MasterMix-iC-XL-ABM | 2000 rxns (in 20 ul volumes) | 699 € | DETAILS | Add to Cart |
| 5 x BrightGreen qPCR Mastermix for iCycler (4 x 1 ml) | MasterMix-5C-ABM | 1000 rxns (in 20 ul volumes) | 390 € | DETAILS | Add to Cart |
| 2 x BrightGreen qPCR Mastermix without ROX (4 x 1.25 ml) | MasterMix-S-ABM | 500 rxns (in 20 ul volumes) | 276 € | DETAILS | Add to Cart |
| 2 x BrightGreen qPCR Mastermix without ROX (16 x 1.25 ml) | MasterMix-S-XL-ABM | 2000 rxns (in 20 ul volumes) | 699 € | DETAILS | Add to Cart |
| 5 x BrightGreen qPCR Mastermix without ROX (4 x 1 ml) | MasterMix-5S-ABM | 1000 rxns (in 20 ul volumes) | 390 € | DETAILS | Add to Cart |