iPSC Expression Vectors
Express four iPSC factors resp. miR-302bcad/367 cluster in one PiggyBac vector Reprogram cells using PiggyBac 4-in-1 transposon vectors
The PiggyBac Mouse 4-in-1 iPSC Vector (cat# PB400A-1-SBI) features Neo and GFP markers as well as a 2A-mediated co-expression cassette of murine c-Myc, Klf4, Oct4 and Sox2 iPSC genes.
Panel A. Gene Expression analysis of the 4-Factor PiggyBac Transposon Vector was tested in 3T3 Cells transfected with either no plasmid (-) or 2ug PiggyBac 4-in-1 vector and 0.5ug PiggyBac transposase (+). Cells were harvested at 2-weeks post-transfection, RNA was isolated and reverse transcribed (RT) to cDNA. Gene expression was evaluated via PCR using primers specific for 4-factors and Gapdh loading control.
Panel B. 3T3 cells were visualized 2 weeks post-transfection of 2ug PiggyBac 4-in-1 transposon vector + 0.5ug PiggyBac Transposase for GFP expression and -/+ stained for anti-Sox2 antibody (Texas Red). DAPI stain was used as a positive control to identify cell nuclei.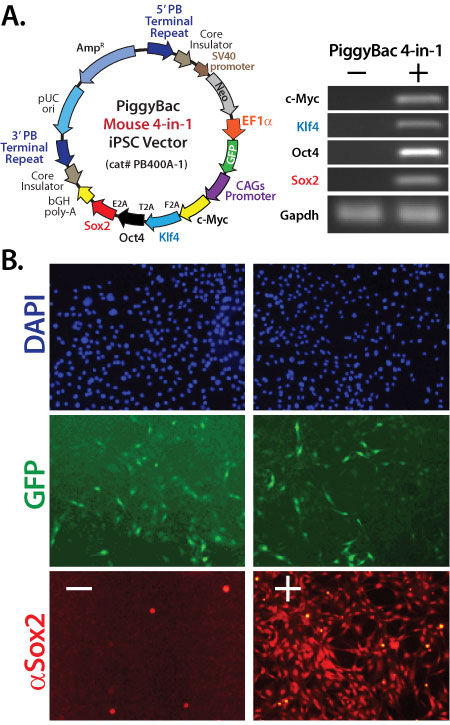 We also offer a human 4-in-1 iPSC vector, see below
Reprogram cells using the PiggyBac miR-302bcad/367 transposon vector
Overexpress the microRNA miR-302bcad/367 cluster using PiggyBac Human microRNA miR-302bcad/367 iPSC Vectors: Choose from constitutive miR-302/367 expression (cat# PB-miR302-SBI) or inducible miR-302/367 expression via the cumate switch (cat# PBQM-miR302-SBI).

| Description | Cat# | Size | Price | | |
| --- | --- | --- | --- | --- | --- |
| PiggyBac-EF1a-Oct4-Sox2-Klf4-Myc-IRES-GFP Human iPSC Vector | PB630A-1-SBI | 10 ug | 1609 € | DETAILS | Add to Cart |
| PiggyBac-SV40-Neo-EF1-GFP-CAGs-cMyc-Klf4-Oct4-Sox2 Mouse iPSC Vector | PB400A-1-SBI | 10 ug | 1200 € | DETAILS | Add to Cart |
| PiggyBac-CMV-miR-302/367-EF1-GFP iPSC Vector | PB-MIR302-SBI | 10 ug | 1766 € | DETAILS | Add to Cart |
| PiggyBac-Cuo-miR-302/367-IRES-GFP-EF1-CymR-Puro Inducible iPSC Vector | PBQM-MIR302-SBI | 10 ug | 1930 € | DETAILS | Add to Cart |