Dual Promoter Expression Vectors for cDNA and microRNA
The PiggyBac Dual Promoter Vector Series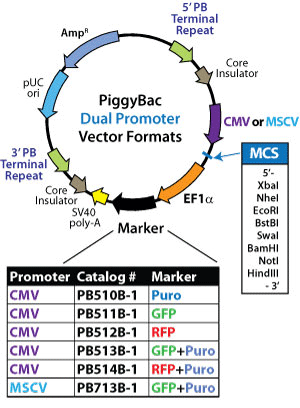 Vectors PB510B-1 to PB514B-1 carry the CMV promoter for high expression levels in most cell types, whereas vector PB713B-1 features the MSCV promoter which is active in stem cells.
The multiple cloning site (MCS) located downstream of the promoter allows for convenient cloning of your gene or microRNA of interest.
Downstream of your expression cassette is an EF1alpha promoter driving the expression of either the Puro, GFP, RFP, GFP+Puro or RFP+Puro markers.
The entire cassette is flanked by genomic insulator elements for stabilized expression and PiggyBac Inverted Terminal repeats for mobilization and integration.
| Description | Cat# | Size | Price | | |
| --- | --- | --- | --- | --- | --- |
| PiggyBac-CMV-MCS-EF1-GFP cDNA/ miRNA Cloning and Expression Vector | PB511B-1-SBI | 10 ug | 715 € | DETAILS | Add to Cart |
| PiggyBac-CMV-MCS-EF1-GFP-T2A-Puro cDNA/ miRNA Cloning and Expression Vector | PB513B-1-SBI | 10 ug | 715 € | DETAILS | Add to Cart |
| PiggyBac-CMV-MCS-EF1-Puro cDNA/ miRNA Cloning and Expression Vector | PB510B-1-SBI | 10 ug | 715 € | DETAILS | Add to Cart |
| PiggyBac-CMV-MCS-EF1-RedPuro cDNA/ miRNA Cloning and Expression Vector | PB514B-2-SBI | 10 ug | 715 € | DETAILS | Add to Cart |
| PiggyBac-CMV-MCS-EF1-RFP cDNA/ miRNA Cloning and Expression Vector | PB512B-1-SBI | 10 ug | 715 € | DETAILS | Add to Cart |
| PiggyBac-MSCV-MCS-EF1-GreenPuro cDNA/ miRNA Cloning and Expression Vector | PB713B-1-SBI | 10 ug | 715 € | DETAILS | Add to Cart |