Molecular Beacon Synthesis and Purification Service
In Cooperation with Bioresearch Technologies

Molecular Beacons (produced by Biosearch Technologies under license from the Public Health Research Insitutue, Newark, NJ) are dual-labeled FRET probes incorporating a Black Hole Quencher dye and a fluorphore reporter molecule. Molecular Beacons differ from TaqMan probes, however, due to the incorporation of a short (~5 b.p.) complementary sequence of bases at the 3´ and 5´ ends (the "stem" structure). Prior to amplification, the complementary bases of the stem hybridize forming the basic "stem-loop" structure of the Beacon. The stem raises the probe Tm and consequently molecular beacons can routinely discriminate between target sequences differing by a single nucleotide.
For detailed information see Molecular Beacon Website - Link below.
BioCat offers Biosearch Technologies´ large selection of fluorophores, e.g. CAL Fluor® dyes and Quasar® dyes and BHQ dark quenchers to help you to optimize the performance of your thermocyler.
Biosearch Technologies´ fluorescent dyes such as CAL Fluor, Quasar and the BHQ Dark Quencher dyes
are fully compatible with the range of real-time PCR instruments including the Applied Bioystems´ and Stratagene real-time machines, the Corbett RotorGen 3000™, the Bio-Rad iCycler™, Cepheid SmartCycler™, Roche LightCycler™, and others.
Use the order form below to order your custom Molecular Beacons
Multiplex assays
using Molecular Beacons are now possible that can detect several targets simultaneously using multiple spectrally resolved fluorescent probes. BioCat is pleased to offer Biosearch Technologies´ large selection of fluorophores and dark quenchers to help you to optimize performance of your multiplex assays.
Selection Guide: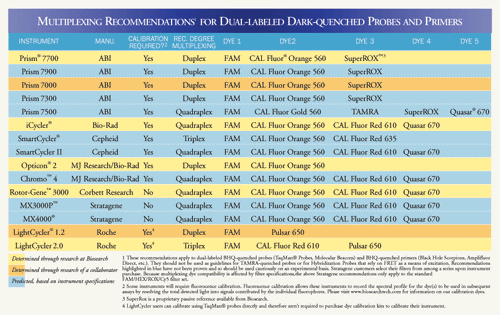 See links below for calibration dye standards and SuperRox Passive Reference dye
Use the order form below to order your custom Molecular Beacons
---
Related Links
SuperRox Passive Reference Dye
Calibration Dyes

---
PDF-Downloads
- Will open in new browser window
| Description | Cat# | Size | Price | | |
| --- | --- | --- | --- | --- | --- |
| Molecular Beacon: 3 | MBO-B2P6-1-BS | 1 umol Scale (provides > 30 nmol pure probe) | 999 € | DETAILS | Add to Cart |
| Molecular Beacon: 3 | MBO-B2P6-2-BS | 200 nmol Scale (provides > 10 nmol pure probe) | 735 € | DETAILS | Add to Cart |
| Molecular Beacon: 3 | MBO-B2P6-5-BS | 50 nmol Scale (provides > 2 nmol pure probe) | 689 € | DETAILS | Add to Cart |
| Molecular Beacon: 5 | MBO-C590B2-1-BS | 1 umol Scale (provides > 30 nmol pure probe) | 776 € | DETAILS | Add to Cart |
| Molecular Beacon: 5 | MBO-C590B2-2-BS | 200 nmol Scale (provides > 10 nmol pure probe) | 591 € | DETAILS | Add to Cart |
| Molecular Beacon: 5 | MBO-C590B2-5-BS | 50 nmol Scale (provides > 2 nmol pure probe) | 550 € | DETAILS | Add to Cart |
| Molecular Beacon: 5 | MBO-C635B2-1-BS | 1 umol Scale (provides > 30 nmol pure probe) | 825 € | DETAILS | Add to Cart |
| Molecular Beacon: 5 | MBO-C635B2-2-BS | 200 nmol Scale (provides > 10 nmol pure probe) | 689 € | DETAILS | Add to Cart |
| Molecular Beacon: 5 | MBO-C635B2-5-BS | 50 nmol Scale (provides > 2 nmol pure probe) | 591 € | DETAILS | Add to Cart |
| Molecular Beacon: 5 | MBO-CAB2-1-BS | 1 umol Scale (provides > 30 nmol pure probe) | 825 € | DETAILS | Add to Cart |
| Molecular Beacon: 5 | MBO-CAB2-2-BS | 200 nmol Scale (provides > 10 nmol pure probe) | 639 € | DETAILS | Add to Cart |
| Molecular Beacon: 5 | MBO-CAB2-5-BS | 50 nmol Scale (provides > 2 nmol pure probe) | 591 € | DETAILS | Add to Cart |
| Molecular Beacon: 5 | MBO-CAD-1-BS | 1 umol Scale (provides > 30 nmol pure probe) | 825 € | DETAILS | Add to Cart |
| Molecular Beacon: 5 | MBO-CAD-2-BS | 200 nmol Scale (provides > 10 nmol pure probe) | 639 € | DETAILS | Add to Cart |
| Molecular Beacon: 5 | MBO-CAD-5-BS | 50 nmol (provides > 2 nmol pure probe) | 591 € | DETAILS | Add to Cart |
| Molecular Beacon: 5 | MBO-CGB1-1-BS | 1 umol Scale (provides > 30 nmol pure probe) | 787 € | DETAILS | Add to Cart |
| Molecular Beacon: 5 | MBO-CGB1-2-BS | 200 nmol Scale (provides > 10 nmol pure probe) | 603 € | DETAILS | Add to Cart |
| Molecular Beacon: 5 | MBO-CGB1-5-BS | 50 nmol Scale (provides > 2 nmol pure probe) | 563 € | DETAILS | Add to Cart |
| Molecular Beacon: 5 | MBO-CGD-1-BS | 1 umol Scale (provides > 30 nmol pure probe) | 787 € | DETAILS | Add to Cart |
| Molecular Beacon: 5 | MBO-CGD-2-BS | 200 nmol Scale (provides > 10 nmol pure probe) | 603 € | DETAILS | Add to Cart |
| Molecular Beacon: 5 | MBO-CGD-5-BS | 50 nmol Scale (provides > 2 nmol pure probe) | 563 € | DETAILS | Add to Cart |
| Molecular Beacon: 5 | MBO-COB1-1-BS | 1 umol Scale (provides > 30 nmol pure probe) | 787 € | DETAILS | Add to Cart |
| Molecular Beacon: 5 | MBO-COB1-2-BS | 200 nmol Scale (provides > 10 nmol pure probe) | 603 € | DETAILS | Add to Cart |
| Molecular Beacon: 5 | MBO-COB1-5-BS | 50 nmol Scale (provides > 2 nmol pure probe) | 563 € | DETAILS | Add to Cart |
| Molecular Beacon: 5 | MBO-COD-1-BS | 1 umol Scale (provides > 30 nmol pure probe) | 787 € | DETAILS | Add to Cart |
| Molecular Beacon: 5 | MBO-COD-2-BS | 200 nmol Scale (provides > 10 nmol pure probe) | 603 € | DETAILS | Add to Cart |
| Molecular Beacon: 5 | MBO-COD-5-BS | 50 nmol Scale (provides > 2 nmol pure probe) | 563 € | DETAILS | Add to Cart |
| Molecular Beacon: 5 | MBO-FB1-1-BS | 1 umol Scale (provides > 40 nmol pure probe) | 757 € | DETAILS | Add to Cart |
| Molecular Beacon: 5 | MBO-FB1-2-BS | 200 nmol Scale (provides > 10 nmol pure probe) | 585 € | DETAILS | Add to Cart |
| Molecular Beacon: 5 | MBO-FB1-5-BS | 50 nmol Scale (provides > 3 nmol pure probe) | 546 € | DETAILS | Add to Cart |
| Molecular Beacon: 5 | MBO-FD-1-BS | 1 umol Scale (provides > 40 nmol pure probe) | 757 € | DETAILS | Add to Cart |
| Molecular Beacon: 5 | MBO-FD-2-BS | 200 nmol Scale (provides > 10 nmol pure probe) | 585 € | DETAILS | Add to Cart |
| Molecular Beacon: 5 | MBO-FD-5-BS | 50 nmol Scale (provides > 3 nmol pure probe) | 546 € | DETAILS | Add to Cart |
| Molecular Beacon: 5 | MBO-HB1-1-BS | 1 umol Scale (provides > 30 nmol pure probe) | 821 € | DETAILS | Add to Cart |
| Molecular Beacon: 5 | MBO-HB1-2-BS | 200 nmol Scale (provides > 10 nmol pure probe) | 633 € | DETAILS | Add to Cart |
| Molecular Beacon: 5 | MBO-HB1-5-BS | 50 nmol Scale (provides > 2 nmol pure probe) | 584 € | DETAILS | Add to Cart |
| Molecular Beacon: 5 | MBO-HD-1-BS | 1 umol Scale (provides > 30 nmol pure probe) | 821 € | DETAILS | Add to Cart |
| Molecular Beacon: 5 | MBO-HD-2-BS | 200 nmol Scale (provides > 10 nmol pure probe) | 633 € | DETAILS | Add to Cart |
| Molecular Beacon: 5 | MBO-HD-5-BS | 50 nmol Scale (provides > 2 nmol pure probe) | 584 € | DETAILS | Add to Cart |
| Molecular Beacon: 5 | MBO-Q5B2-1-BS | 1 umol Scale (provides > 40 nmol pure probe) | 821 € | DETAILS | Add to Cart |
| Molecular Beacon: 5 | MBO-Q5B2-2-BS | 200 nmol Scale (provides > 10 nmol pure probe) | 633 € | DETAILS | Add to Cart |
| Molecular Beacon: 5 | MBO-Q5B2-5-BS | 50 nmol Scale (provides > 3 nmol pure probe) | 584 € | DETAILS | Add to Cart |
| Molecular Beacon: 5 | MBO-Q5D-1-BS | 1 umol Scale (provides > 40 nmol pure probe) | 821 € | DETAILS | Add to Cart |
| Molecular Beacon: 5 | MBO-Q5D-2-BS | 200 nmol Scale (provides > 10 nmol pure probe) | 633 € | DETAILS | Add to Cart |
| Molecular Beacon: 5 | MBO-Q5D-5-BS | 50 nmol Scale (provides > 3 nmol pure probe) | 584 € | DETAILS | Add to Cart |
| Molecular Beacon: 5 | MBO-Q6B2-1-BS | 1 umol Scale (provides > 30 nmol pure probe) | 825 € | DETAILS | Add to Cart |
| Molecular Beacon: 5 | MBO-Q6B2-2-BS | 200 nmol Scale (provides > 10 nmol pure probe) | 639 € | DETAILS | Add to Cart |
| Molecular Beacon: 5 | MBO-Q6B2-5-BS | 50 nmol Scale (provides > 3 nmol pure probe) | 591 € | DETAILS | Add to Cart |
| Molecular Beacon: 5 | MBO-TB2-1-BS | 1 umol Scale (provides > 30 nmol pure probe) | 787 € | DETAILS | Add to Cart |
| Molecular Beacon: 5 | MBO-TB2-2-BS | 200 nmol Scale (provides > 10 nmol pure probe) | 603 € | DETAILS | Add to Cart |