Double-quenched BHQnova Probe Synthesis and Purification Service

BHQnova probes are a newly developed probe format for qPCR
• Improved quenching efficiency and signal-to-noise ratio
• Quencher configuration perfectly suited for sequences of 25 bases or longer
• Greater flexibility in sequence design, even AT-rich sequences can be targeted
• Nova quencher's inter-nucleotide linkage simplifies probe design
BHQnova™ probes are a double quenched probe format that has the 5' fluorophore and a 3' Black Hole Quencher modifications but also introduces the addition of a unique nova quencher placed between bases 9 and 10 for enhanced signal-to-noise ratio of longer probes. Figure 1 below illustrates the structures of LGC Biosearch's hydrolysis probe-types.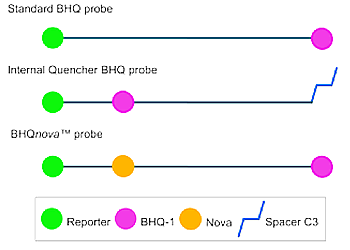 Figure 1: Stucture of hydrolysis probe-types
BHQ probes are typically limited to 30 bases or shorter to achieve sufficient quenching efficiency. The length of an oligo probe is selected with consideration not only to quenching efficiency but also binding stability. A common design guideline is to select probe sequences with a melt temperature (T
m
) of 70 °C, elevated above the T
m
of the primers. Depending on base composition, probes must typically be longer than 20 bases to accomplish that T
m
criterion, in the absence of special modifications to promote hybridization. Sequence design is thus a careful compromise between binding stability and quenching efficiency, but a 20-30 base window is inadequate for many difficult targets.
Occasionally it is necessary to extend the probe sequence beyond 30 bases. Many target genes are particularly AT-rich and require longer sequences to obtain the proper T
m
. This upper limit on sequence length can be relaxed by positioning the quencher at an internal location closer to the fluorescent reporter, rather than at the 3' terminus.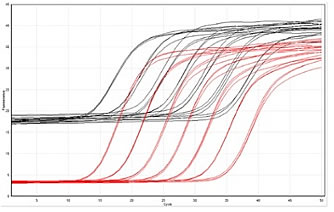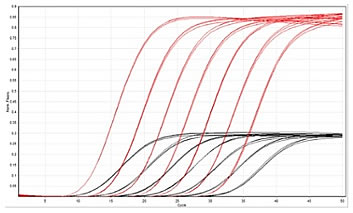 Figure 2: qPCR amplification curves
comparing a BHQnova probe (red) and a standard end-labeled probe (black) of the same 35-base sequence. The BHQnova probe reveals improved quenching efficiency in the raw data (top), before baseline subtraction. The normalized amplification data (below) better illustrates the dramatic improvement in signal response
| Description | Cat# | Size | Price | | |
| --- | --- | --- | --- | --- | --- |
| Double-Quenched BHQnova Probe: 5' CAL Fluor Gold 540 Fluorophore Reporter (Emission 544 nm) 3' BHQ (Black Hole Quencher) and internal Nova quencher | DLO-CGBN-1-BS | 1 umol Scale (provides > 60 nmol pure probe) | 832 € | DETAILS | Add to Cart |
| Double-Quenched BHQnova Probe: 5' CAL Fluor Gold 540 Fluorophore Reporter (Emission 544 nm) 3' BHQ (Black Hole Quencher) and internal Nova quencher | DLO-CGBN-2-BS | 200 nmol Scale (provides > 25 nmol pure probe) | 517 € | DETAILS | Add to Cart |
| Double-Quenched BHQnova Probe: 5' CAL Fluor Gold 540 Fluorophore Reporter (Emission 544 nm) 3' BHQ (Black Hole Quencher) and internal Nova quencher | DLO-CGBN-5-BS | 50 nmol Scale (provides > 10 nmol pure probe) | 381 € | DETAILS | Add to Cart |
| Double-Quenched BHQnova Probe: 5' CAL Fluor Orange 560 Reporter (Emission 559 nm) 3' BHQ (Black Hole Quencher) and internal Nova quencher | DLO-COBN-1-BS | 1 umol Scale (provides > 60 nmol pure probe) | 832 € | DETAILS | Add to Cart |
| Double-Quenched BHQnova Probe: 5' CAL Fluor Orange 560 Reporter (Emission 559 nm) 3' BHQ (Black Hole Quencher) and internal Nova quencher | DLO-COBN-2-BS | 200 nmol Scale (provides > 25 nmol pure probe) | 517 € | DETAILS | Add to Cart |
| Double-Quenched BHQnova Probe: 5' CAL Fluor Orange 560 Reporter (Emission 559 nm) 3' BHQ (Black Hole Quencher) and internal Nova quencher | DLO-COBN-5-BS | 50 nmol Scale (provides > 10 nmol pure probe) | 381 € | DETAILS | Add to Cart |
| Double-Quenched BHQnova Probe: 5' FAM Fluorophore Reporter (Emission 520 nm) 3' BHQ (Black Hole Quencher) and internal Nova quencher | DLO-FBN-1-BS | 1 umol Scale (provides > 60 nmol pure probe) | 730 € | DETAILS | Add to Cart |
| Double-Quenched BHQnova Probe: 5' FAM Fluorophore Reporter (Emission 520 nm) 3' BHQ (Black Hole Quencher) and internal Nova quencher | DLO-FBN-2-BS | 200 nmol Scale (provides > 25 nmol pure probe) | 465 € | DETAILS | Add to Cart |
| Double-Quenched BHQnova Probe: 5' FAM Fluorophore Reporter (Emission 520 nm) 3' BHQ (Black Hole Quencher) and internal Nova quencher | DLO-FBN-5-BS | 50 nmol Scale (provides > 10 nmol pure probe) | 310 € | DETAILS | Add to Cart |
| Double-Quenched BHQnova Probe: 5' HEX Fluorophore Reporter (Emission 556 nm) 3' BHQ (Black Hole Quencher) and internal Nova quencher | DLO-HBN-1-BS | 1 umol Scale (provides > 60 nmol pure probe) | 883 € | DETAILS | Add to Cart |
| Double-Quenched BHQnova Probe: 5' HEX Fluorophore Reporter (Emission 556 nm) 3' BHQ (Black Hole Quencher) and internal Nova quencher | DLO-HBN-2-BS | 200 nmol Scale (provides > 25 nmol pure probe) | 558 € | DETAILS | Add to Cart |
| Double-Quenched BHQnova Probe: 5' HEX Fluorophore Reporter (Emission 556 nm) 3' BHQ (Black Hole Quencher) and internal Nova quencher | DLO-HBN-5-BS | 50 nmol Scale (provides > 10 nmol pure probe) | 393 € | DETAILS | Add to Cart |
| Double-Quenched BHQnova Probe: 5' TET Fluorophore Reporter (Emission 536 nm) 3' BHQ (Black Hole Quencher) and internal Nova quencher | DLO-TBN-1-BS | 1 umol Scale (provides > 60 nmol pure probe) | 883 € | DETAILS | Add to Cart |
| Double-Quenched BHQnova Probe: 5' TET Fluorophore Reporter (Emission 536 nm) 3' BHQ (Black Hole Quencher) and internal Nova quencher | DLO-TBN-2-BS | 200 nmol Scale (provides > 25 nmol pure probe) | 558 € | DETAILS | Add to Cart |
| Double-Quenched BHQnova Probe: 5' TET Fluorophore Reporter (Emission 536 nm) 3' BHQ (Black Hole Quencher) and internal Nova quencher | DLO-TBN-5-BS | 50 nmol Scale (provides > 10 nmol pure probe) | 393 € | DETAILS | Add to Cart |