Black Hole Scorpions Synthesis and Purification Service
In Cooperation with Biosearch Technologies

Black Hole Scorpions: Black Hole Quencher-labeled Probe Primer Molecules for PCR analysis
* Rapid, Real-time Q-PCR
* Highly specific Endpoint PCR
* SNP Detection
* Gene Quantification
* Environmental Analysis
BioCat is pleased to offer Biosearch´s Black Hole Quencher-labeled Scorpions for PCR analysis. Unlike TaqMan® probes and Molecular Beacons™ which are based on a bi-molecular probing mechanism, Black Hole Scorpions utilize a uni-molecular mechanism that does not require enzymatic cleavage of the probe during PCR cycling. This provides a number of important advantages over other PCR probe formats:
* Measurably Faster Reactions
* Enhanced Sensitivity
* Simplified Assay Design
* Exceptional Specificity
* Excellent Signal to Noise Ratio (see fig 3)
* Easily Multiplexed
Black Hole Scorpions Architecture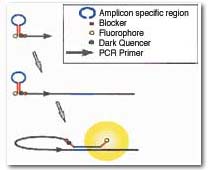 Black Hole Scorpions are probe/primer hybrids whose design, unlike other FRET probes, is such that they emit light only when bound to their complementary target sequence during PCR amplification. Black Hole Scorpions incorporate two distinct structures: 1) a target-specific DNA probing sequence and 2) a target-specific PCR primer. The DNA probing sequence incorporates a self-complementary stem sequence at the 3´ and 5´ ends that holds the amplificon specific region in a hairpin loop. A fluorophor molecule is covalently linked to the 5´ end and, the dark quencher, a Black Hole Quencher dye, is linked to the 3´ end of the loop structure. The fluorophore and BHQ dye are held in close physical proximity by the stem structure thereby ensuring efficent supression of fluorescence via FRET prior to thermocycling. The second structure of the Black Hole Scorpions is the target-specific PCR primer. The structure is also covalently linked to the 3´ end of the DNA probing sequence through a blocking molecule designed to prevent read-through by the polymerase thereby eliminating the formation of primer dimers or mis-priming.
Figure 2. Black Hole Scorpions Detection Mechanism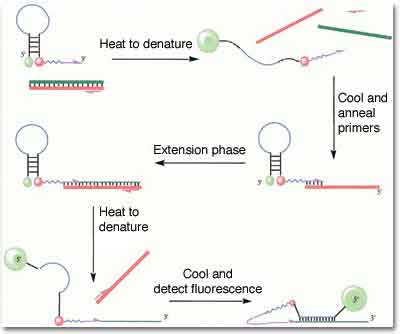 Figure 3. BRCA1 gene analysis (background uncorrected) by Black Hole Scorpions, TaqMan®, and Molecular Beacon probes showing exceptional balance of low noise to strong signal generated by Black Hole Scorpions. The uni-molecular nature of the Black Hole Scorpions ensures rapid interaction of the probe and the target thus eliminating formation of internal secondary structures or reannealing.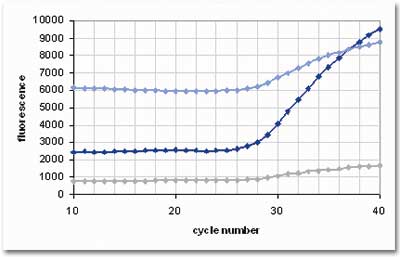 BioCat offers Biosearch Technologies´ large selection of fluorophores, e.g. CAL Fluor® dyes and Quasar® dyes and BHQ dark quenchers to help you to optimize the performance of your thermocyler.
Biosearch Technologies´ fluorescent dyes such as CAL Fluor, Quasar and the BHQ Dark Quencher dyes are fully compatible with the range of real-time PCR instruments including the Applied Bioystems´ and Stratagene real-time machines, the Corbett RotorGen 3000™, the Bio-Rad iCycler™, Cepheid SmartCycler™, Roche LightCycler™, and others.
Use the order form below to order your custom Black Hole Scorpions
You can also order the reverse primer as a separate custom product together with Black Hole Scorpions Synthesis and Purification Service
Bi-molecular Black Hole Scorpion Probe and Oligo Synthesis service is also available, as in some cases it is preferable to use a separate quencher oligo along with the fluorescence labeled Scorpion probe
Multiplex assays
using Black Hole Scorpions are now possible that can detect several targets simultaneously using multiple spectrally resolved fluorescent probes. BioCat is pleased to offer Biosearch Technologies´ large selection of fluorophores and dark quenchers to help you to optimize performance of your multiplex assays.
Selection Guide: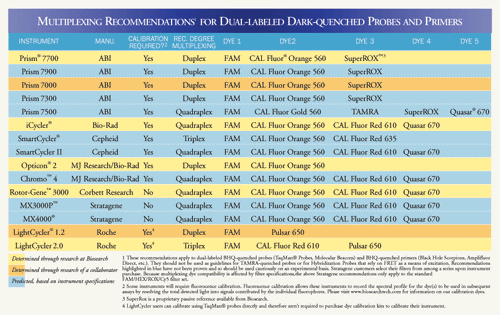 See links below for calibration dye standards and SuperRox Passive Reference dye
Use the form below to order Black Hole Scorpions and Reverse Primer
---
Related Links
SuperRox Passive Reference Dye
Calibration Dyes

---
PDF-Downloads
- Will open in new browser window
Black Hole Scorpion Order Form

| Description | Cat# | Size | Price | | |
| --- | --- | --- | --- | --- | --- |
| Black Hole Scorpions Unimolecular Probe: 5' CAL Fluor Gold 540 (Emission 544 nm) Internal BHQ-1/HEG (Black Hole Quencher) | SCP-CGB1-1-BS | 1 umol (provides > 30 nmol pure probe) | 1153 € | DETAILS | Add to Cart |
| Black Hole Scorpions Unimolecular Probe: 5' CAL Fluor Gold 540 (Emission 544 nm) Internal BHQ-1/HEG (Black Hole Quencher) | SCP-CGB1-2-BS | 200 nmol (provides > 10 nmol pure probe) | 753 € | DETAILS | Add to Cart |
| Black Hole Scorpions Unimolecular Probe: 5' CAL Fluor Orange 560 (Emission 559 nm) Internal BHQ-1/HEG (Black Hole Quencher) | SCP-COB1-1-BS | 1 umol Scale (provides > 30 nmol pure probe) | 1153 € | DETAILS | Add to Cart |
| Black Hole Scorpions Unimolecular Probe: 5' CAL Fluor Orange 560 (Emission 559 nm) Internal BHQ-1/HEG (Black Hole Quencher) | SCP-COB1-2-BS | 200 nmol Scale (provides > 10 nmol pure probe) | 753 € | DETAILS | Add to Cart |
| Black Hole Scorpions Unimolecular Probe: 5' CAL Fluor Red 590 (Emission 591 nm) Internal BHQ-2/HEG (Black Hole Quencher) | SCP-C590B2-1-BS | 1 umol Scale (provides > 30 nmol pure probe) | 1153 € | DETAILS | Add to Cart |
| Black Hole Scorpions Unimolecular Probe: 5' CAL Fluor Red 590 (Emission 591 nm) Internal BHQ-2/HEG (Black Hole Quencher) | SCP-C590B2-2-BS | 200 nmol Scale (provides > 10 nmol pure probe) | 753 € | DETAILS | Add to Cart |
| Black Hole Scorpions Unimolecular Probe: 5' CAL Fluor Red 610 (Emission 610 nm) Internal BHQ-2/HEG (Black Hole Quencher) | SCP-CAB2-1-BS | 1 umol Scale (provides > 30 nmol pure probe) | 1153 € | DETAILS | Add to Cart |
| Black Hole Scorpions Unimolecular Probe: 5' CAL Fluor Red 610 (Emission 610 nm) Internal BHQ-2/HEG (Black Hole Quencher) | SCP-CAB2-2-BS | 200 nmol Scale (provides > 10 nmol pure probe) | 753 € | DETAILS | Add to Cart |
| Black Hole Scorpions Unimolecular Probe: 5' CAL Fluor Red 635 (Emission 637 nm) Internal BHQ-2/HEG (Black Hole Quencher) | SCP-C635B2-1-BS | 1 umol Scale (provides > 15 nmol pure probe) | 1153 € | DETAILS | Add to Cart |
| Black Hole Scorpions Unimolecular Probe: 5' CAL Fluor Red 635 (Emission 637 nm) Internal BHQ-2/HEG (Black Hole Quencher) | SCP-C635B2-2-BS | 200 nmol Scale (provides > 5 nmol pure probe) | 753 € | DETAILS | Add to Cart |
| Black Hole Scorpions Unimolecular Probe: 5' FAM (Emission 520 nm) Internal BHQ-1/HEG (Black Hole Quencher) | SCP-FB1-1-BS | 1 umol Scale (provides > 30 nmol pure probe) | 1077 € | DETAILS | Add to Cart |
| Black Hole Scorpions Unimolecular Probe: 5' FAM (Emission 520 nm) Internal BHQ-1/HEG (Black Hole Quencher) | SCP-FB1-2-BS | 200 nmol Scale (provides > 10 nmol pure probe) | 687 € | DETAILS | Add to Cart |
| Black Hole Scorpions Unimolecular Probe: 5' Qasar 570 (Emission 566 nm) Internal BHQ-2/HEG (Black Hole Quencher) | SCP-Q5B2-1-BS | 1 umol Scale (provides > 30 nmol pure probe) | 1153 € | DETAILS | Add to Cart |
| Black Hole Scorpions Unimolecular Probe: 5' Qasar 570 (Emission 566 nm) Internal BHQ-2/HEG (Black Hole Quencher) | SCP-Q5B2-2-BS | 200 nmol Scale (provides > 10 nmol pure probe) | 817 € | DETAILS | Add to Cart |
| Black Hole Scorpions Unimolecular Probe: 5' Qasar 670 (Emission 670 nm) Internal BHQ-2/HEG (Black Hole Quencher) | SCP-Q6B2-1-BS | 1 umol Scale (provides > 15 nmol pure probe) | 1227 € | DETAILS | Add to Cart |
| Black Hole Scorpions Unimolecular Probe: 5' Qasar 670 (Emission 670 nm) Internal BHQ-2/HEG (Black Hole Quencher) | SCP-Q6B2-2-BS | 200 nmol Scale (provides > 5 nmol pure probe) | 884 € | DETAILS | Add to Cart |
| Black Hole Scorpions Unimolecular Probe: 5' Quasar 705 Fluorophore Reporter (Emission 705 nm) Internal BHQ-1/HEG (Black Hole Quencher) | SCP-Q7B2-1-BS | 1 umol (provides > 15 nmol pure probe) | 1227 € | DETAILS | Add to Cart |
| Black Hole Scorpions Unimolecular Probe: 5' Quasar 705 Fluorophore Reporter (Emission 705 nm) Internal BHQ-1/HEG (Black Hole Quencher) | SCP-Q7B2-2-BS | 200 nmol (provides > 5 nmol pure probe) | 884 € | DETAILS | Add to Cart |
| Black Hole Scorpions Unimolecular Probe: 5' TAMRA (Emission 583 nm) Internal BHQ-2/HEG (Black Hole Quencher) | SCP-TB2-1-BS | 1 umol Scale (provides > 30 nmol pure probe) | 1153 € | DETAILS | Add to Cart |
| Black Hole Scorpions Unimolecular Probe: 5' TAMRA (Emission 583 nm) Internal BHQ-2/HEG (Black Hole Quencher) | SCP-TB2-2-BS | 200 nmol Scale (provides > 10 nmol pure probe) | 817 € | DETAILS | Add to Cart |
| Custom Synthesis and Purification of Reverse Primer (up to 30 bases) ordered together with Black Hole Scorpions Probe | SCP-P1-1-BS | 1 umol scale (provides > 30 nmol pure primer) | 148 € | DETAILS | Add to Cart |
| Custom Synthesis and Purification of Reverse Primer (up to 30 bases) ordered together with Black Hole Scorpions Probe | SCP-P1-2-BS | 200 nmol scale (provides > 10 nmol pure primer) | 128 € | DETAILS | Add to Cart |