CUT&RUN Sequencing NGS Library Preparation
CUTANA™ assays from EpiCypher
use a proprietary immunotethering approach similar to Chromatin ImmunoCleavage (ChIC) and Cleavage Under Targets and Release Using Nuclease (CUT&RUN) methods. This approach can be used to map histone post-translational modifications (PTMs) and chromatin interactors with high sensitivity and resolution. The approach leverages a factor specific antibody to tether a fusion of protein A, protein G and micrococcal nuclease (pAG-MNase) to genomic binding sites in intact cells, which is then activated by the addition of calcium to cleave DNA.
Overview of the approach
Cells (or nuclei) are immobilized on lectin-coated magnetic beads, permeabilized, and incubated with an antibody to a chromatin target (e.g. histone PTM or chromatin / DNA binding protein). Next, pAG-MNase is added and activated via Ca2+. The clipped chromatin fragments diffuse out, followed by DNA purification and next-generation sequencing. CUTANA™ assays vastly outperform those using chromatin immunoprecipitation, the current gold-standard genomic mapping assay.
CUTANA CUT&RUN: Go from cells to data in < 4 Days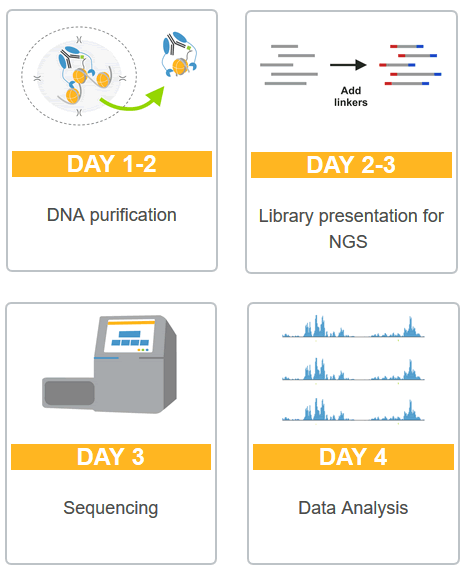 For conversion of the Micrococcal Nuclease generated short DNA fragments into NGS DNA sequencing libraries the
Accel NGS 1S DNA Library Kit
fits perfectly.
References:
Skene PJ, Henikoff JG & Henikoff S (2018) Targeted in situ genome-wide profiling with high efficiency for low cell numbers. Nature Protocols 13:1006-1019 (doi:10.1038/nprot.2018.015).
Schmid M, Durussel T & LaemmliUK (2004) ChIC and ChEC; genomic mapping of chromatin proteins. Molecular Cell16:147-157 (doi:10.1016/j.molcel.2004.09.007).
Shah RN, et al. (2018) Examining the roles of H3K4 methylation states with systematically characterized antibodies. Molecular Cell72:162-177 (doi: 10.1016/j.molcel.2018.08.015).
---
Related Links
Accel-NGS 1S Plus DNA Library Kits

| Description | Cat# | Size | Price | | |
| --- | --- | --- | --- | --- | --- |
| CUTANA CUT&RUN Kit | 14-1048-EPC | 48 sampes | 963 € | DETAILS | Add to Cart |
| CUTANA Concanavalin A-Conjugated Paramagnetic Beads | 21-1401-EPC | 550 ul | 238 € | DETAILS | Add to Cart |
| CUTANA Concanavalin A-Conjugated Paramagnetic Beads | 21-1411-EPC | 2,75 ml | 680 € | DETAILS | Add to Cart |
| CUTANA pAG-MNase for ChIC/CUT&RUN Workflows | 15-1016-EPC | 50 rxns | 379 € | DETAILS | Add to Cart |
| CUTANA pAG-MNase for ChIC/CUT&RUN Workflows | 15-1116-EPC | 250 rxns | 1427 € | DETAILS | Add to Cart |
| CUTANA E. coli Spike-in DNA | 18-1401-EPC | 100 ng | 178 € | DETAILS | Add to Cart |
| Rabbit IgG Antibody, CUTANA CUT&RUN Negative Control | 13-0042-EPC | 100 ug | 231 € | DETAILS | Add to Cart |
| BRD4 Antibody: CUTANA Compatible (CUT&RUN) | 13-2003-EPC | 50 ul | 599 € | DETAILS | Add to Cart |
| BRG1/SMARCA4 Antibody: CUTANA Compatible (CUT&RUN) | 13-2002-EPC | 100 ul | 599 € | DETAILS | Add to Cart |
| FOXA1/HNF3A Antibody: CUTANA Compatible (CUT&RUN) | 13-2001-EPC | 100 ul | 599 € | DETAILS | Add to Cart |
| Histone H3K27me3 Monoclonal Antibody - SNAP-ChIP Certified, CUTANA CUT&RUN Compatible | 13-0030-EPC | 100 ug | 571 € | DETAILS | Add to Cart |
| Histone H3K36me3 Monoclonal Antibody - SNAP-ChIP Certified, CUTANA CUT&RUN Compatible | 13-0031-EPC | 100 ug | 656 € | DETAILS | Add to Cart |
| Histone H3K4me3 Antibody: SNAP-ChIP Certified, CUTANA CUT&RUN Compatible | 13-0041-EPC | 100 ug | 670 € | DETAILS | Add to Cart |
| CUTANA DNA Purification Kit | 14-0050-EPC | 50 samples | 280 € | DETAILS | Add to Cart |
| Magnetic Separation Rack, 0.2 ml Tubes | 10-0008-EPC | 1 rack | 460 € | DETAILS | Add to Cart |
| Magnetic Separation Rack, 1.5 ml Tubes | 10-0012-EPC | 1 rack | 340 € | DETAILS | Add to Cart |
| CUTANA CUT&RUN 8-strip 0.2mL tubes | 10-0009-EPC | 120 strips | 154 € | DETAILS | Add to Cart |