NGS Library Preparation with low input capability, PCR free
Accel-NGS® DNA Library Kit for Ion Torrent™DNA Library Preparation for Next Generation Sequencing (NGS) on Ion Torrent Platforms
• PCR-free to minimize base composition bias and fidelity issues
• Low input requirements: as little as 5 ng of DNA
• Compatible with nicked, damaged, and denatured samples
• Fast - only 75 minutes start-to-finish
• Streamlined, 3-step protocol
• Proprietary adapter attachment chemistry minimizes bias and supports low input
• Reduces adapter dimer formation to maximize sequencing output
• Readily automatable
Sample Types
- Single-stranded DNA
- Double-stranded DNA
- Heat-denatured samples
- Amplicons
- Nicked DNA
- ChIP DNA
- FFPE DNA
- cDNA
- Extremely AT/GC-rich Genomes
Instrument Compatibility
- Ion Proton System
- Ion PGM System
- Ion S5 System
Innovative Swift technology improves sample prep for next gen sequencing by expediting the process and delivering higher quality data. The Accel-NGS DNA Library Kit for Ion Torrent platforms is the only commercially available kit capable of producing PCR-free libraries with as little as 5 ng of input DNA. PCR-free capability minimizes base composition bias and fidelity issues, while a highly efficient adapter ligation process reduces the input requirements.
Accel-NGS DNA Library Kit for Ion Torrent: Workflow
Accel-NGS technology uses a unique combination of molecular biology reagents to produce a protocol that is streamlined and fast (75 minutes start-to-finish).
Two of the steps are bead-based separations that eliminate the need for time-consuming, electrophoretic gel-based size selection. Each step is color coded to make the protocol easy to follow. The simplified Accel-NGS workflow can be readily automated.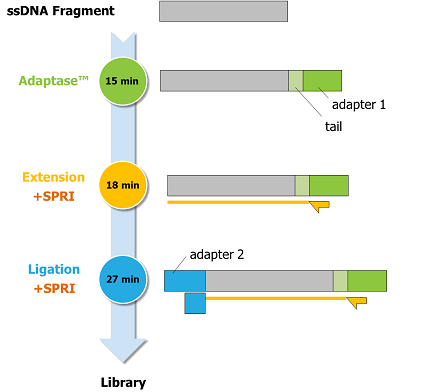 Clean-up beads are not provided with the kit. We recommend the SPRIselect™ Reagent Kit from Beckman Coulter.
Total Turnaround Time Comparison Versus Other Kits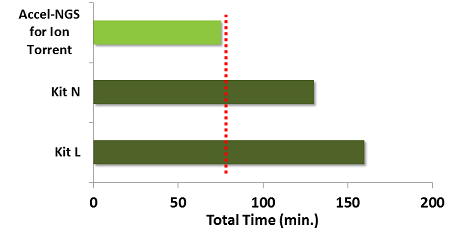 | Description | Cat# | Size | Price | | |
| --- | --- | --- | --- | --- | --- |
| Accel-NGS Library Kit for Ion Torrent - 10 reactions | 11010-SWI | 10 rxns | 614 € | DETAILS | Add to Cart |
| Accel-NGS Library Kit for Ion Torrent - 50 reactions | 11050-SWI | 50 rxns | 2524 € | DETAILS | Add to Cart |
| Barcoding Kit for Ion Torrent - Barcodes 1-10, Set A, 1 rxn ea. | 16110-SWI | 10 rxns | 275 € | DETAILS | Add to Cart |
| Barcoding Kit for Ion Torrent - Barcodes 1-10, Set A, 5 rxn ea. | 16150-SWI | 50 rxns | 636 € | DETAILS | Add to Cart |
| Barcoding Kit for Ion Torrent - Barcodes 11-20, Set B, 1 rxn ea. | 16210-SWI | 10 rxns | 275 € | DETAILS | Add to Cart |
| Barcoding Kit for Ion Torrent - Barcodes 11-20, Set B, 5 rxn ea. | 16250-SWI | 50 rxns | 636 € | DETAILS | Add to Cart |