NGS Library Preparation with single tube enzymatic fragmentation procedure
2S Turbo v2 produces high yields with fewer PCR duplicates due to redesigned adapter and master mix components
•
Low input, high complexity
Up to 3x fewer duplicates from 1 ng of DNA
•
Improved yield for enrichment
Specially formulated PCR Master Mix boosts yield from a minimal number of PCR cycles
•
Multiplex up to 1536 samples
Normalase compatible, pre-plated UDIs enable multiplexing of multiplexing of up to 1536 samples with full automation
Turbo v2´s streamlined protocol is available in two formats for adapter and indexing flexibility. This technology leverages rapid and highly reproducible fragmentation and library construction, enabling manual and fully automatable workflows that are compatible with Swift Normalase™ technology.
Low Input and PCR-Free Workflows
The Swift 2S Turbo v2 DNA Library Kits are available in two configurations (Figure 1).
•
Swift 2S Turbo v2
DNA standard workflow includes stubby Y-adapters.
•
Swift 2S Turbo v2 Flexible
workflow supports PCR-Free library generation or your choice of adapters and indices.
A specially formulated Master Mix boosts yields to generate sufficient mass of library for hybridization-based enrichment without a corresponding increase in PCR duplicates. The new Master Mix can also be used on-bead for post-hybridization PCR.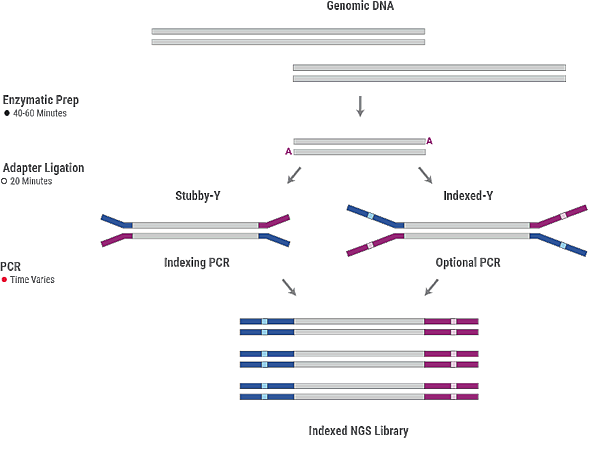 Figure 1.
Swift 2S Turbo v2 is compatible with low input (Stubby-Y) and PCR-Free (Indexed-Y) workflows.
PCR-free workflows are supported with inputs of 100 ng of DNA in an adapter ligation workflow. Low input workflows that index via amplification or ligation are available for samples with as few as 100 pg of DNA.
Supported Applications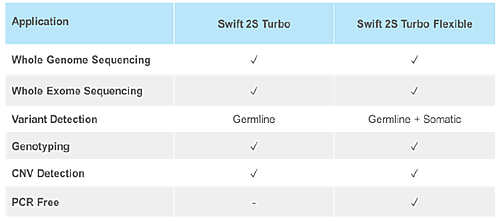 Sample Types
• Fresh frozen tissue
• Genomic DNA
• High quality Formalin-fixed, paraffin-embedded (FFPE) tissue*
• Microbial DNA
• PCR amplicons
* Optimization of the enzymatic fragmentation step may be required.
---
Related Links
Swift 2S Turbo v2 Data Sheet
Swift Normalase Kit

| Description | Cat# | Size | Price | | |
| --- | --- | --- | --- | --- | --- |
| Swift 2S Turbo V2 DNA Library Kit (24 reactions) | 46024-SWI | 24 rxns | 572 € | DETAILS | Add to Cart |
| Swift 2S Turbo V2 DNA Library Kit (96 reactions) | 46096-SWI | 96 rxns | 2013 € | DETAILS | Add to Cart |
| Swift 2S Turbo V2 Flexible DNA Library Kit (24 reactions) | 47024-SWI | 24 rxns | 538 € | DETAILS | Add to Cart |
| Swift 2S Turbo V2 Flexible DNA Library Kit (96 reactions) | 47096-SWI | 96 rxns | 1856 € | DETAILS | Add to Cart |
| Swift Deceleration Module (96 reactions) | 90596-SWI | 96 rxns | 56 € | DETAILS | Add to Cart |