NGS Library Preparation with single stranded DNA capability
Accel-NGS® 1S Plus DNA Library Kit:NGS Libraries from single-stranded DNA and difficult to process samples such as double-stranded DNA, which is nicked, damaged, or contains short fragments
• Inputs as low as 10 pg
• Libraries from ssDNA and dsDNA in a single sample
• Adapts DNA fragments ≥ 40 bp, capture previously unattainable sequences
• Exceptional library prep efficiency and library complexity for deep sequencing
• Proprietary adapter attachment chemistry minimizes bias and supports low input
• High fidelity polymerase minimizes sequence bias from PCR
• Excellent evenness of coverage
• Simple 2-hour protocol
Applications
• Viromics
• Metagenomics
• Microbial sequencing
• Heat-denatured pathogenic samples
• Difficult-to-extract organisms
• Damaged samples, including nicked DNA (e.g. from FFPE tissue)
• Ancient DNA
Accel-NGS 1S Plus DNA Library Kit is the best choice for users needing to sequence difficult to process samples which cannot be sequenced by other methods. Expand your research by processing damaged and degraded samples.
Accel-NGS 1S Plus technology is based on unique molecular biology techniques and reagents which combine to produce library molecules from previously unattainable samples. The technology allows for damaged, degraded, and ancient DNA to be easily processed into library molecules for sequencing. Whether a sample is old, has been improperly handled, or requires harsh DNA extraction conditions, the Accel-NGS 1S Plus DNA Library Kit can deliver it in proper form to Illumina MiSeq® and HiSeq® sequencers.
Accel-NGS 1S Plus DNA Library Kit for Illumina Workflow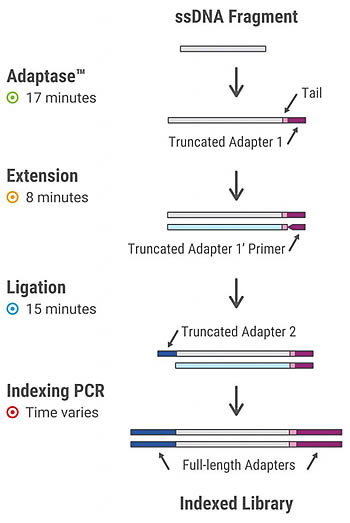 Clean-up beads are not provided with the kit. We recommend the SPRIselect™ Reagent Kit from Beckman Coulter.
1S Produces High Quality Cut&Run Data
1S efficiently convert into a library short DNA fragments produced by micrococcal nuclease cleavage
• Compatible with ssDNA and dsDNA samples
• Supports inputs as low as 10 pg
• Unique chemistry adapts short fragments DNA >40 bp
• Preserves input fragmentation patterns for precise mapping of DNA insert ends'
• Simple, 2-hour protocol
Micrococcal Nuclease for CUT&RUN assays is available from our partner EpiCypher:
CUTANA™ pAG-MNase
---
Related Links
1S Master Mix Calculation Tool (see Protocols and Tools)
Input DNA Quantification Protocol
Tech Note: Accel-NGS 1S Plus and Methyl-Seq Tail Trimming
Enzymatic-based NGS Library Normalization

| Description | Cat# | Size | Price | | |
| --- | --- | --- | --- | --- | --- |
| Accel-NGS 1S Plus DNA Library Kit for Illumina - 24 reactions | 10024-SWI | 24 rxns | 1195 € | DETAILS | Add to Cart |
| Accel-NGS 1S Plus DNA Library Kit for Illumina - 96 reactions | 10096-SWI | 96 rxns | 4101 € | DETAILS | Add to Cart |