NGS Library Preparation for Fragmented dsDNA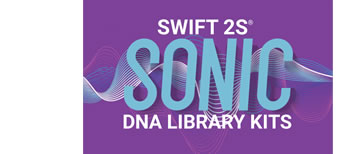 High Throughput Library Prep for Fragmented dsDNA
• Compatible with Covaris® sheared DNA
• Supports 1 ng – 1 µg
• PCR-free libraries from 50 ng input
• Streamlined 2 step workflow with optional PCR
• Data quality equal to leading supplier kits
• Readily automated and compatible with Swift Normalase®
• Up to 768 combinatorial dual and 384 unique dual indexing
The Swift 2S Sonic DNA Library Kits offer a versatile solution that streamlines NGS sample preparation for double-stranded DNA on Illumina® sequencing platforms. This workflow processes fragmented DNA for rapid and highly efficient end repair/A-tailing and adapter ligation with an optional library amplification step, enabling manual and automated workflows. The Swift 2S Sonic workflow minimizes sample handling and overall library preparation time to two hours with PCR.
SWIFT 2S Sonic DNA Library Kits come in two different workflow configurations:
2S Sonic: For indexing by PCR
This kit configuration includes library prep reagents and a truncated Y adapter for compatibility with Swift Indexing Primer kits including Single, Combinatorial Dual (CD; up to 768-plex), and Unique Dual (UD; up to 384-plex) Indexing options. This fast and efficient workflow is compatible with Normalase CD and UD Indexing Primer kits to further expedite sample processing.
2S Sonic Flexible: For indexing by Ligation
For this kit configuration, combine our 2S Sonic Flexible with your choice of full-length indexed Y adapters (available from Illumina and other vendors) to create a fast and efficient PCR-free workflow. Or combine with Normalase and library amplification to further expedite sample processing.
Applications
• Whole genome sequencing (WGS)
• Hybridization capture of targeted genomic regions (exome)
• Metagenomic sequencing
• Detection of germline inherited SNVs and Indels
• Low frequency somatic variant detection of SNVs and Indels
• Copy number variation detection
Comprehensive Metagenomic Sequencing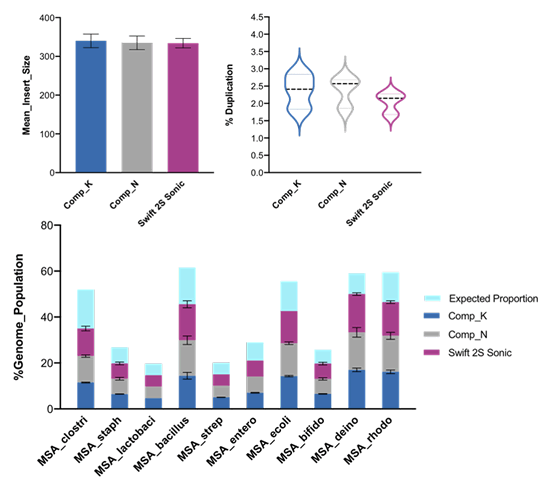 Fig.1
NGS libraries were constructed using Swift 2S Sonic Flexible and competitor kits K and N from 1 ng of mock metagenome DNA (ATCC MSA-1000) Covaris-sheared to 350 bp in duplicate. Libraries were prepared using IDT for Illumina TruSeq UD DNA Indexes (Cat. No. 20020590) at supplier-specified adapter concentration and amplified with the Polymerase supplied in each kit. A consistent bead ratio was used to generate equivalent insert size across supplier kits for direct comparison. Libraries were quantified by Qubit and Agilent Bioanalyzer 2100, and sequenced on a MiSeq with PE150 reads. Data for each library was down sampled to 1 M reads and achieved a metagenome mean coverage of 20X.
Upper Left Graph:
Mean insert size was uniform across all three kits for direct comparison.
Upper Right:
PCR duplication was comparable across all three kits.
Lower Graph:
Genome relative distribution was observed as expected for all three kits, demonstrating comparable coverage metrics across a broad range of base composition.
| Description | Cat# | Size | Price | | |
| --- | --- | --- | --- | --- | --- |
| Swift 2S Sonic DNA Library Kit (24 reactions) | 42024-SWI | 24 rxns | 682 € | DETAILS | Add to Cart |
| Swift 2S Sonic DNA Library Kit (96 reactions) | 42096-SWI | 96 rxns | 2287 € | DETAILS | Add to Cart |
| Swift 2S Sonic Flexible DNA Library Kit (24 reactions) | 43024-SWI | 24 rxns | 614 € | DETAILS | Add to Cart |
| Swift 2S Sonic Flexible DNA Library Kit (96 reactions) | 43096-SWI | 96 rxns | 1908 € | DETAILS | Add to Cart |