Hybridization Capture Kits
• Enrichment of the human exome or subsets of disease-related genes
• Detection of germline inherited SNVs and Indels
• Low frequency somatic variant detection of SNVs and Indels
• Copy number variant detection
• Probes achieve deep and uniform coverage
• High quality data even across GC-rich regions such as first exons
The Hybridization Capture System consists of different probe panels which can be combined with Hyb and Wash or Hyb, Wash and Blocking Kits and a Library Amplification Primer Mix depending on the customer needs.
Choose between 3 panel variants: Human Exome, Pan-Cancer and Inherited Diseases. The panels consist of individually synthesized and quality-controlled probes designed to provide the highest level of performance and ready to hybridize to NGS libraries to enrich for targets of interest.
Compatible DNA Library Preparation Kits
Swifts´ Hybridization Capture System is compatible with the following NGS Library Preparation Kits:
•
Accel-NGS 2S Hyb DNA Library Kits
for FFPE, cfDNA, and incorporation of molecular identifiers (MIDs) for ultra-low frequency variant detection
•
Swift 2S Turbo DNA Library Kits
for high quality genomic DNA and FFPE
•
Accel-NGS 1S Plus DNA Library Kits
for heavily nicked or denatured samples
• Further ligation-based library preparation kits from other vendors (not compatible with transposon-based kits)
Hybridization Capture Workflow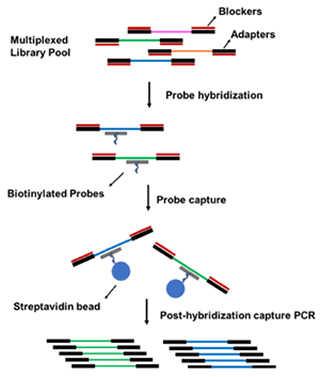 Figure 1. Workflow
Libraries are pooled and combined with blocking oligos and human Cot DNA. Next, the library pool is hybridized to Swift probes, captured using streptavidin beads, and washed to remove unbound fragments. Then, the enriched library pool is amplified by PCR and is ready for multiplexed Illumina® sequencing.
Applications
• Detection of germline inherited SNVs and Indels
• Low frequency somatic variant detection of SNVs and Indels
• Copy number variant detection
Panel Specifications

*For complete gene list please
contact us
Highest On-Target Delivered by Swift Exome Hyb Panel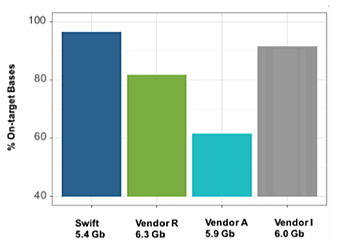 Figure 2.
An independent, large genome center compared the Swift Exome Hyb Panel to exome panels from other vendors. Sequencing libraries were prepared using standard shearing and ligation-based library preparation, and then pooled. The 12-plex pool was split into four 6 µg aliquots to assess each vendor's exome panel. Target capture was performed according to each vendor's recommended protocol. Enriched libraries were sequenced using 2 x 100 pairedended reads. On-target bases were determined with Picard (selected bases), using 35M reads per library. Results demonstrated that the Swift Exome Hyb Panel had the highest on-target mapping of the exome panels tested. The percentage of bases on target for each vendor's panel was calculated across a 500 bp flanking region.
Swift 2S Turbo with Swift Hyb Panels Produce Better Coverage Uniformity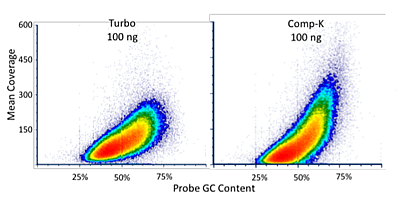 Figure 3.
Libraries produced with Swift 2S Turbo showed less Exome Panel probe base composition bias compared to competitor-K library prep kit in the probe dot plots. Libraries were constructed with 100 ng NA12878 DNA and sequenced on HiSeq4000 to 150x mean coverage.
---
Related Links
Presentation Overview Swift Hybridization Capture Kits

| Description | Cat# | Size | Price | | |
| --- | --- | --- | --- | --- | --- |
| Swift Exome Hyb Panel (16 rxns) | 83216-SWI | 16 rxns | 5735 € | DETAILS | Add to Cart |
| Swift Pan-Cancer Hyb Panel (16 rxns) | 83316-SWI | 16 rxns | 2887 € | DETAILS | Add to Cart |
| Swift Inherited Diseases Hyb Panel (16 rxns) | 83416-SWI | 16 rxns | 2887 € | DETAILS | Add to Cart |
| Swift Hyb and Wash Kit (16 rxns) | 88016-SWI | 16 rxns | 378 € | DETAILS | Add to Cart |
| Swift Hyb, Wash, and Universal Blocker Kit (16 rxns) | 89016-SWI | 16 rxns | 1476 € | DETAILS | Add to Cart |
| Swift Library Amplification Primer Mix (96 rxns) | 88196-SWI | 96 rxns | 77 € | DETAILS | Add to Cart |