Amplicon Panel based NGS Target Enrichment
Accel-Amplicon® Panels: Targeted Libraries in 2 Hours
• Single-tube assay - provides easy and consistent processing
• Ready-to-sequence libraries in 2 hours - process more samples per day
• As low as 10 ng input DNA required - process low input samples
• Amplicon sizes of 140 bp average- compatible with FFPE and cfDNA
• Contiguous coverage - complete coverage of desired regions
• Uniformity of coverage > 95% - reads evenly distributed across targets
• On target specifity > 95% - reads mapped to intended Targets
• Highly sensitive detection of rare variants - detection down to 1% allele frequency
Sample Types
- Cell-free DNA (cfDNA)
- FFPE
- Fresh frozen tissue
- Genomic DNA
Accel-Amplicon NGS Panels utilize multiple amplicons in a single tube, using a rapid, 2-hour workflow to prepare ready-to-sequence libraries. Primer pairs in Accel-Amplicon NGS Panels are compatible with short DNA fragments and are designed for generating libraries from input DNA as low as 10 ng. This unique design enables applications utilizing limiting or damaged samples such as FFPE and cfDNA, and provides powerful solutions for detecting variants and screening clinically-relevant mutations with limit of detection down to 1%.
Accel-Amplicon Plus Panels combine the easiest, fastest workflow with flexible content to accelerate your variant discovery and screening. Simply leverage our pre-designed, validated core content and add your own targets. With our fast results and robust on-target performance and coverage uniformity, you'll have the most informative panel with the best data quality for your scientific needs.
Several Accel-Amplicon Cancer Gene Panels are available in two formats:
Pre-Designed
Accel-Amplicon NGS Cancer Panels:
Expertly designed panels using content from peer-reviewed publications and thought leader input. Includes disease and gene-focused panels.
Customizable
Accel-Amplicon Plus NGS Cancer Panels:
Tailor any of our predesigned assays by adding the most relevant targets for your needs. We'll design and validate a unique panel for you. Please use the Target Submission Form below.
Our four Disease Panels (Accel-Amplicon Plus Colorectal Cancer (CRC) Panel, Accel-Amplicon Plus Lynch Syndrome Panel, Accel-Amplicon Plus Lung Cancer Panel, Accel-Amplicon Plus Myeloid Panel) are available as customizable versions only.
In addition fully customized NGS Cancer Panels are available as well. Start from scratch. We'll help you through the design process and validate a unique panel for you to cover exactly what you need. Please use the Custom Target Submission Form below.
Simple, Single-tube Workflow
The Accel-Amplicon workflow uses a fast, single-tube approach consisting of a 90-minute target enrichment amplification step and a 10-minute adapter ligation step, yielding a 2 hour start-to-finish procedure.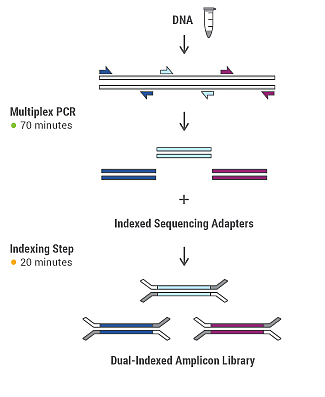 The single-tube workflow includes two brief incubations to generate the multiplex amplicon targets and add a unique combination of Illumina-compatible indexed adapters, creating up to 96 uniquely-indexed libraries for multiplexing on a single sequencing run.
High Coverage Uniformity Across Sample Types

The Accel-Amplicon BRCA1 and BRCA2 Panel provides high coverage uniformity across amplicons. This panel was used to prepare libraries using 10 ng input of high quality Coriell NA12787 gDNA. The representative plot demonstrates amplicon coverage normalized to mean. Gates were dran to represent 15-500% of the mean.
Clean-up beads are not provided with the kit, we recommend the SPRIselect™ Reagent Kit from Beckman Coulter.
Product Citations
Ross-Innes CS et al. (2016)
Risk stratification of Barrett´s oesophagus using a non-endoscopic sampling method coupled with a biomarker panel: a cohort study.
The Lancet. DOI: http://dx.doi.org/10.1016/S2468-1253(16)30118-2.
Hendrix, MM et al. (2016)
Newborn Screening Quality Assurance Program for CFTR Mutation Detection and Gene Sequencing to Identify Cystic Fibrosis.
Journal of Inborn Errors of Metabolism 4:1-11.
---
Related Links
Protocol for Input DNA Quantification Assay
Design Guide Custom Amplicon Panels
Bioinformatics Resources
Swift Normalase Amplicon Panels (SNAP)
Amplicon Family Brochure
Product Information Sheet Accel-Amplicon Plus Cancer Panels
16S+ITS Panel for Microbiome Research

---
PDF-Downloads
- Will open in new browser window
Submission form for customized Accel-Amplicon Panels
Product Information incl. performance data

| Description | Cat# | Size | Price | | |
| --- | --- | --- | --- | --- | --- |
| Swift Amplicon SARS-CoV-2 Panel | AL-COV48-SWI | 48 rxns | 1780 € | DETAILS | Add to Cart |
| Accel-Amplicon Plus Colorectal (CRC) Cancel Panel | AP-CR8048-SWI | 48 rxns | 4444 € | DETAILS | Add to Cart |
| Accel-Amplicon Plus Lynch Syndrome Panel | AP-LN8048-SWI | 48 rxns | 4444 € | DETAILS | Add to Cart |
| Accel-Amplicon Plus Lung Cancer Panel | AP-LG8048-SWI | 48 rxns | 4444 € | DETAILS | Add to Cart |
| Accel-Amplicon Plus Myeloid Panel | AP-MY8048-SWI | 48 rxns | 5182 € | DETAILS | Add to Cart |
| Accel-Amplicon Plus 57G Plus Pan-Cancer Profiling Panel | AP-PC8048-SWI | 48 rxns | 4444 € | DETAILS | Add to Cart |
| Accel-Amplicon BRCA1 and BRCA2 Panel | AL-52048-SWI | 48 rxns | 4444 € | DETAILS | Add to Cart |
| Accel-Amplicon BRCA1 and BRCA2 and PALB2 Panel | AL-57048-SWI | 48 rxns | 4444 € | DETAILS | Add to Cart |
| Accel-Amplicon Comprehensive TP53 Panel | AL-53048-SWI | 48 rxns | 2132 € | DETAILS | Add to Cart |
| Accel-Amplicon EGFR Plus Pathway Panel | AL-51048-SWI | 48 rxns | 2132 € | DETAILS | Add to Cart |
| Accel-Amplicon CFTR Panel | AL-55048-SWI | 48 rxns | 2115 € | DETAILS | Add to Cart |
| Accel-Amplicon 56G Oncology Panel v2 (96 rxns) | AL-56296-SWI | 96 rxns | 7932 € | DETAILS | Add to Cart |
| Accel-Amplicon 56G Oncology Panel v2 | AL-56248-SWI | 48 rxns | 4444 € | DETAILS | Add to Cart |
| Accel-Amplicon Sample_ID Panel | AL-50048-SWI | 48 rxns | 2973 € | DETAILS | Add to Cart |
| Accel-Amplicon Sample_ID Panel (96 rxns) | AL-50096-SWI | 96 rxns | 5182 € | DETAILS | Add to Cart |
| Swift Amplicon HS EGFR Pathway Panel | HS-51024-SWI | 24 rxns | 2056 € | DETAILS | Add to Cart |
| Swift Amplicon Combinatorial Dual Indexing Kit (Set 1A, 96 rxns) | AL-S1A96-SWI | 96 rxns | 628 € | DETAILS | Add to Cart |
| Swift Amplicon Combinatorial Dual Indexing Kit (Set 1B, 96 rxns) | AL-S1B96-SWI | 96 rxns | 628 € | DETAILS | Add to Cart |
| Swift Amplicon Combinatorial Dual Indexing Kit (Set 2A, 96 rxns) | AL-S2A96-SWI | 96 rxns | 628 € | DETAILS | Add to Cart |
| Swift Amplicon Combinatorial Dual Indexing Kit (Set 2B, 96 rxns) | AL-S2B96-SWI | 96 rxns | 628 € | DETAILS | Add to Cart |