Transcriptome NGS Sequencing Services
LoopSeq Single-Molecule Long-Read Transcriptomics Sequencing
• UMI based transcript counting
• Full length single molecule isoform discovery and examination of splicing
• Detection of structural variants (segmental duplications, gene loss and fusion events)
• Detect RNA editing SNPs
RNASeq kits based on short read technology allow abundance counting only. Unique isoform detection used to require another run on a long-read sequencer.
Now here is LoopSeq technology for long-read mRNA sequencing:
LoopSeq Transcriptome services provide both transcript counting and phasing for mRNA using short-reads on Illumina sequencers. With significantly reduced error rates compared to those of PacBio and ONT, Loop's solution allows researchers to accurately determine not only transcript abundance but also unique isoforms, all by utilizing Illumina sequencing instruments which reduces costs significantly.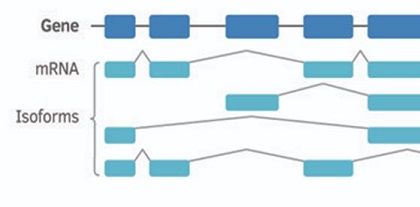 Now you can answer not one but two fundamental questions when studying gene expression: which mRNA isoforms are expressed and how many transcripts from each isoform are present.
Minimum requirement for each service order are 8 samples.
When providing more than 16 samples, bulk discounts are available.
Please contact us for a quote.
---
Related Links
Quote Request
The LoopSeq Technology
LoopSeq Trancriptome NGS Library Prep Kit

| Description | Cat# | Size | Price | | |
| --- | --- | --- | --- | --- | --- |
| LoopSeq Trancriptome Sequencing: mRNA Abundance Profiling and Isoform Discovery (25k Barcodes) | RNA-DI25SVC-LGE | 1 service | please inquire € | DETAILS | Add to Cart |
| LoopSeq Trancriptome Sequencing: mRNA Abundance Profiling and Isoform Discovery (100k Barcodes) | RNA-DI100SVC-LGE | 1 service | please inquire € | DETAILS | Add to Cart |
| LoopSeq Trancriptome Sequencing: mRNA Abundance Profiling and Isoform Discovery (500k Barcodes) | RNA-DI500SVC-LGE | 1 service | please inquire € | DETAILS | Add to Cart |
| LoopSeq Trancriptome Sequencing and mRNA Abundance Profiling (500k Barcodes) | RNA-DA25SVC-LGE | 1 service | please inquire € | DETAILS | Add to Cart |