Microbiome NGS Sequencing Services
Loop´s Long-read 16S rRNA Gene Sequencing Service
Gain deeper insights into microbial communities when you take advantage of Loop´s highly accurate single molecule counting and long-read Long-read 16S rRNA gene sequencing service.
• Sequence of the full-length 16S​ rRNA gene
• >99% of unique 16S molecules assigned at the species or genus level
• Accurate organism abundance measurement
• 40x lower error rates than Illumina or PacBio platforms
• Easy-to-understand reports and raw data
• Highly affordable high volume pricing
• Low volume pricing available, minimum 8 samples, inquire for pricing
The vast majority of 16s sequencing kits on the market only target two variable regions, V3 and V4. This combined with the fact that the majority of these kits use short read technology means a very high number of false positives in classifications. With short reads full V1-V9 region data with phasing cannot be generated.
​With LoopSeq 16S and LoopSeq 16S & 18S we combine the power of single molecule counting and long-reads for a service with the lowest possible false positive rate and the best species level classification. Loop Genomics´ long-read sequencing technology allows to sequence each 16S/18S molecule, V1-V9 in a sample and phase each molecule.
In addition Loop Genomics´ single-molecule counting technology allows to eliminate PCR bias and report molecules based on true abundance. This means that even molecules in very low abundance are reported in the assay. They aren't lost in the noise of the PCR bias and you therefore get all of the species that are truly in your sample reported.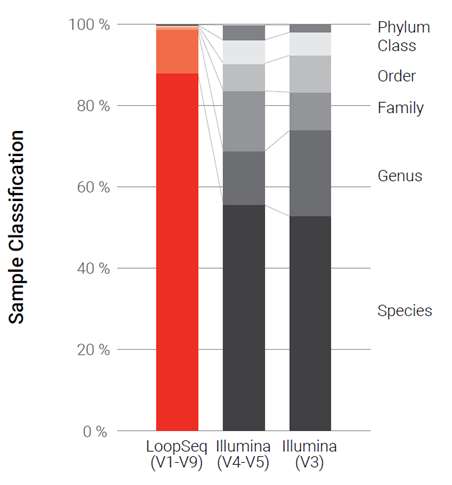 Minimum requirement for each service order are 8 samples.
When providing more than 24 samples, bulk discounts are available.
Please contact us for a quote.
---
Related Links
| Description | Cat# | Size | Price | | |
| --- | --- | --- | --- | --- | --- |
| LoopSeq 16S Microbiome SSC Service | 16S-SSCSVC-LGE | 1 service | please inquire € | DETAILS | Add to Cart |
| LoopSeq 16S/18S Microbiome SSC Service | 16S18S-SSCSVC-LGE | 1 service | please inquire € | DETAILS | Add to Cart |