microRNA Precursor Expression Constructs: Lentiviral Vectors
Study the effects of primary microRNA overexpression
• miRNA transcripts are in their native sequence context to ensure endogenous RNAi processing into mature miRNAs
• miRNAs are expressed in target cells through transfection or transduction
• Red or Green Fluorescent protein markers allow tracking of miRNA expression
• Lentivirus-based backbone enables expression in a wide range of cell lines including primary and non-dividing cells
• Transient, stable and in vivo studies are possible
MicroRNAs are gaining interest in the research community as elements to fine-tune genetic expression. There are expected to be about 1,000 microRNAs encoded in the human genome and they function by either blocking translation of, or degrading, mRNA species corresponding to specific genes. While the number of verified human miRNAs is expanding, there is an increasing need for effective functional testing.
BioCat is offering collections of microRNA precursors in lentiviral vectors (see product list below) as well as in conventional plasmid vectors (see link below) that can be used to modulate the expression of the cognate microRNAs in vivo, and thereby study microRNA function. The microRNA constructs are offered as single construct, as arrayed collection in plate format, or as pooled lentiviral stocks.
The constructs offered in a lentiviral vector backbone can be packaged into lentiviral particles and thereby delivered to primary cells, stem cells, or other hard-to-transfect cell lines, and they can be stably expressed as opposed to synthetic microRNAs that are only transiently available in cells.
miRNA Biogenesis and Function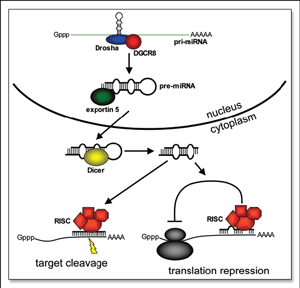 Pri-miRNA Insert
Human miRNAs were selected from the Sanger miRbase (see link below) and the genome coordinates were used as a reference to design primers to PCR amplify the pri-miRNA sequences with as much 5' and 3' flank sequences as possible for efficient Drosha processing and endogenous regulation. On average 200 bases of flanking sequence was retained on both sides of the precursor miRNA.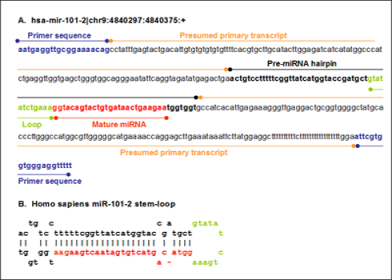 A. The pri-miRNA sequence with pre-miRNA hairpin in bold represents the entire insert sequence.
B. The pre-miR-101-2 stem-loop structure and resulting mature miRNA sequence (red) is shown in the lower panel, see also corresponding
miRBase entry
.
Lentiviral Expression Vectors
BioCat offers SBI´s primary microRNA (miRNA) collections of individual miRNA precursors cloned into lentiviral vectors allowing efficient over-expression of human primary microRNA (pri-miRNA).
The following vector backbones are available:
- HIV-based
pMIRNA1
with copGFP
- FIV-based
pMIF-cGFP-Zeo
with copGFP

Individual microRNA precursor expression constructs are listed in the table below.
For further vector information and examples of miRNA overexpression, see links below.
The HIV-based pri-miRNA collection is available for screening purposes as complete library (pooled lentiviral stocks), see link below.
Homology of Human Mature microRNA Sequences to Other Species
Mature microRNA sequences have a very high degree of sequence conservation across all vertebrates. To verify that SBI´s Lenti-miR clones will produce the mature microRNA in your model system, view the application note (pdf link below) describing how to use the Sanger miRBase to align microRNA sequences.
---
Related Links
pri-miRNA Expression Library for Screening (lentiviral pool)
Empty microRNA Precursor Expression Vectors
HIV based pMIRNA pri-miRNA Vector with copGFP
Sanger miRbase
Products for Lentiviral Packaging, Quantification & more
Please inquire for custom lentiviral packaging of constructs

---
PDF-Downloads
- Will open in new browser window
How to search for homology to mature human microRNA
microRNA References

| Description | Cat# | Size | Price | | |
| --- | --- | --- | --- | --- | --- |
| Scramble control hairpin in pCDH-CMV-MCS-EF1-copGFP (CD511B-1) | PMIRH000PA-1-GVO-SBI | Bacterial Streak | 658 € | DETAILS | Add to Cart |
| Precursor Scramble control hairpin in pCDH-CMV-MCS-EF1-copGFP (CD511B-1) | PMIRH000VA-1-GVO-SBI | >1 x 10^6 IFUs | 809 € | DETAILS | Add to Cart |
| Mouse precursor Scramble negative control construct | MMIR-000-PA-1-GVO-SBI | Bacterial Streak | 499 € | DETAILS | Add to Cart |
| hsa-let-7a-1 Human Lentiviral Primary microRNA Over-Expression Construct in pMIRNA1 (HIV based vector with copGFP) | PMIRHlet7a1PA-1-GVO-SBI | Bacterial Streak | 683 € | DETAILS | Add to Cart |
| hsa-let-7a-2 Human Lentiviral Primary microRNA Over-Expression Construct in pMIRNA1 (HIV based vector with copGFP) | PMIRHlet7a2PA-1-GVO-SBI | Bacterial Streak | 683 € | DETAILS | Add to Cart |
| hsa-let-7a-3 Human Lentiviral Primary microRNA Over-Expression Construct in pMIRNA1 (HIV based vector with copGFP) | PMIRHlet7a3PA-1-GVO-SBI | Bacterial Streak | 683 € | DETAILS | Add to Cart |
| hsa-let-7b Human Lentiviral Primary microRNA Over-Expression Construct in pMIRNA1 (HIV based vector with copGFP) | PMIRHlet7bPA-1-GVO-SBI | Bacterial Streak | 683 € | DETAILS | Add to Cart |
| hsa-let-7c Human Lentiviral Primary microRNA Over-Expression Construct in pMIRNA1 (HIV based vector with copGFP) | PMIRHlet7cPA-1-GVO-SBI | Bacterial Streak | 683 € | DETAILS | Add to Cart |
| hsa-let-7d Human Lentiviral Primary microRNA Over-Expression Construct in pMIRNA1 (HIV based vector with copGFP) | PMIRHlet7dPA-1-GVO-SBI | Bacterial Streak | 683 € | DETAILS | Add to Cart |
| hsa-let-7e Human Lentiviral Primary microRNA Over-Expression Construct in pMIRNA1 (HIV based vector with copGFP) | PMIRHlet7ePA-1-GVO-SBI | Bacterial Streak | 683 € | DETAILS | Add to Cart |
| hsa-let-7f-1 Human Lentiviral Primary microRNA Over-Expression Construct in pMIRNA1 (HIV based vector with copGFP) | PMIRHlet7f1PA-1-GVO-SBI | Bacterial Streak | 683 € | DETAILS | Add to Cart |
| hsa-let-7f-2 Human Lentiviral Primary microRNA Over-Expression Construct in pMIRNA1 (HIV based vector with copGFP) | PMIRHlet7f2PA-1-GVO-SBI | Bacterial Streak | 683 € | DETAILS | Add to Cart |
| hsa-let-7g Human Lentiviral Primary microRNA Over-Expression Construct in pMIRNA1 (HIV based vector with copGFP) | PMIRHlet7gPA-1-GVO-SBI | Bacterial Streak | 683 € | DETAILS | Add to Cart |
| hsa-let-7i Human Lentiviral Primary microRNA Over-Expression Construct in pMIRNA1 (HIV based vector with copGFP) | PMIRHlet7iPA-1-GVO-SBI | Bacterial Streak | 683 € | DETAILS | Add to Cart |
| hsa-miR-1281 Human Lentiviral Primary microRNA Over-Expression Construct in pMIRNA1 (HIV based vector with copGFP) | PMIRH1281PA-1-GVO-SBI | Bacterial Streak | 683 € | DETAILS | Add to Cart |
| hsa-miR-1282 Human Lentiviral Primary microRNA Over-Expression Construct in pMIRNA1 (HIV based vector with copGFP) | PMIRH1282PA-1-GVO-SBI | Bacterial Streak | 683 € | DETAILS | Add to Cart |
| hsa-miR-132 Human Lentiviral Primary microRNA Over-Expression Construct in pMIRNA1 (HIV based vector with copGFP) | PMIRH132PA-1-GVO-SBI | Bacterial Streak | 683 € | DETAILS | Add to Cart |
| hsa-miR-212 Human Lentiviral Primary microRNA Over-Expression Construct in pMIRNA1 (HIV based vector with copGFP) | PMIRH212PA-1-GVO-SBI | Bacterial Streak | 683 € | DETAILS | Add to Cart |
| hsa-miR-217 Human Lentiviral Primary microRNA Over-Expression Construct in pMIRNA1 (HIV based vector with copGFP) | PMIRH217PA-1-GVO-SBI | Bacterial Streak | 683 € | DETAILS | Add to Cart |
| hsa-miR-421 Human Lentiviral Primary microRNA Over-Expression Construct in pMIRNA1 (HIV based vector with copGFP) | PMIRH421PA-1-GVO-SBI | Bacterial Streak | 683 € | DETAILS | Add to Cart |
| hsa-miR-92a-1 +19b-1 +20a Cluster Human Lentiviral Primary microRNA Over-Expression Construct in pMIRNA1 (HIV based vector with copGFP) | PMIRH92a-1PA-1-GVO-SBI | Bacterial Streak | 683 € | DETAILS | Add to Cart |
| hsa-miR1-1 Human Lentiviral Primary microRNA Over-Expression Construct in pMIRNA1 (HIV based vector with copGFP) | PMIRH1-1PA-1-GVO-SBI | Bacterial Streak | 683 € | DETAILS | Add to Cart |
| hsa-miR100 Human Lentiviral Primary microRNA Over-Expression Construct in pMIRNA1 (HIV based vector with copGFP) | PMIRH100PA-1-GVO-SBI | Bacterial Streak | 683 € | DETAILS | Add to Cart |
| hsa-miR101-1 Human Lentiviral Primary microRNA Over-Expression Construct in pMIRNA1 (HIV based vector with copGFP) | PMIRH101-1PA-1-GVO-SBI | Bacterial Streak | 683 € | DETAILS | Add to Cart |
| hsa-miR101-2 Human Lentiviral Primary microRNA Over-Expression Construct in pMIRNA1 (HIV based vector with copGFP) | PMIRH101-2PA-1-GVO-SBI | Bacterial Streak | 683 € | DETAILS | Add to Cart |
| hsa-miR103-1 Human Lentiviral Primary microRNA Over-Expression Construct in pMIRNA1 (HIV based vector with copGFP) | PMIRH103-1PA-1-GVO-SBI | Bacterial Streak | 683 € | DETAILS | Add to Cart |
| hsa-miR103-1 Human Lentiviral Primary microRNA Over-Expression Construct in pMIRNA1 (HIV based vector with copGFP) | PMIRH103-1PA-1-GVO-SBI | Bacterial Streak | 683 € | DETAILS | Add to Cart |
| hsa-miR103-2 Human Lentiviral Primary microRNA Over-Expression Construct in pMIRNA1 (HIV based vector with copGFP) | PMIRH103-2PA-1-GVO-SBI | Bacterial Streak | 683 € | DETAILS | Add to Cart |
| hsa-miR105-1 Human Lentiviral Primary microRNA Over-Expression Construct in pMIRNA1 (HIV based vector with copGFP) | PMIRH105-1PA-1-GVO-SBI | Bacterial Streak | 683 € | DETAILS | Add to Cart |
| hsa-miR105-2 Human Lentiviral Primary microRNA Over-Expression Construct in pMIRNA1 (HIV based vector with copGFP) | PMIRH105-2PA-1-GVO-SBI | Bacterial Streak | 683 € | DETAILS | Add to Cart |
| hsa-miR106-363 Cluster (106a+18b+20b+19b-2+92a-2+363) Human Lentiviral Primary microRNA Over-Expression Construct in pMIRNA1 (HIV based vector with copGFP) | PMIRH106-363PA-1-GVO-SBI | Bacterial Streak | 953 € | DETAILS | Add to Cart |
| hsa-miR106a Human Lentiviral Primary microRNA Over-Expression Construct in pMIRNA1 (HIV based vector with copGFP) | PMIRH106aPA-1-GVO-SBI | Bacterial Streak | 683 € | DETAILS | Add to Cart |
| hsa-miR106b Human Lentiviral Primary microRNA Over-Expression Construct in pMIRNA1 (HIV based vector with copGFP) | PMIRH106bPA-1-GVO-SBI | Bacterial Streak | 683 € | DETAILS | Add to Cart |
| hsa-miR106b+93+25 Cluster Human Lentiviral Primary microRNA Over-Expression Construct in pMIRNA1 (HIV based vector with copGFP) | PMIRH106b-25PA-1-GVO-SBI | Bacterial Streak | 953 € | DETAILS | Add to Cart |
| hsa-miR107 Human Lentiviral Primary microRNA Over-Expression Construct in pMIRNA1 (HIV based vector with copGFP) | PMIRH107PA-1-GVO-SBI | Bacterial Streak | 683 € | DETAILS | Add to Cart |
| hsa-miR10a Human Lentiviral Primary microRNA Over-Expression Construct in pMIRNA1 (HIV based vector with copGFP) | PMIRH10aPA-1-GVO-SBI | Bacterial Streak | 683 € | DETAILS | Add to Cart |
| hsa-miR10b Human Lentiviral Primary microRNA Over-Expression Construct in pMIRNA1 (HIV based vector with copGFP) | PMIRH10bPA-1-GVO-SBI | Bacterial Streak | 683 € | DETAILS | Add to Cart |
| hsa-miR1178 Human Lentiviral Primary microRNA Over-Expression Construct in pMIRNA1 (HIV based vector with copGFP) | PMIRH1178PA-1-GVO-SBI | Bacterial Streak | 683 € | DETAILS | Add to Cart |
| hsa-miR1179 Human Lentiviral Primary microRNA Over-Expression Construct in pMIRNA1 (HIV based vector with copGFP) | PMIRH1179PA-1-GVO-SBI | Bacterial Streak | 683 € | DETAILS | Add to Cart |
| hsa-miR1180 Human Lentiviral Primary microRNA Over-Expression Construct in pMIRNA1 (HIV based vector with copGFP) | PMIRH1180PA-1-GVO-SBI | Bacterial Streak | 683 € | DETAILS | Add to Cart |
| hsa-miR1181 Human Lentiviral Primary microRNA Over-Expression Construct in pMIRNA1 (HIV based vector with copGFP) | PMIRH1181PA-1-GVO-SBI | Bacterial Streak | 683 € | DETAILS | Add to Cart |
| hsa-miR1182 Human Lentiviral Primary microRNA Over-Expression Construct in pMIRNA1 (HIV based vector with copGFP) | PMIRH1182PA-1-GVO-SBI | Bacterial Streak | 683 € | DETAILS | Add to Cart |
| hsa-miR1183 Human Lentiviral Primary microRNA Over-Expression Construct in pMIRNA1 (HIV based vector with copGFP) | PMIRH1183PA-1-GVO-SBI | Bacterial Streak | 683 € | DETAILS | Add to Cart |
| hsa-miR1184 Human Lentiviral Primary microRNA Over-Expression Construct in pMIRNA1 (HIV based vector with copGFP) | PMIRH1184PA-1-GVO-SBI | Bacterial Streak | 683 € | DETAILS | Add to Cart |
| hsa-miR1185-1 Human Lentiviral Primary microRNA Over-Expression Construct in pMIRNA1 (HIV based vector with copGFP) | PMIRH1185-1PA-1-GVO-SBI | Bacterial Streak | 683 € | DETAILS | Add to Cart |
| hsa-miR1185-2 Human Lentiviral Primary microRNA Over-Expression Construct in pMIRNA1 (HIV based vector with copGFP) | PMIRH1185-2PA-1-GVO-SBI | Bacterial Streak | 683 € | DETAILS | Add to Cart |
| hsa-miR1197 Human Lentiviral Primary microRNA Over-Expression Construct in pMIRNA1 (HIV based vector with copGFP) | PMIRH1197PA-1-GVO-SBI | Bacterial Streak | 683 € | DETAILS | Add to Cart |
| hsa-miR1200 Human Lentiviral Primary microRNA Over-Expression Construct in pMIRNA1 (HIV based vector with copGFP) | PMIRH1200PA-1-GVO-SBI | Bacterial Streak | 683 € | DETAILS | Add to Cart |
| hsa-miR1202 Human Lentiviral Primary microRNA Over-Expression Construct in pMIRNA1 (HIV based vector with copGFP) | PMIRH1202PA-1-GVO-SBI | Bacterial Streak | 683 € | DETAILS | Add to Cart |
| hsa-miR1203 Human Lentiviral Primary microRNA Over-Expression Construct in pMIRNA1 (HIV based vector with copGFP) | PMIRH1203PA-1-GVO-SBI | Bacterial Streak | 683 € | DETAILS | Add to Cart |