microRNA Knockdown Constructs (shRNAs targeting miRNAs)
• Uncover phenotypes using powerful anti-microRNA interference
• Rationally designed, asymmetric hairpins optimized for anti-sense microRNA production
• Stable & permanent anti-microRNA expresssion from constitutive H1 promoter
• miRZip anti-sense microRNAs are based on cloned shRNAs and efficiently suppress specific endogenous microRNAs
• Lentiviral backbone: reliable delivery to dividing or non-dividing cells
• Dual marker technology: select for positive expressing cells with either GFP or Puro selection
• Empty vector and scrambled sequence negative control available as separate product, see product table below
How it works
pmiRZip = pGreenPuro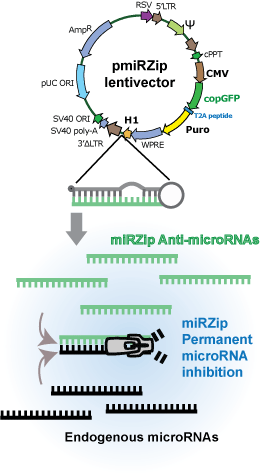 miRZip anti-sense microRNAs are stably expressed RNAi hairpins that have anti-microRNA activity. These miRZip shRNAs produce short, single-stranded anti-microRNAs that competitively bind their endogenous microRNA target and inhibit its function. The result is the derepression and elevation of the protein levels of the transcripts targeted by the microRNA being "zipped".
The miRZip short hairpin RNAs are cloned into SBI´s pGreenPuro™ shRNA expression lentivector, which is available as separate product for control purposes and for cloning your own shRNAs (see table below).
The miRZip hairpins are rationally designed for asymmetry such that the upper strand of the hairpin (in gray) does not contain the endogenous microRNA sequence and the lower strand is preferred for producing anti-sense microRNAs (in green) that are fully complementary to a specific microRNA target.
Thoroughly Understand Target microRNA Function
SBI's microRNA interference Lentivector System provides a convenient and effective approach to create stable cell lines or transgenic animals since it efficiently integrates the anti-microRNA expression construct of your choice into genomic DNA. Assays with cell lines or transgenic animals that permanently and heritably maintain a microRNA-specific suppression phenotype enable you to more thoroughly analyze the specific effects resulting from inibiting your target microRNA.
SBI´s HIV-based Cloning and Expression Lentivectors are derived from the next generation of self-inactivating lentiviral vectors. This unique system offers a highly effective and very safe approach for introducing and expressing any anti-microRNA sequence in nearly any mammalian cell system.
In order to stably transduce cells with SBI's lentivectors, we recommend using SBI's pPACK-H1 Lentivector Packaging System (cat.#LV500A-1) together with SBI´s 293TN cell line (cat.#LV900A-1) - see links below. The packaging system provides all the necessary coat proteins to manufacture pseudoviral particles for delivery of the anti-microRNA expression construct into any mammalian cells or model organisms, such as transgenic mice.
Dual Marker Technology
The pGreenPuro™ siRNA/anti-microRNA lentivector employs a CMV promoter for the expression of dual copGFP and Puromycin markers and an H1 promoter for the expression of high levels of anti-microRNAs in the target cell.
Thus miRZip lentivector constructs can be used for both GFP sorting and Puromycin selection for stable cell lines: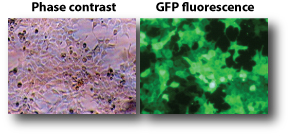 HEK-293 cells were transfected with a miRZip™ anti-microRNA expression vector, and puromycin (50 ug/ml final concentration) was then added to the cells 24 hours after transfection. The pictures were taken 24 hour after the initiation of the puromycin treatment. The control cells showed no survival after puromycin selection.
Example for Phenotypic Data - Effect of miRZip-21 on Cell Invasion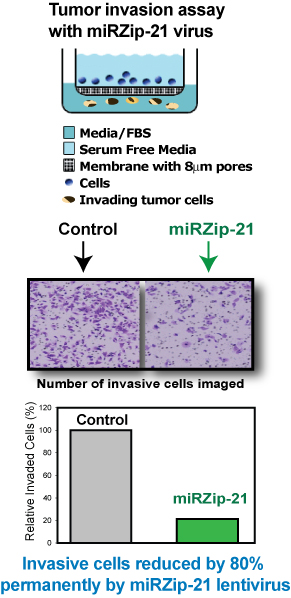 Cell invasion assays of MDA-MB-231 cells were performed after lentiviral transduction with with control vector lentivirus (Control) or miRZip-21 lentivirus and then subjected to matrigel chamber assays (~40,000 cells per chamber).
After 20 h, invasion cells attached to the lower surface were fixed, followed by staining with 0.05% crystal violet. The number of invaded cells on the membrane was then counted under a microscope. Representative fields of invasive cells on the membrane are shown at the bottom for the Control and miRZip-21 treated cells. The miRZip-21 lentivirus expressing antagomir-21 small RNAs inhibited metastasis by 80%.
The collection of miRZip anti miRNA constructs is expanded continuously. Please contact us if you don´t find the shRNA constructs targeting miRNAs of your interest.
A pool of prepackaged viral particles containing the entire anti-microRNA collection for high-throughput phenotypic screens is also available, see below.
Homology of Human Mature microRNA Sequences to Other Species
Mature microRNA sequences have a very high degree of sequence conservation across all vertebrates. To verify that SBI´s Lenti-miR clones will produce the mature microRNA in your model system, view the application note (pdf link below) describing how to use the Sanger miRBase to align microRNA sequences.
---
Related Links
Contact us in case you don´t find the anti miRNA you need
miRZip anti-miR Library for Screening (lentiviral pool)
pPACK-H1 Lentivector Packaging System (Cat.#LV500A-1-SBI)
293TN cell line (cat.#LV900A-1-SBI)

---
PDF-Downloads
- Will open in new browser window
User Manual
Application Article in Biotechniques
How to search for homology to mature human microRNA

| Description | Cat# | Size | Price | | |
| --- | --- | --- | --- | --- | --- |
| pGreenPuro (CMV) shRNA Cloning Vector (HIV, dual marker, CMV promoter, plasmid DNA) | SI505A-1-SBI | 10 ug | 692 € | DETAILS | Add to Cart |
| pGreenPuro (CMV) Scrambled Hairpin Negative Control (plasmid DNA) | MZIP000-PA-1-GVO-SBI | Bacterial Streak | 658 € | DETAILS | Add to Cart |
| pGreenPuro (CMV) Scrambled Hairpin Negative Control (lentiviral particles) | MZIP000-VA-1-GVO-SBI | >1 x 10^6 IFUs | 748 € | DETAILS | Add to Cart |
| miRZIP-1 anti miR-1 construct (shRNA targeting miR-1 microRNA, cloned in pGreenPuro HIV based Lentivector) | MZIP1-PA-1-GVO-SBI | Bacterial Streak | 683 € | DETAILS | Add to Cart |
| miRZIP-100 anti miR-100 Construct (shRNA targeting miR-100 microRNA, cloned in pGreenPuro HIV based Lentivector) | MZIP100-PA-1-GVO-SBI | Bacterial Streak | 683 € | DETAILS | Add to Cart |
| miRZIP-101 anti miR-101 construct (shRNA targeting miR-101 microRNA, cloned in pGreenPuro HIV based Lentivector) | MZIP101-PA-1-GVO-SBI | Bacterial Streak | 683 € | DETAILS | Add to Cart |
| miRZIP-103 anti miR-103 construct (shRNA targeting miR-103 microRNA, cloned in pGreenPuro HIV based Lentivector) | MZIP103-PA-1-GVO-SBI | Bacterial Streak | 683 € | DETAILS | Add to Cart |
| miRZIP-106a anti miR-106a construct (shRNA targeting miR-106a microRNA, cloned in pGreenPuro HIV based Lentivector) | MZIP106a-PA-1-GVO-SBI | Bacterial Streak | 683 € | DETAILS | Add to Cart |
| miRZIP-106b anti miR-106b construct (shRNA targeting miR-106b microRNA, cloned in pGreenPuro HIV based Lentivector) | MZIP106b-PA-1-GVO-SBI | Bacterial Streak | 683 € | DETAILS | Add to Cart |
| miRZip-106b+93+25p anti miR-106b+93+25p construct (shRNA targeting miR-106b+93+25p microRNA, cloned in pGreenPuro HIV based Lentivector) | MZIP106b-93-25p-PA-1-GVO-SBI | Bacterial Streak | 683 € | DETAILS | Add to Cart |
| miRZIP-107 anti miR-107 Construct (shRNA targeting miR-107 microRNA, cloned in pGreenPuro HIV based Lentivector) | MZIP107-PA-1-GVO-SBI | Bacterial Streak | 683 € | DETAILS | Add to Cart |
| miRZIP-10a anti miR-10a Construct (shRNA targeting miR-10a microRNA, cloned in pGreenPuro HIV based Lentivector) | MZIP10a-PA-1-GVO-SBI | Bacterial Streak | 683 € | DETAILS | Add to Cart |
| miRZIP-10b anti miR-10b construct (shRNA targeting miR-10b microRNA, cloned in pGreenPuro HIV based Lentivector) | MZIP10b-PA-1-GVO-SBI | Bacterial Streak | 683 € | DETAILS | Add to Cart |
| miRZIP-122 anti miR-122 construct (shRNA targeting miR-122 microRNA, cloned in pGreenPuro HIV based Lentivector) | MZIP122-PA-1-GVO-SBI | Bacterial Streak | 683 € | DETAILS | Add to Cart |
| miRZIP-1228-3p anti miR-1228-3p construct (shRNA targeting miR-1228-3p microRNA, cloned in pGreenPuro HIV based Lentivector) | MZIP1228-3p-PA-1-GVO-SBI | Bacterial Streak | 684 € | DETAILS | Add to Cart |
| miRZIP-1228-5p anti miR-1228-5p construct (shRNA targeting miR-1228-5p microRNA, cloned in pGreenPuro HIV based Lentivector) | MZIP1228-5p-PA-1-GVO-SBI | Bacterial Streak | 684 € | DETAILS | Add to Cart |
| miRZIP-122a anti miR-122a Construct (shRNA targeting miR-122a microRNA, cloned in pGreenPuro HIV based Lentivector) | MZIP122a-PA-1-GVO-SBI | Bacterial Streak | 683 € | DETAILS | Add to Cart |
| miRZIP-124 anti miR-124 construct (shRNA targeting miR-124 microRNA, cloned in pGreenPuro HIV based Lentivector) | MZIP124-PA-1-GVO-SBI | Bacterial Streak | 683 € | DETAILS | Add to Cart |
| miRZIP-1246 anti-miR-1246 construct (shRNA targeting miR-1246 microRNA, cloned in pGreenPuro HIV based Lentivector) | MZIP1246-PA-1-GVO-SBI | Bacterial Streak | 683 € | DETAILS | Add to Cart |
| miRZip-1248 anti-miR-1248 construct (shRNA targeting miR-1248 microRNA, cloned in pGreenPuro HIV based Lentivector) | MZIP1248-PA-1-GVO-SBI | Bacterial streak | 683 € | DETAILS | Add to Cart |
| miRZIP-125a-3p anti miR-125a-3p construct (shRNA targeting miR-125a-3p microRNA, cloned in pGreenPuro HIV based Lentivector) | MZIP125a-3p-PA-1-GVO-SBI | Bacterial Streak | 683 € | DETAILS | Add to Cart |
| miRZIP-125a-5p anti miR-125a-5p construct (shRNA targeting miR-125a5p microRNA, cloned in pGreenPuro HIV based Lentivector) | MZIP125a-5p-PA-1-GVO-SBI | Bacterial Streak | 683 € | DETAILS | Add to Cart |
| miRZIP-125b anti miR-125b Construct (shRNA targeting miR-125b microRNA, cloned in pGreenPuro HIV based Lentivector) | MZIP125b-PA-1-GVO-SBI | Bacterial Streak | 683 € | DETAILS | Add to Cart |
| miRZip-126-3p anti-miR-126-3p construct (shRNA targeting miR-126-3p microRNA, cloned in pGreenPuro HIV based Lentivector) | MZIP126-3p-PA-1-GVO-SBI | Bacterial streak | 683 € | DETAILS | Add to Cart |
| miRZIP-127-3p anti miR-127-3p Construct (shRNA targeting miR-127-3p microRNA, cloned in pGreenPuro HIV based Lentivector) | MZIP127-3p-PA-1-GVO-SBI | Bacterial Streak | 683 € | DETAILS | Add to Cart |
| miRZIP-127-5p anti miR-127-5p Construct (shRNA targeting miR-127-5p microRNA, cloned in pGreenPuro HIV based Lentivector) | MZIP127-5p-PA-1-GVO-SBI | Bacterial Streak | 683 € | DETAILS | Add to Cart |
| miRZip-1275 anti-miR-1275 construct (shRNA targeting miR-1275 microRNA, cloned in pGreenPuro HIV based Lentivector) | MZIP1275-PA-1-GVO-SBI | Bacterial streak | 683 € | DETAILS | Add to Cart |
| miRZIP-128 anti miR-128 construct (shRNA targeting miR-128 microRNA, cloned in pGreenPuro HIV based Lentivector) | MZIP128-PA-1-GVO-SBI | Bacterial Streak | 683 € | DETAILS | Add to Cart |
| miRZip-1287 anti miR-1287 construct (shRNA targeting miR-1287 microRNA, cloned in pGreenPuro HIV based Lentivector) | MZIP1287-PA-1-GVO-SBI | Bacterial Streak | 683 € | DETAILS | Add to Cart |
| miRZip-129-5p anti miR-129-5p construct (shRNA targeting miR-129-5p microRNA, cloned in pGreenPuro HIV based Lentivector) | MZIP129-5p-PA-1-GVO-SBI | Bacterial Streak | 683 € | DETAILS | Add to Cart |
| miRZip-1290 anti-miR-1290 construct (shRNA targeting miR-1290 microRNA, cloned in pGreenPuro HIV based Lentivector) | MZIP1290-PA-1-GVO-SBI | Bacterial streak | 683 € | DETAILS | Add to Cart |
| miRZip-130a anti miR-130a construct (shRNA targeting miR-130a microRNA, cloned in pGreenPuro HIV based Lentivector) | MZIP130a-PA-1-GVO-SBI | Bacterial Streak | 683 € | DETAILS | Add to Cart |
| miRZIP-130b anti miR-130b construct (shRNA targeting miR-130b microRNA, cloned in pGreenPuro HIV based Lentivector) | MZIP130b-PA-1-GVO-SBI | Bacterial Streak | 683 € | DETAILS | Add to Cart |
| miRZIP-132 anti miR-132 construct (shRNA targeting miR-132 microRNA, cloned in pGreenPuro HIV based Lentivector) | MZIP132-PA-1-GVO-SBI | Bacterial Streak | 683 € | DETAILS | Add to Cart |
| miRZip-133a anti miR-133a construct (shRNA targeting miR-133a microRNA, cloned in pGreenPuro HIV based Lentivector) | MZIP133a-PA-1-GVO-SBI | Bacterial Streak | 683 € | DETAILS | Add to Cart |
| miRZip-133b anti miR-133b construct (shRNA targeting miR-133b microRNA, cloned in pGreenPuro HIV based Lentivector) | MZIP133b-PA-1-GVO-SBI | Bacterial Streak | 683 € | DETAILS | Add to Cart |
| miRZIP-134 anti miR-134 construct (shRNA targeting miR-134 microRNA, cloned in pGreenPuro HIV based Lentivector) | MZIP134-PA-1-GVO-SBI | Bacterial Streak | 683 € | DETAILS | Add to Cart |
| miRZIP-135b anti miR-135b construct (shRNA targeting miR-135b microRNA, cloned in pGreenPuro HIV based Lentivector) | MZIP135b-PA-1-GVO-SBI | Bacterial Streak | 683 € | DETAILS | Add to Cart |
| miRZip-136 anti miR-136 construct (shRNA targeting miR-136 microRNA, cloned in pGreenPuro HIV based Lentivector) | MZIP136-PA-1-GVO-SBI | Bacterial Streak | 683 € | DETAILS | Add to Cart |
| miRZIP-137 anti miR-137 construct (shRNA targeting miR-137 microRNA, cloned in pGreenPuro HIV based Lentivector) | MZIP137-PA-1-GVO-SBI | Bacterial Streak | 683 € | DETAILS | Add to Cart |
| miRZIP-138 anti miR-138 construct (shRNA targeting miR-138 microRNA, cloned in pGreenPuro HIV based Lentivector) | MZIP138-PA-1-GVO-SBI | Bacterial Streak | 683 € | DETAILS | Add to Cart |
| miRZIP-140-3p anti miR-140-3p construct (shRNA targeting miR-140-3p microRNA, cloned in pGreenPuro HIV based Lentivector) | MZIP140-3p-PA-1-GVO-SBI | Bacterial Streak | 683 € | DETAILS | Add to Cart |
| miRZip-140-5p anti miR-140-5p construct (shRNA targeting miR-140-5p microRNA, cloned in pGreenPuro HIV based Lentivector) | MZIP140-5p-PA-1-GVO-SBI | Bacterial Streak | 683 € | DETAILS | Add to Cart |
| miRZIP-141 anti miR-141 construct (shRNA targeting miR-141 microRNA, cloned in pGreenPuro HIV based Lentivector) | MZIP141-PA-1-GVO-SBI | Bacterial Streak | 683 € | DETAILS | Add to Cart |
| miRZip-142-3p anti miR-142-3p construct (shRNA targeting miR-142-3p microRNA, cloned in pGreenPuro HIV based Lentivector) | MZIP142-3p-PA-1-GVO-SBI | Bacterial Streak | 683 € | DETAILS | Add to Cart |
| miRZIP-142-5p anti miR-142-5p construct (shRNA targeting miR-142-5p microRNA, cloned in pGreenPuro HIV based Lentivector) | MZIP142-5p-PA-1-GVO-SBI | Bacterial Streak | 683 € | DETAILS | Add to Cart |
| miRZIP-143 anti miR-143 Construct (shRNA targeting miR-143 microRNA, cloned in pGreenPuro HIV based Lentivector) | MZIP143-PA-1-GVO-SBI | Bacterial Streak | 683 € | DETAILS | Add to Cart |
| miRZip-144 anti miR-144 construct (shRNA targeting miR-144 microRNA, cloned in pGreenPuro HIV based Lentivector) | MZIP144-PA-1-GVO-SBI | Bacterial Streak | 683 € | DETAILS | Add to Cart |
| miRZIP-145 anti miR-145 construct (shRNA targeting miR-145 microRNA, cloned in pGreenPuro HIV based Lentivector) | MZIP145-PA-1-GVO-SBI | Bacterial Streak | 683 € | DETAILS | Add to Cart |
| miRZIP-146a anti miR-146a construct (shRNA targeting miR-146a microRNA, cloned in pGreenPuro HIV based Lentivector) | MZIP146a-PA-1-GVO-SBI | Bacterial Streak | 683 € | DETAILS | Add to Cart |