Home
->
Genomics
->
microRNA
-> microRNA Detection by circularization-based qRT-PCR directly from blood or plasma
microRNA Detection by circularization-based qRT-PCR directly from blood or plasma
• Highest specificity and sensitivity
• Unmatched quantitative discrimination between miRNA isoforms with single nucleotide differences
• Quantitatively discriminates between small RNAs with an identical sequence but differing terminal modifications
• Easy and cost-effective:
>> No small RNA enrichment necessary
>> Single tube assay
>> Use of single-dye qPCR mixes for detection
>> No chemically modified probes - e.g. TaqMan - or primers - e.g. LNA - are required
• Efficient removal of PCR inhibitors from both, blood and urine
• Compatible with heparin-treated blood samples
miR-Direct® is SomaGenics´ miR-ID® - powered miRNA quantification solution for the direct use of serum or plasma. The miR-Direct® method overcomes commonly encountered problems of inconsistent RNA recovery, PCR inhibition by sample stabilizers, and weak signals caused by low RNA abundance in biofluids. miR-Direct®- based miRNA capture is followed by miR-ID® quantification. Accurate quantification of microRNAs (miRNAs) from biofluids is crucial to realizing their potential as potential biomarkers.
How to order a miR-Direct Custom qRT-PCR Assay
To receive a quote for a miR-Direct Custom qRT-PCR Assay specific for your microRNA of interest, please send us your small RNA sequence or miRNA (miRbase) accession number using our
contact form
.
miR-Direct® Technology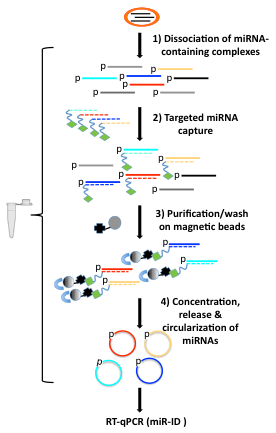 miRNA is directly captured from variable input volumes (25 to 400 µl), eliminating solvent extraction or column purification. This process removes inhibitors of enzymatic reactions, including heparin.
Up to the PCR step in the miR-ID® procedure, the entire process occurs in a single tube.
miR-Direct® Workflow

All steps up to quantitative PCR are performed in multiplex in a single tube. Note that this schematic includes the miR-ID® steps.
miR-Direct®: Higher sensitivity than with column-/TaqMan-based methods

Plasma and serum from the same collection were analyzed by the indicated preparatory and qPCR methods. miR-Direct® samples accommodated a 200 ul input of biofluids, whereas the recommended 8 ul input was used for the column preparations. miR-Direct® is not inhibited by heparin and miRNA quantifications are similar from plasma and serum.
miR-Direct®: Higher sensitivity than with LNA-based method

miR-Direct® was directly compared to a LNA-based method using 200ul plasma input of the same donors and analysis of two different miRNAs.
miR-Direct® reliably detects miRNA in urine samples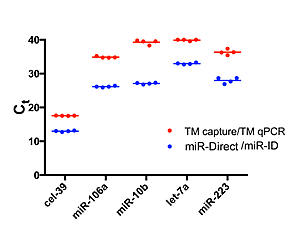 Urine samples from 4 healthy volunteers were analyzed using miR-Direct® and a competitor kit that also uses miRNA-capture and qPCR technology.
miR-Direct® enables miRNA detection with higher sensitivity than the competitor kit.
Read more about SomaGenics´ miR-ID® Technology:
RNA 17:365 (2011)
miR-ID: A novel, circularization-based platform for detection of microRNAs.
Pavan Kumar, Brian H. Johnston and Sergei A. Kazakov.
---
Related Links
miR-Direct Poster Presentation
miR-ID® Assays for miRNA Detection

| Description | Cat# | Size | Price | | |
| --- | --- | --- | --- | --- | --- |
| miR-Direct-core qRT-PCR Assay for small RNAs directly from biofluids | 300-core45-SOM | 45 samples | 543 € | DETAILS | Add to Cart |
| miR-Direct-custom qRT-PCR Assay for one miRNA from biofluids - Needs to be combined with core kit | 300-00000-SOM | 45 RT / 135 PCR rxns | please inquire € | DETAILS | Add to Cart |
| miR-Direct qRT-PCR Assay for cel-miR-39 from biofluids - Needs to be combined with core kit | 300-00012-SOM | 45 RT / 135 PCR rxns | 135 € | DETAILS | Add to Cart |
| miR-Direct qRT-PCR Assay for hsa-let-7a-5p from biofluids - Needs to be combined with core kit | 300-00015-SOM | 45 RT / 135 PCR rxns | 135 € | DETAILS | Add to Cart |
| miR-Direct qRT-PCR Assay for hsa-let-7d-5p from biofluids - Needs to be combined with core kit | 300-00016-SOM | 45 RT / 135 PCR rxns | 135 € | DETAILS | Add to Cart |
| miR-Direct qRT-PCR Assay for hsa-let-7g-5p from biofluids - Needs to be combined with core kit | 300-00017-SOM | 45 RT / 135 PCR rxns | 135 € | DETAILS | Add to Cart |
| miR-Direct qRT-PCR Assay for hsa-miR-103a-3p from biofluids - Needs to be combined with core kit | 300-00061-SOM | 45 RT / 135 PCR rxns | 135 € | DETAILS | Add to Cart |
| miR-Direct qRT-PCR Assay for hsa-miR-106a-5p from biofluids - Needs to be combined with core kit | 300-00018-SOM | 45 RT / 135 PCR rxns | 135 € | DETAILS | Add to Cart |
| miR-Direct qRT-PCR Assay for hsa-miR-10b-5p from biofluids - Needs to be combined with core kit | 300-00020-SOM | 45 RT / 135 PCR rxns | 135 € | DETAILS | Add to Cart |
| miR-Direct qRT-PCR Assay for hsa-miR-1202 from biofluids - Needs to be combined with core kit | 300-00102-SOM | 45 RT / 135 PCR rxns | 135 € | DETAILS | Add to Cart |
| miR-Direct qRT-PCR Assay for hsa-miR-122-5p from biofluids - Needs to be combined with core kit | 300-00021-SOM | 45 RT / 135 PCR rxns | 135 € | DETAILS | Add to Cart |
| miR-Direct qRT-PCR Assay for hsa-miR-125a-5p from biofluids - Needs to be combined with core kit | 300-00022-SOM | 45 RT / 135 PCR rxns | 135 € | DETAILS | Add to Cart |
| miR-Direct qRT-PCR Assay for hsa-miR-125b-5p from biofluids - Needs to be combined with core kit | 300-00023-SOM | 45 RT / 135 PCR rxns | 135 € | DETAILS | Add to Cart |
| miR-Direct qRT-PCR Assay for hsa-miR-126-3p from biofluids - Needs to be combined with core kit | 300-00024-SOM | 45 RT / 135 PCR rxns | 135 € | DETAILS | Add to Cart |
| miR-Direct qRT-PCR Assay for hsa-miR-127-3p from biofluids - Needs to be combined with core kit | 300-00069-SOM | 45 RT / 135 PCR rxns | 135 € | DETAILS | Add to Cart |
| miR-Direct qRT-PCR Assay for hsa-miR-128-3p from biofluids - Needs to be combined with core kit | 300-00026-SOM | 45 RT / 135 PCR rxns | 135 € | DETAILS | Add to Cart |
| miR-Direct qRT-PCR Assay for hsa-miR-1307-3p from biofluids - Needs to be combined with core kit | 300-00103-SOM | 45 RT / 135 PCR rxns | 135 € | DETAILS | Add to Cart |
| miR-Direct qRT-PCR Assay for hsa-miR-130a-3p from biofluids - Needs to be combined with core kit | 300-00097-SOM | 45 RT / 135 PCR rxns | 135 € | DETAILS | Add to Cart |
| miR-Direct qRT-PCR Assay for hsa-miR-141-3p from biofluids - Needs to be combined with core kit | 300-00027-SOM | 45 RT / 135 PCR rxns | 135 € | DETAILS | Add to Cart |
| miR-Direct qRT-PCR Assay for hsa-miR-142-3p from biofluids - Needs to be combined with core kit | 300-00028-SOM | 45 RT / 135 PCR rxns | 135 € | DETAILS | Add to Cart |
| miR-Direct qRT-PCR Assay for hsa-miR-143-3p from biofluids - Needs to be combined with core kit | 300-00029-SOM | 45 RT / 135 PCR rxns | 135 € | DETAILS | Add to Cart |
| miR-Direct qRT-PCR Assay for hsa-miR-144-3p from biofluids - Needs to be combined with core kit | 300-00096-SOM | 45 RT / 135 PCR rxns | 135 € | DETAILS | Add to Cart |
| miR-Direct qRT-PCR Assay for hsa-miR-145-5p from biofluids - Needs to be combined with core kit | 300-00030-SOM | 45 RT / 135 PCR rxns | 135 € | DETAILS | Add to Cart |
| miR-Direct qRT-PCR Assay for hsa-miR-146a-5p from biofluids - Needs to be combined with core kit | 300-00031-SOM | 45 RT / 135 PCR rxns | 135 € | DETAILS | Add to Cart |
| miR-Direct qRT-PCR Assay for hsa-miR-148a-3p from biofluids - Needs to be combined with core kit | 300-00032-SOM | 45 RT / 135 PCR rxns | 135 € | DETAILS | Add to Cart |
| miR-Direct qRT-PCR Assay for hsa-miR-148b-3p from biofluids - Needs to be combined with core kit | 300-00098-SOM | 45 RT / 135 PCR rxns | 135 € | DETAILS | Add to Cart |
| miR-Direct qRT-PCR Assay for hsa-miR-151a-3p from biofluids - Needs to be combined with core kit | 300-00099-SOM | 45 RT / 135 PCR rxns | 135 € | DETAILS | Add to Cart |
| miR-Direct qRT-PCR Assay for hsa-miR-155-5p from biofluids - Needs to be combined with core kit | 300-00033-SOM | 45 RT / 135 PCR rxns | 135 € | DETAILS | Add to Cart |
| miR-Direct qRT-PCR Assay for hsa-miR-15b-5p from biofluids - Needs to be combined with core kit | 300-00034-SOM | 45 RT / 135 PCR rxns | 135 € | DETAILS | Add to Cart |
| miR-Direct qRT-PCR Assay for hsa-miR-16-5p from biofluids - Needs to be combined with core kit | 300-00035-SOM | 45 RT / 135 PCR rxns | 135 € | DETAILS | Add to Cart |
| miR-Direct qRT-PCR Assay for hsa-miR-17-5p from biofluids - Needs to be combined with core kit | 300-00036-SOM | 45 RT / 135 PCR rxns | 135 € | DETAILS | Add to Cart |
| miR-Direct qRT-PCR Assay for hsa-miR-191-5p from biofluids - Needs to be combined with core kit | 300-00037-SOM | 45 RT / 135 PCR rxns | 135 € | DETAILS | Add to Cart |
| miR-Direct qRT-PCR Assay for hsa-miR-1913 from biofluids - Needs to be combined with core kit | 300-00104-SOM | 45 RT / 135 PCR rxns | 135 € | DETAILS | Add to Cart |
| miR-Direct qRT-PCR Assay for hsa-miR-195-5p from biofluids - Needs to be combined with core kit | 300-00038-SOM | 45 RT / 135 PCR rxns | 135 € | DETAILS | Add to Cart |
| miR-Direct qRT-PCR Assay for hsa-miR-199a-3p from biofluids - Needs to be combined with core kit | 300-00101-SOM | 45 RT / 135 PCR rxns | 135 € | DETAILS | Add to Cart |
| miR-Direct qRT-PCR Assay for hsa-miR-208b-3p from biofluids - Needs to be combined with core kit | 300-00041-SOM | 45 RT / 135 PCR rxns | 135 € | DETAILS | Add to Cart |
| miR-Direct qRT-PCR Assay for hsa-miR-20a-5p from biofluids - Needs to be combined with core kit | 300-00042-SOM | 45 RT / 135 PCR rxns | 135 € | DETAILS | Add to Cart |
| miR-Direct qRT-PCR Assay for hsa-miR-21-5p from biofluids - Needs to be combined with core kit | 300-00043-SOM | 45 RT / 135 PCR rxns | 135 € | DETAILS | Add to Cart |
| miR-Direct qRT-PCR Assay for hsa-miR-210-3p from biofluids - Needs to be combined with core kit | 300-00044-SOM | 45 RT / 135 PCR rxns | 135 € | DETAILS | Add to Cart |
| miR-Direct qRT-PCR Assay for hsa-miR-22-3p from biofluids - Needs to be combined with core kit | 300-00045-SOM | 45 RT / 135 PCR rxns | 135 € | DETAILS | Add to Cart |
| miR-Direct qRT-PCR Assay for hsa-miR-221-3p from biofluids - Needs to be combined with core kit | 300-00046-SOM | 45 RT / 135 PCR rxns | 135 € | DETAILS | Add to Cart |
| miR-Direct qRT-PCR Assay for hsa-miR-222-3p from biofluids - Needs to be combined with core kit | 300-00047-SOM | 45 RT / 135 PCR rxns | 135 € | DETAILS | Add to Cart |
| miR-Direct qRT-PCR Assay for hsa-miR-223-3P from biofluids - Needs to be combined with core kit | 300-00048-SOM | 45 RT / 135 PCR rxns | 135 € | DETAILS | Add to Cart |
| miR-Direct qRT-PCR Assay for hsa-miR-23a-3p from biofluids - Needs to be combined with core kit | 300-00049-SOM | 45 RT / 135 PCR rxns | 135 € | DETAILS | Add to Cart |
| miR-Direct qRT-PCR Assay for hsa-miR-24-3p from biofluids - Needs to be combined with core kit | 300-00051-SOM | 45 RT / 135 PCR rxns | 135 € | DETAILS | Add to Cart |
| miR-Direct qRT-PCR Assay for hsa-miR-25-3p from biofluids - Needs to be combined with core kit | 300-00052-SOM | 45 RT / 135 PCR rxns | 135 € | DETAILS | Add to Cart |
| miR-Direct qRT-PCR Assay for hsa-miR-29b-3p from biofluids - Needs to be combined with core kit | 300-00071-SOM | 45 RT / 135 PCR rxns | 135 € | DETAILS | Add to Cart |
| miR-Direct qRT-PCR Assay for hsa-miR-301a from biofluids - Needs to be combined with core kit | 300-00053-SOM | 45 RT / 135 PCR rxns | 135 € | DETAILS | Add to Cart |
| miR-Direct qRT-PCR Assay for hsa-miR-3184-3p from biofluids - Needs to be combined with core kit | 300-00105-SOM | 45 RT / 135 PCR rxns | 135 € | DETAILS | Add to Cart |
| miR-Direct qRT-PCR Assay for hsa-miR-335-5p from biofluids - Needs to be combined with core kit | 300-00063-SOM | 45 RT / 135 PCR rxns | 135 € | DETAILS | Add to Cart |