Methylated Histone Target Screening
• Strip microwell format makes the assay flexible: manual or high throughput
• Columns for DNA purification are included: save time and reduce labor
• Compatible with all subsequent DNA amplification-based approaches and with DNA array analysis
• Simple, reliable, and consistent assay conditions
The positions of histone H3 at lysine 4 and 9 (H3-K4 and H3-K9) are important for epigenetic transcriptional regulation as they can be either methylated or acetylated.
Methylated H3-K4 and H3-K9 are involved in tumorigenesis through inactivation of tumor suppression genes. Thus, identification of genes silenced through H3-K4 and H3-K9 methylation are of particluar significance for understanding and analyzing biological normal and pathological processes.
Chromatin Immunoprecipitation (ChIP) is a powerful technique for studying protein-DNA interaction in vivo: H3-K4 and H3-K9 ChIP enable you to identify genes silenced by methylated histones.
Epigentek´s H3-K4 and H3-K9 ChIP kits are complete, fast and easy-to-use kits including DNA purification columns. They are available in special versions when using tissue samples as source material.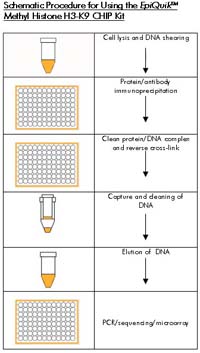 ---
Related Links