LncRNA Detection by qRT-PCR
Profile LncRNAs by qRT-PCR
• Quantitate non-coding RNAs by real-time qPCR
• Sensitive and specific assays
• Examine lncRNA-based epigenome changes and transcriptional regulation mechanisms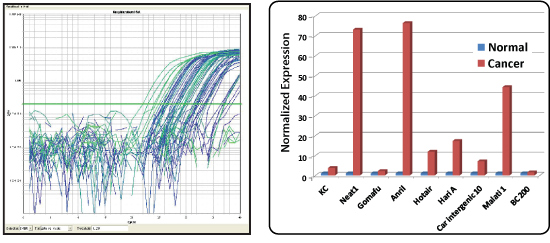 Comparison of lncRNA expression in human normal fibroblasts and fibrosarcoma cells
Profiling mouse lncRNA expression profiles across various tissues
Human and Mouse LncProfiler qPCR Array Kits
SBI´s LncProfiler Kits come as complete cDNA synthesis kits combined with a 96-well based qPCR assay to quantitate 90 different human or mouse lncRNAs described in the literature and playing major roles in cancer and stem cell research and more.
The primer panel includes 5 RNA reference controls to allow for subcellular fractionation studies to identify and profile three separate subcellular compartments.
The Human Lnc Profiler Kit is available with and without qPCR reagents.
The qPCR assays have been validated across numerous cell types for robust and specific performance. Some lncRNAs have endogenouse polyA tails, while other lncRNAs do not. To enhance qPCR assay performance, the cDNA synthesis kit includes reagents to polyadenylate all lncRNAs before cDNA conversion using the tagged oligo dT adaptor and random primers. This combined RNA tailing and oligo dT plus random primers boosts cDNA yield significantly and enables strand-specific lncRNA qPCR profiling.
For further information incl. lncRNA and control lists see product details.
Human Disease-related LncRNA qPCR Primer Sets
SBI´s Human Disease-related LncRNA qPCR primer sets include 83 LncRNA primers as well as 13 control primers. The panel is available either in pre-formatted qPCR assay plates for different instrument platforms, or as stock primer plate for transfer into any qPCR plate of your choice.
For further information incl. lncRNA and control lists see product details.
New: Regulatory RNA qPCR Array
See the link below to check out the new Regulatory RNA qPCR Array, featuring regulatory lncRNA as well as eRNA (enhancer RNAs)
Exosomal LncRNA and Regulatory RNA Profiling
SBI´s LncRNA and Regulatory RNA qPCR Assays can also be used to examine exosomal RNA profiles when combined with ExoQuick™ Exosome Precipitation Reagent and SeraMir Exosome RNA Purification Column Kit, see links below.
---
Related Links
Regulatory RNA qPCR Array
Lnc RNA Array Performance Data
Product Citations
Background Information about lncRNAs
ExoQuick™ Exosome Precipitation Reagent
SeraMir Exosome RNA Purification Column Kit

---
PDF-Downloads
- Will open in new browser window
Product Brochure: Human and Mouse lncRNA qPCR Arrays
Product Brochure: Disease related lncRNA qPCR Arrays

| Description | Cat# | Size | Price | | |
| --- | --- | --- | --- | --- | --- |
| Human LncRNA Profiler 96-well Real Time qPCR Array Kit, incl. Primer Set, cDNA Synthesis Kit and SYBR Green Reagents | RA910A-1-SBI | 20 complete profiles | 1139 € | DETAILS | Add to Cart |
| Human LncRNA Profiler 96-well Real Time qPCR Array Kit, incl. Primer Set and cDNA Synthesis Kit | RA900A-1-SBI | 20 complete profiles | 885 € | DETAILS | Add to Cart |
| Mouse LncRNA Profiler 96-well Real Time qPCR Array Kit, incl. Primer Set and cDNA Synthesis Kit | RA930A-1-SBI | 20 complete profiles | 919 € | DETAILS | Add to Cart |