Lentivirus Inducible Expression Vectors (cDNA and miRNA Cloning Vectors)
The Cumate Switch Inducible System
• Tight regulation of induction: Lower background than other inducible systems with robust Cumate-On induction
• Easy to titrate level of induction with Cumate solution
• Track induction with co-expressed RFP or GFP markers
• Enhanced Cumate Operator (CuO) elements regulate the potent CMV5 promoter
• Switch ON -> Turn OFF -> Switch ON again capabilities
• No special media or conditions required, plug and play system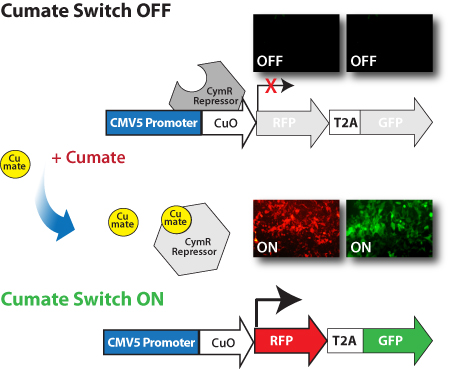 The SparQ™ cumate switch lentivectors deliver extremely tight control, robust induction and a highly titratable expression switch for inducible gene and microRNA expression studies. The system works through the CymR repressor that binds the cumate operator sequences (CuO) with high affinity. The repression is alleviated through the addition of Cumate, a non-toxic small molecule that binds to CymR. This system has a dynamic inducibility, can be finely tuned and is reversible and inducible over and over for timed expression studies.
Tight regulation of induction: Lower background than other inducible systems with robust induction
The SparQ cumate switch lentivectors feature low background with a higher induction rate of 32-fold when compared to other inducible systems: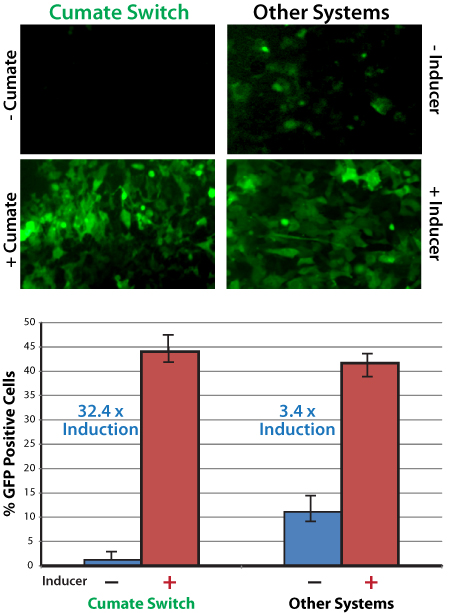 Switch it ON, turn it OFF and back ON again
Amazing versatility to switch expression on and off at will: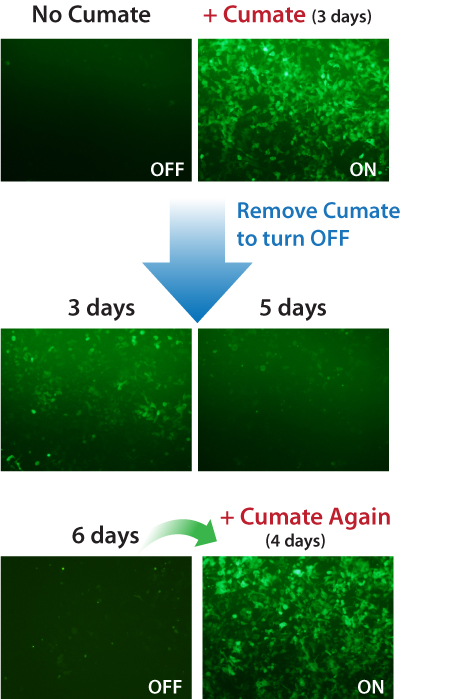 Fine tune the induction by adding more cumate or more virus
Choose your induction level: Cumate is non-toxic to cells and allows for greater dynamic ranges of induction levels. Increasing amounts of cumate added offers a linear induction of expression: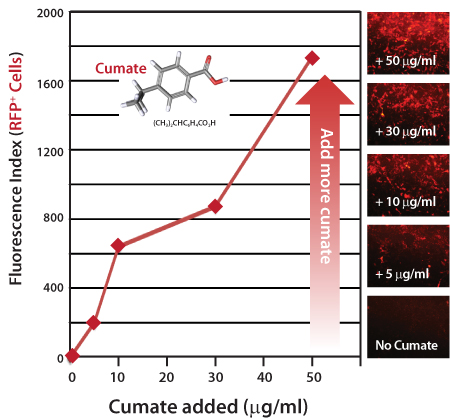 Increase induction levels by adding more SparQ lentivirus:
The cumate switch also supports titration of expression through increasing amounts of transducing SparQ cumate switch lentivirus constructs. The switch responds even with 30 MOI of cumate switch virus:

ORDER INFORMATION:
The SparQ cumate inducible system has three parts:
1. Cumate Solution for Induction
2. Cumate CymR Repressor Vector
3. SparQ Inducible Cloning Vector
Two All-in-One vectors (Catalog numbers QM8xxx-1-SBI) are also available: They carry the CymR gene and do not require co-transfection of the repressor vector.
Cumate CymR Repressor Vector: Choose from 3 Formats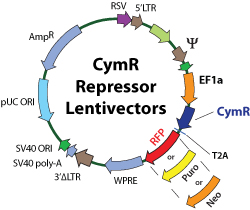 The system requires that the CymR repressor is present. Co-transduce the CymR vector before induction or establish an inducer cell line prior to induction studies. Use either the Puromycin, Neomycin or RFP CymR format to monitor CymR positive cells. All vectors are available as plasmid DNA or as pre-packaged lentiviral particles.
SparQ Inducible Vectors: Choose from 3 Formats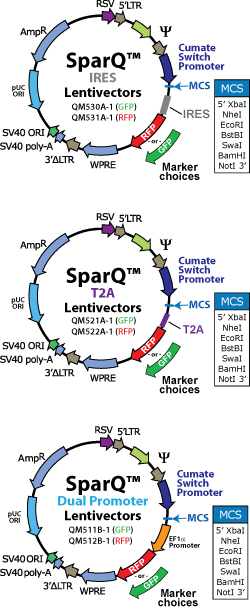 SparQ IRES Vectors:
The IRES vector configuration enables the inducible expression of a microRNA or a cDNA along with an IRES-mediated GFP or RFP marker that will be co-expressed to monitor induction when the switch is turned ON.
SparQ T2A Vectors:
The T2A vector configuration enables the inducible expression of a cDNA along with the simultaneous, T2A-mediated GFP or RFP marker to monitor cumate switch induction.
SparQ Dual Promoter Vectors:
The dual promoter vector configuration enables the inducible expression of a microRNA or a cDNA. The downstream EF1 promoter will constitutively express RFP or GFP independent of the cumate switch activation.
A
Cumate Starter Pack
is available at a special price (cat.# QM600A-1-SBI): Choose any inducible cloning vector, and receive CymR-T2A-Puro (packaged virus, QM200VA-1-SBI) and Cumate solution (1000x, QM100A-1-SBI). Indicate your inducible lentivector catalog # when placing your order.
A
Positive Control Vector
expressing both GFP and RFP is also available (in plasmid and prep-packaged format).
Technical References
:
Mullick A, Xu Y, Warren R, Koutroumanis M, Guilbault C, Broussau S, Malenfant F, Bourget L, Lamoureux L, Lo R, Caron AW, Pilotte A, Massie B. The cumate gene-switch: a system for regulated expression in mammalian cells. BMC Biotechnol. 2006 Nov 3;6:43.
Gaillet B, Gilbert R, Broussau S, Pilotte A, Malenfant F, Mullick A, Garnier A, Massie B. High-level recombinant protein production in CHO cells using lentiviral vectors and the cumate gene-switch. Biotechnol Bioeng. 2010 Jun 1;106(2):203-15.
Broussau S, Jabbour N, Lachapelle G, Durocher Y, Tom R, Transfiguracion J, Gilbert R, Massie B. Inducible packaging cells for large-scale production of lentiviral vectors in serum-free suspension culture. Mol Ther. 2008 Mar;16(3):500-7.
Eaton RW. p-Cymene catabolic pathway in Pseudomonas putida F1: cloning and characterization of DNA encoding conversion of p-cymene to p-cumate. J Bacteriol. 1997 May;179(10):3171-80.
---
Related Links
New: Water-soluble Cumate solution for in vivo applications

---
PDF-Downloads
- Will open in new browser window
| Description | Cat# | Size | Price | | |
| --- | --- | --- | --- | --- | --- |
| Cumate Solution (1000x), 500ul | QM100A-1-SBI | 500 ul | 183 € | DETAILS | Add to Cart |
| Cumate Solution for in vivo applications (300 mg/ml, 10.000 x ) | QM150A-1-SBI | 500 ul | 194 € | DETAILS | Add to Cart |
| Cumate Repressor Vector: pCDH-EF1-CymR-T2A-Puro (Plasmid DNA) | QM200PA-2-SBI | 10 ug | 634 € | DETAILS | Add to Cart |
| Cumate Repressor Vector: pCDH-EF1-CymR-T2A-Puro (Pre-packaged Virus) | QM200VA-2-GVO-SBI | >1 x 10^6 IFUs | 672 € | DETAILS | Add to Cart |
| Cumate Repressor Vector: pCDH-EF1-CymR-T2A-rRFP (Plasmid DNA) | QM300PA-1-SBI | 10 ug | 634 € | DETAILS | Add to Cart |
| Cumate Repressor Vector: pCDH-EF1-CymR-T2A-rRFP (virus) | QM300VA-1-GVO-SBI | >1 x 10^6 IFUs | 672 € | DETAILS | Add to Cart |
| Cumate Repressor Vector: pCDH-EF1-CymR-T2A-Neo (Plasmid DNA) | QM400PA-2-SBI | 10 ug | 620 € | DETAILS | Add to Cart |
| Cumate Repressor Vector: pCDH-EF1-CymR-T2A-Neo (virus) | QM400VA-2-GVO-SBI | >1 x 10^6 IFUs | 658 € | DETAILS | Add to Cart |
| Cumate SparQ Inducible cDNA Cloning Vector (T2A based co-expression): pCDH-CuO-MCS-T2A-copGFP (Plasmid DNA) | QM521A-1-SBI | 10 ug | 712 € | DETAILS | Add to Cart |
| Cumate SparQ Inducible cDNA Cloning Vector (T2A based co-expression): pCDH-CuO-MCS-T2A-rRFP (Plasmid DNA) | QM522A-1-SBI | 10 ug | 712 € | DETAILS | Add to Cart |
| Cumate SparQ Inducible cDNA / miRNA Cloning Vector (IRES based co-expression): pCDH-CuO-MCS-IRES-copGFP (Plasmid DNA) | QM530A-2-SBI | 10 ug | 712 € | DETAILS | Add to Cart |
| Cumate SparQ Inducible cDNA / miRNA Cloning Vector (IRES based co-expression): pCDH-CuO-MCS-IRES-rRFP (Plasmid DNA) | QM531A-2-SBI | 10 ug | 712 € | DETAILS | Add to Cart |
| Cumate SparQ Inducible cDNA / miRNA Cloning Vector (Dual Promoter): pCDH-CuO-MCS-EF1-copGFP (Plasmid DNA) | QM511B-1-SBI | 10 ug | 712 € | DETAILS | Add to Cart |
| Cumate SparQ Inducible cDNA / miRNA Cloning Vector (Dual Promoter): pCDH-CuO-MCS-EF1-rRFP (Plasmid DNA) | QM512B-1-SBI | 10 ug | 712 € | DETAILS | Add to Cart |
| Cumate SparQ Inducible cDNA / miRNA Cloning Vector (Dual Promoter): pCDH-CuO-MCS-EF1-GFP-T2A-Puro (Plasmid DNA) | QM513B-1-SBI | 10 ug | 712 € | DETAILS | Add to Cart |
| Cumate SparQ Inducible cDNA / miRNA Cloning Vector (Dual Promoter): pCDH-CuO-MCS-EF1-RFP-T2A-Puro (Plasmid DNA) | QM516B-2-SBI | 10 ug | 712 € | DETAILS | Add to Cart |
| Cumate SparQ Inducible cDNA / miRNA Cloning Vector (without marker gene): pCDH-CuO-MCS (Plasmid DNA) | QM500A-1-SBI | 10 ug | 634 € | DETAILS | Add to Cart |
| Cumate Starter Pack: Your choice of Cumate SparQ Inducible Vector + CymR-T2A-Puro (packaged virus, QM200VA-2-GVO-SBI) and Cumate solution (1000x, QM100A-1-SBI) | QM600A-1-GVO-SBI | 1 Kit | 1228 € | DETAILS | Add to Cart |
| Cumate SparQ Inducible cDNA / miRNA Cloning Vector (all-in-one vector including CymR, T2A based co-expression): pCDH-CuO-MCS-EF1-CymR-T2A-Puro (Plasmid DNA) | QM800A-1-SBI | 10 ug | 1306 € | DETAILS | Add to Cart |
| Cumate SparQ Inducible cDNA / miRNA Cloning Vector (all-in-one vector including CymR, IRES based co-expression): pCDH-CuO-MCS-IRES-GFP-EF1-CymR-T2A-Puro (Plasmid DNA) | QM812B-1-SBI | 10 ug | 1306 € | DETAILS | Add to Cart |
| Cumate Positive Control Vector: pCDH-Cuo-rRFP-T2A-copGFP (Plasmid DNA) | QM350PA-1-SBI | 10 ug | 634 € | DETAILS | Add to Cart |
| Cumate Positive Control Vector: pCDH-Cuo-rRFP-T2A-copGFP (virus) | QM350VA-1-GVO-SBI | >1 x 10^6 IFUs | 672 € | DETAILS | Add to Cart |