Lentivirus Expression Vectors (cDNA Cloning Vectors)
Stably Express Your Gene of Interest with cDNA Cloning Lentivectors
• Strong and ubiquitous expression of the gene of interest
• Choice of HIV- or FIV-based lentiviral vectors
• Single or double expression cassette with choice of reporter gene
• Target gene expressed from CMV, EF1, MSCV, PGK or UbC promoter
• Promoterless universal lentiviral expression vector also available
Reliable delivery to dividing or non-dividing cells
When used with lentiviral packaging plasmids, your cDNA constructs can be packaged into VSV-G pseudotyped viral particles and delivered into a wide range of dividing and quiescent mammalian cells—including difficult-to-transfect cells such as primary cultures, stem cells, neurons, endothelial cells, and retinoblastomas—with high efficiency. The result is a stable cell line that expresses the gene of interest. The system can also be used to overexpress genes in model organisms.
Gene expression from constitutive promoters
The multiple cloning site (MCS) located downstream of a internal promoter allows convenient cloning of your gene of interest. Choose from five different promoters for expression of your gene: CMV (cytomegalovirus), MSCV (murine stem cell virus), EF1 (elongation factor 1alpha), PGK (phosphoglycerate kinase) or UbC (ubiquitin C). The table below describes the expression level and possible applications for each promoter.
A promoterless universal lentiviral expression vector is offered in additon.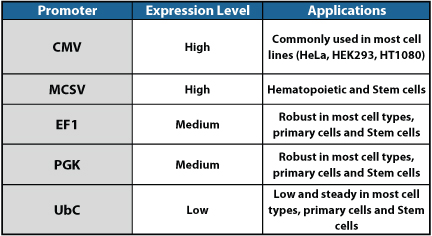 Convenient selection of transduced cells
In addition to one-promoter vectors, which carry the multiple cloning site downstream of the CMV promoter, we offer the option of a second expression cassette downstream of the MCS to express the puromycin or neomycin resistance gene or copGFP as a reporter under the control of a constitutive promoter.
Efficient coexpression of target and reporter with T2A peptide
The most recent additions to the cDNA vector collection confront the problems of promoter interference and imbalanced expression by incorporating a "self-cleaving" T2A peptide derived from the insect virus Thosea asigna to mediate coexpression of a reporter gene with the target cDNA. This allows an easy way to track cells actively expressing your gene of interest.
Express multiple transgenes simultaneously
SBI has built and tested a suite of synthetic bidirectional promoter lentivector formats featuring EF1a and PGK in a divergent configuration coordinating the regulation of two or more different transgenes. This promoter configuration takes advantage of the natural bidirectional activity of the PGK promoter and the divergent configuration is stable and resistant to silencing in embryonic stem (ES), trophectoderm stem (TS) and extra embryonic endoderm (XEN) stem cells (MC Golding and MRW Mann, 2011). The primary benefits of these formats are that researchers can coordinate dual expression of their genes of interest as well as various markers (GFP, RFP, Puro, etc.) without the use of IRES elements which have weak functions when co-expressing two cDNAs and can avoid unidirectional promoter interference issues that sometimes arise in lentivector formats.
pCDH vector applications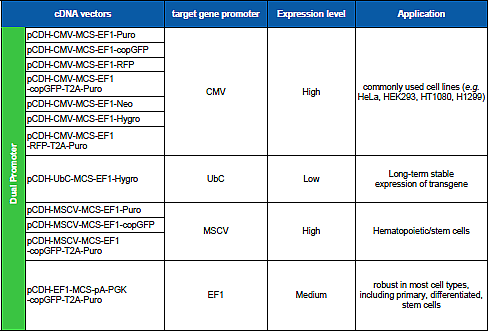 Comparison of the expression levels of different promoters and the various applications proposed for each cDNA vector. EF1: elongation factor 1alpha; MCS: multiple cloning sites; T2A: self-cleavable 2A peptide; MSCV: 5'LTR promoter from mouse stem cell virus; CMV: cytomegalovirus promoter, PGK: Phosphoglycerate Kinase.
For vector maps and more info, see individual products below.
---
Related Links
Lentiviral Vectors for Inducible cDNA Expression
Lentiviral Packaging Plasmids
cDNA Cloning Lentivectors from Cell Biolabs
pCDH (HIV based) cDNA Cloning Vector Manual
pCDF (FIV based) cDNA Cloning Vector Manual

---
PDF-Downloads
- Will open in new browser window
HIV- and FIV-based lentivector transduction data

| Description | Cat# | Size | Price | | |
| --- | --- | --- | --- | --- | --- |
| Bidirectional EF1/PGK Promoter based pCDH-EF1-MCS-(PGK-GFP) cDNA Cloning and Expression Vector (HIV) | CD811A-1-SBI | 10 ug | 678 € | DETAILS | Add to Cart |
| Bidirectional EF1/PGK Promoter based pCDH-EF1-MCS-(PGK-GFP-T2A-Puro) cDNA Cloning and Expression Vector (HIV) | CD813A-1-SBI | 10 ug | 678 € | DETAILS | Add to Cart |
| Bidirectional EF1/PGK Promoter based pCDH-EF1-MCS-(PGK-Puro) cDNA Cloning and Expression Vector (HIV) | CD810A-1-SBI | 10 ug | 678 € | DETAILS | Add to Cart |
| Bidirectional EF1/PGK Promoter based pCDH-EF1-MCS-T2A-GFP (PGK-Puro) cDNA Cloning and Expression Vector (HIV) | CD823A-1-SBI | 10 ug | 678 € | DETAILS | Add to Cart |
| Bidirectional EF1/PGK Promoter based pCDH-EF1-MCS-T2A-RFP (PGK-Puro) cDNA Cloning and Expression Vector (HIV) | CD822A-1-SBI | 10 ug | 678 € | DETAILS | Add to Cart |
| CMV Promoter based pCDF1-MCS1 cDNA Cloning and Expression Vector (FIV) | CD100A-1-SBI | 10 ug | 586 € | DETAILS | Add to Cart |
| CMV Promoter based pCDF1-MCS2-EF1-copGFP cDNA Cloning and Expression Vector (FIV) | CD111B-1-SBI | 10 ug | 671 € | DETAILS | Add to Cart |
| CMV Promoter based pCDF1-MCS2-EF1-Puro cDNA Cloning and Expression Vector (FIV) | CD110B-1-SBI | 10 ug | 671 € | DETAILS | Add to Cart |
| CMV Promoter based pCDH-CMV-MCS cDNA Cloning and Expression Vector (HIV) | CD500B-1-SBI | 10 ug | 586 € | DETAILS | Add to Cart |
| CMV Promoter based pCDH-CMV-MCS-EF1-copGFP cDNA Cloning and Expression Vector, also used for miRNA precursor vectors (HIV) (SBI pmiRNA miRNA Expression Library) | CD511B-1-SBI | 10 ug | 671 € | DETAILS | Add to Cart |
| CMV Promoter based pCDH-CMV-MCS-EF1-GFP-T2A-Puro cDNA Cloning and Expression Vector (HIV) | CD513B-1-SBI | 10 ug | 671 € | DETAILS | Add to Cart |
| CMV Promoter based pCDH-CMV-MCS-EF1-Hygro cDNA Cloning and Expression Vector (HIV) | CD515B-1-SBI | 10 ug | 671 € | DETAILS | Add to Cart |
| CMV Promoter based pCDH-CMV-MCS-EF1-RFP+Puro cDNA Cloning and Expression Vector (HIV) | CD516B-2-SBI | 10 ug | 671 € | DETAILS | Add to Cart |
| CMV Promoter based pCDH-CMV-MCS-EF1-Neo cDNA Cloning and Expression Vector (HIV) | CD514B-1-SBI | 10 ug | 671 € | DETAILS | Add to Cart |
| CMV Promoter based pCDH-CMV-MCS-EF1-Puro cDNA Cloning and Expression Vector (HIV) | CD510B-1-SBI | 10 ug | 671 € | DETAILS | Add to Cart |
| CMV Promoter based pCDH-CMV-MCS-EF1-RFP cDNA Cloning and Expression Vector (HIV) | CD512B-1-SBI | 10 ug | 671 € | DETAILS | Add to Cart |
| CMV Promoter based pCDH-CMV-MCSr cDNA Cloning and Expression Vector (HIV) | CD501A-1-SBI | 10 ug | 586 € | DETAILS | Add to Cart |
| CMV Promoter based pCDH-CMV-MCS-T2A-copGFP cDNA Cloning and Expression Vector (HIV) | CD524A-1-SBI | 10 ug | 689 € | DETAILS | Add to Cart |
| EF1 Promoter based pCDH-EF1-MCS cDNA Cloning and Expression Vector (HIV) | CD502A-1-SBI | 10 ug | 586 € | DETAILS | Add to Cart |
| EF1 Promoter based pCDH-EF1-MCS-BGH-PGK-GFP-T2A-Puro cDNA Cloning and Expression Vector (HIV) | CD550A-1-SBI | 10 ug | 662 € | DETAILS | Add to Cart |
| EF1 Promoter based pCDH-EF1-MCS-IRES-GFP cDNA Cloning and Expression Vector (HIV) | CD530A-2-SBI | 10 ug | 689 € | DETAILS | Add to Cart |
| EF1 Promoter based pCDH-EF1-MCS-IRES-Neo cDNA Cloning and Expression Vector (HIV) | CD533A-2-SBI | 10 ug | 689 € | DETAILS | Add to Cart |
| EF1 Promoter based pCDH-EF1-MCS-IRES-Puro cDNA Cloning and Expression Vector (HIV) | CD532A-2-SBI | 10 ug | 689 € | DETAILS | Add to Cart |
| EF1 Promoter based pCDH-EF1-MCS-IRES-RFP cDNA Cloning and Expression Vector (HIV) | CD531A-2-SBI | 10 ug | 689 € | DETAILS | Add to Cart |
| EF1 Promoter based pCDH-EF1-MCS-T2A-copGFP cDNA Cloning and Expression Vector (HIV) | CD526A-1-SBI | 10 ug | 689 € | DETAILS | Add to Cart |
| EF1 Promoter based pCDH-EF1-MCS-T2A-Puro cDNA Cloning and Expression Vector (HIV) | CD527A-1-SBI | 10 ug | 689 € | DETAILS | Add to Cart |
| MSCV Promoter based pCDH-MSCV-MCS-IRES-GFP cDNA Cloning and Expression Vector (HIV) | CD731B-1-SBI | 10 ug | 689 € | DETAILS | Add to Cart |
| MSCV Promoter based pCDH-MCS-T2A-copGFP-MSCV cDNA Cloning and Expression Vector (HIV) | CD523A-1-SBI | 10 ug | 689 € | DETAILS | Add to Cart |
| MSCV Promoter based pCDH-MCS-T2A-Puro-MSCV cDNA Cloning and Expression Vector (HIV) | CD522A-1-SBI | 10 ug | 689 € | DETAILS | Add to Cart |
| MSCV Promoter based pCDH-MSCV-MCS-EF1-GFP cDNA Cloning and Expression Vector (HIV) | CD711B-1-SBI | 10 ug | 671 € | DETAILS | Add to Cart |
| MSCV Promoter based pCDH-MSCV-MCS-EF1-GFP-Puro cDNA Cloning and Expression Vector (HIV) | CD713B-1-SBI | 10 ug | 671 € | DETAILS | Add to Cart |
| MSCV Promoter based pCDH-MSCV-MCS-EF1-Puro cDNA Cloning and Expression Vector (HIV) | CD710B-1-SBI | 10 ug | 671 € | DETAILS | Add to Cart |
| UbC Promoter based pCDH-UbC-MCS-EF1-Hygro cDNA Cloning and Expression Vector (HIV) | CD615B-1-SBI | 10 ug | 671 € | DETAILS | Add to Cart |
| UbC Promoter based pCDH-UbC-MCS-IRES-GFP cDNA Cloning and Expression Vector (HIV) | CD630A-1-SBI | 10 ug | 689 € | DETAILS | Add to Cart |
| CMV Promoter based Lenti-Easy HA Tag Vector (HIV) | LV005-ABM | 10 ug | 748 € | DETAILS | Add to Cart |
| CMV Promoter based Lenti-Easy HA Tag Vector (HIV) plus Lenti-Combo packaging plasmid mix | LV210-ABM | 10 ug vector and 100 ug packaging plasmid mix | 905 € | DETAILS | Add to Cart |
| CMV Promoter based Lenti-Easy His Tag Vector (HIV) | LV009-ABM | 10 ug | 748 € | DETAILS | Add to Cart |