Lentiviral Packaging Kit
Generate transduction-ready pseudoviral particles
• Produce high titers of transduction-ready pseudoviral particles
• Efficiently deliver and stably express lentivector constructs in a wide range of mammalian cells
• Quantify pseudoviral titers and transduction efficiency using a convenient copGFP control
• Choose from FIV- and HIV-based lentivector packaging kits
• 293TN producer cell line optimized for high pseudoviral titers also available
Packaging of 3rd generation lentivectors
Designed to package lentivectors into pantropic pseudoviral particles, the HIV- and FIV- based pPACKH1 and pPACKF1 Lentivector packaging kits from System Biosciences make it easy to deliver and express lentiviral constructs in a wide range of mammalian cells.
They include a convenient copGFP control construct, and are available in combination kits which include reagents for transfection, virus concentration, transduction, and titration.
Cell Biolabs offers their ViraSafe HIV Lentiviral Packaging System ecotropic for generating viral particles for efficient infection of mouse and rat cells as well as pantropic.
OriGene´s Lenti-vpak mix comes with Turbofectin transfection reagent.
Specialized packaging kits for SARS-CoV-2 Spike pseudotyped lentiviral particles are available from GeneCopoeia and System Bioscience with their Lenti-Pac and pPAck Spike systems.
Packaging of 2nd and 3rd generation lentivectors
Cellecta´s psPAX2/pMD2.G mix is designed for packaging 2nd and 3rd generation lentivectors for delivery into a wide range of mammalian cells.
Packaging procedure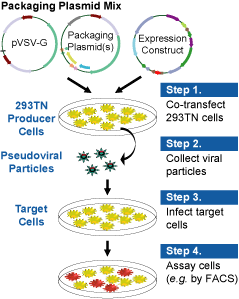 ---
Related Links
Lentiviral Packaging Service
HEK293TN Pseudoviral Particle Producer Cell Line

| Description | Cat# | Size | Price | | |
| --- | --- | --- | --- | --- | --- |
| Lenti-Pac SARS-CoV-2 Full Length Spike protein-pseudotyped Lentivirus Packaging Kit | LT011-GC | 20 reactions | please inquire € | DETAILS | Add to Cart |
| Lenti-Pac SARS-CoV-2 Full Length Spike protein-pseudotyped Lentivirus Packaging Kit | LT012-GC | 40 reactions | please inquire € | DETAILS | Add to Cart |
| Lenti-Pac SARS-CoV-2 Truncated Spike protein-pseudotyped Lentivirus Packaging Kit | LT021-GC | 20 reactions | 861 € | DETAILS | Add to Cart |
| Lenti-Pac SARS-CoV-2 Truncated Spike protein-pseudotyped Lentivirus Packaging Kit | LT022-GC | 40 reactions | 1418 € | DETAILS | Add to Cart |
| pPACK-SPIKE packaging kit (200 ul) | CVD19-500A-1-SBI | 10 rxns | 763 € | DETAILS | Add to Cart |
| pPACK-SPIKE packaging kit (500 ul) | CVD19-510A-1-SBI | 25 rxns | 1501 € | DETAILS | Add to Cart |
| pPACK-SPIKE Combo Kit, includes Cat# CVD19-500A-1, plus PureFection Transfection Reagent and PEG-it Virus Concentration solution | CVD19-520A-KIT-SBI | 1 kit | 1273 € | DETAILS | Add to Cart |
| pPACK-BALD Envelope-Free Lentivector Packaging Mix | LV550A-1-SBI | 10 rxn | 589 € | DETAILS | Add to Cart |
| pPACK-BALD Envelope-Free Lentivector Packaging Mix (XL) | LV555A-1-SBI | 25 rxn | 1275 € | DETAILS | Add to Cart |
| 2nd Generation Lentiviral Packaging Plasmid Mix | LV003-ABM | 10 rxns | 377 € | DETAILS | Add to Cart |
| 2nd Generation Lentiviral Packaging Plasmid Mix plus Lentifectin | LV003-G074-ABM | 10 rxns | 544 € | DETAILS | Add to Cart |
| 3rd Generation Lentiviral Packaging Plasmid Mix | LV053-ABM | 10 rxns | 487 € | DETAILS | Add to Cart |
| 3rd Generation Lentiviral Packaging Plasmid Mix plus Lentifectin | LV053-G074-ABM | 10 rxns | 597 € | DETAILS | Add to Cart |
| Lenti-Pac HIV Expression Packaging Kit | LT001-GC | 20 rxns | 646 € | DETAILS | Add to Cart |
| Lenti-Pac HIV Expression Packaging Kit | LT002-GC | 40 rxns | 1076 € | DETAILS | Add to Cart |
| Lenti-vpak HIV Packaging Kit (Packaging Plasmid Mix and Transfection Reagent) | TR30037-OR | 10 rxns | 570 € | DETAILS | Add to Cart |
| Lenti-vpak HIV Packaging Kit (Packaging Plasmid Mix and Transfection Reagent), 5 packs | TR30037P5-OR | 5 x 10 rxns | 2280 € | DETAILS | Add to Cart |
| LentiPrep Lentiviral Reagent Set with GFP Control for Packaging and Transduction | LTSET-G-CT | 1 set | 882 € | DETAILS | Add to Cart |
| LentiPrep Lentiviral Reagent Set with RFP Control for Packaging and Transduction | LTSET-R-CT | 1 set | 882 € | DETAILS | Add to Cart |
| LentiStarter 3.0 Kit for HIV based Lenti Vectors: HIV based Lentiviral Packaging Mix, PureFection plasmid transfection reagent, PEG-it Solution for Virus Concentration and TransDux Virus Transduction Reagent & TransDux Max Enhancer | LV060A-1-SBI | 5 reactions (10 cm dishes) | 715 € | DETAILS | Add to Cart |
| LentiSuite Basic Kit for HIV based Lenti Vectors: HIV based Lentiviral Packaging Mix, PureFection plasmid transfection reagent, PEG-it Solution for Virus Concentration and TransDux Virus Transduction Reagent & TransDux Max Enhancer | LV340A-1-SBI | 10 reactions (10 cm dishes) | 1132 € | DETAILS | Add to Cart |
| LentiSuite Deluxe Kit (includes HEK293TN Producer Cells, pPACKH1, PureFection, PEG-it, TransDux MAX, and the Global UltraRapid Titering Kit) | LV350A-1-SBI | 10 reactions (10 cm dishes) | 1747 € | DETAILS | Add to Cart |
| pPACKF1 FIV Lentiviral Packaging Kit (Kit with pPACKF1 Packaging Plasmid Mix and pSIF1-H1-siLuc-copGFP Control Vector) (FIV) | LV100A-1-SBI | 10 rxns | 653 € | DETAILS | Add to Cart |
| pPACKF1 FIV Lentiviral Packaging Kit XXL (Kit with pPACKF1 Packaging Plasmid Mix and pSIF1-H1-siLuc-copGFP Control Vector) (FIV) | LV100A-5-SBI | 50 rxns | 2278 € | DETAILS | Add to Cart |
| pPACKH1 HIV Lentiviral Packaging Kit (Kit with pPACKH1 Packaging Plasmid Mix and pSIH1-H1-siLuc-copGFP Control Vector) (HIV) | LV500A-1-SBI | 10 rxns | 624 € | DETAILS | Add to Cart |
| pPACKH1 HIV Lentiviral Packaging Kit XL (Kit with pPACKH1 Packaging Plasmid Mix and pSIH1-H1-siLuc-copGFP Control Vector) (HIV) | LV510A-1-SBI | 25 rxns | 1235 € | DETAILS | Add to Cart |
| Ready-to-Use Lentiviral Packaging Plasmid Mix (HIV) (Second- and Third-Generation, psPAX2/pMD2.G based) | CPCP-K2A-CT | 250 ug | 463 € | DETAILS | Add to Cart |
| ViraSafe HIV Lentiviral Packaging System, Ecotropic | VPK-205-CB | 1 kit | 837 € | DETAILS | Add to Cart |
| ViraSafe HIV Lentiviral Packaging System, Pantropic | VPK-206-CB | 1 kit | 837 € | DETAILS | Add to Cart |