Human Genome-wide Expression Profiling by Multiplex-RT PCR and subsequent NGS
DriverMap™ Genome-Wide Targeted Expression Profiling Kit:Combines the sensitivity of qRT-PCR and the throughput of NGS
• Easy-to-run, one-tube, single-day expression profiling directly from total RNA from any tissue, cell, or blood samples
• Efficient multiplex RT-PCR amplification for comprehensive profiles with greater detection of low abundant transcripts compared to RNAseq
• Robust, reproducible data from low-input RNA samples—start with as little as 10 pg total RNA
• Faster, easier and less expensive than RNAseq: No depletion protocol necessary, no intermediate purification steps, no complex bioinformatics analysis
• DirectCell protocol enables high-throughput single cell gene expression profiling, see manual
The development of the DriverMap Targeted RNA Sequencing Assay involved extensive optimization and experimental validation of tens of thousands of primer sets to identify a pool of primers that could be combined in a single multiplex PCR reaction to amplify representative transcript sequences from each of 19,000 protein-coding genes in the human genome. The result is a rapid and convenient, single-tube, RT-PCR combined with NGS protocol that–without intermediate steps– provides robust measurements of each expressed gene from total RNA. Even down to single-cell levels of 10 pg, the assay produces a highly quantitative and reproducible NGS readout that has a range of measurement over 5-orders of magnitude.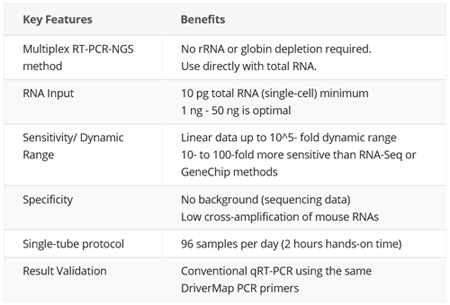 DriverMap vs. RNA-Seq Workflow Comparison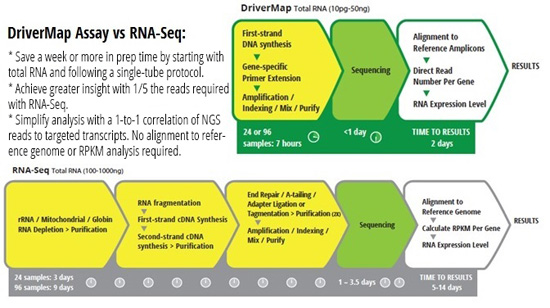 As a result of an intensive primer design and testing process that included extensive empirical analysis of multiplex PCR primer mixes, our partner Cellecta generated a complete set of validated multiplex RT-PCR primers providing reproducible amplification of all 19,000 human protein-coding transcripts (one cDNA fragment per gene) directly from total RNA. mRNA enrichment is not needed, and, for blood samples, no globin depletion is required. NGS of the amplified products quantifies the relative levels of each transcript using the targeted amplicons as a reference for sequencing deconvolution.
DriverMap is a highly quantitative, targeted RNA expression profiling assay that
• Accurately measures levels of gene expression with great reproducibility (R-squared values > 0.9)
• Requires only total RNA as input for a multiplex PCR reaction so it is simple and fast (1-day) to run
• Generates defined single-amplicon sequencing results per gene, which makes deconvolution straightforward and easily comparable across samples
Workflow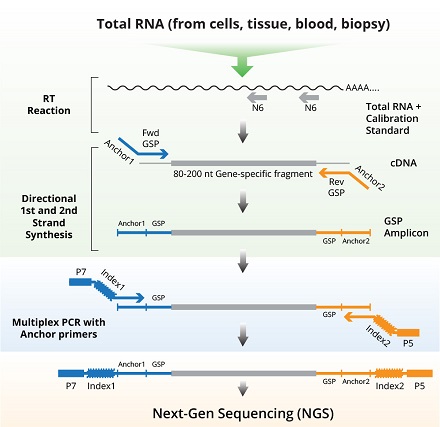 Performance Data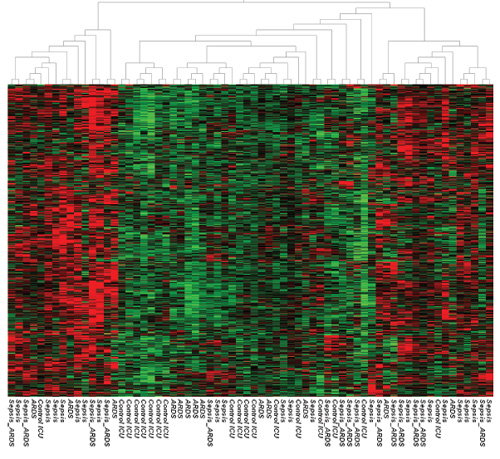 DriverMap whole blood expression profiling of patients in intensive care unit (ICU) without additional complications (Control), with Acute Respiratory Distress Syndrome (ARDS), Sepsis-ARDS, or Sepsis indications. For the assay 50 ng of total RNA from whole blood were used (no beta-globin depletion or mRNA enrichment).
The Obvious Choice for a Wide Range of Applications
• Biomarker Discovery from Whole Blood Samples—use whole blood RNA (e.g., PAXgene) without previous globin and ribosomal RNA depletion.
• Circulating Tumor Cell (CTC) Detection in Whole Blood—no enrichment step needed.
• Tumor Cellular Composition Analysis—comprehensive expression profiles to assess tumor/stromal cell content and profile infiltrating immune cell types
• Patient-Derived Xenograft (PDX) Models— obtain human-specific expression profiles without separation of human cells from model-animal background cells
• High Throughput Expression Analysis of Cell Lines—easy 96- or 384-well single-tube protocol facilitates identification of the mechanisms of chemical and genetic perturbations
• Expression Profiling of Rare and Limited Cell Populations—comprehensive analysis with limited numbers of cells isolated by FACS, magnetic beads or microfluidics, fine needle biopsies, and laser capture microdissection.
---
Related Links
Scicasts Article about DriverMap Technology
DriverMap Targeted RNAseq Service

---
PDF-Downloads
- Will open in new browser window
DriverMap Advantages over RNAseq
DriverMap Brochure

Description
Cat#
Size
Price
DriverMap Human Genome-Wide Expression Profiling Kit, Version 2 (24 multiplex)
DM2-HGW-CT
1 kit

Special


1390 €
DETAILS
Add to Cart
DriverMap Human Genome-Wide Expression Profiling Kit, Version 2 (96 multiplex)
DM2-HGW-96-CT
1 kit

Special


3750 €
DETAILS
Add to Cart