Transcriptional Activation of endogenous genes by CRISPR/Cas9 SAM
CRISPR activation (CRISPRa) harnesses the fully-customizable DNA targeting ability of the catalytically inactive dCas9, fused to a Synergistic Activation Mediator (dCas9-SAM) to induce gene expression activation in living cells. By targeting dCas9-SAM to the promoters of any mammalian gene via specially-designed single-guide RNAs (sgRNAs), expression levels can be boosted manifold.
Reference: Konermann et al., Nature, January 2015.
Our custom service performed by our partner ABM offers sgRNAs designed especially for CRISPRa applications, and can be applied to any human, mouse, or rat gene at the prices below. CRISPRa constructs for other mammalian species´ genes are available on demand - please ask us for a quotation.
Simply send us the accession number of the gene of interest, and we will design, clone and deliver this powerful technology right to your fingertips! Our custom sgRNAs can be purchased either individually, or as sets of three, and are available as pre-packaged lentiviruses.
The required components are:
- Custom-designed CRISPR Activation sgRNA Lentivector (When ordering, please let us know the accession number of the gene you like to activate)
- dCas9-SAM (Synergistic Activation Mediator) Fusion Lentivector (Available as premade catalog items)
We also recommend to purchase a scrambled sgRNA Lentivector (which is also available as a premade catalog product) as a negative control
See workflow and product table below.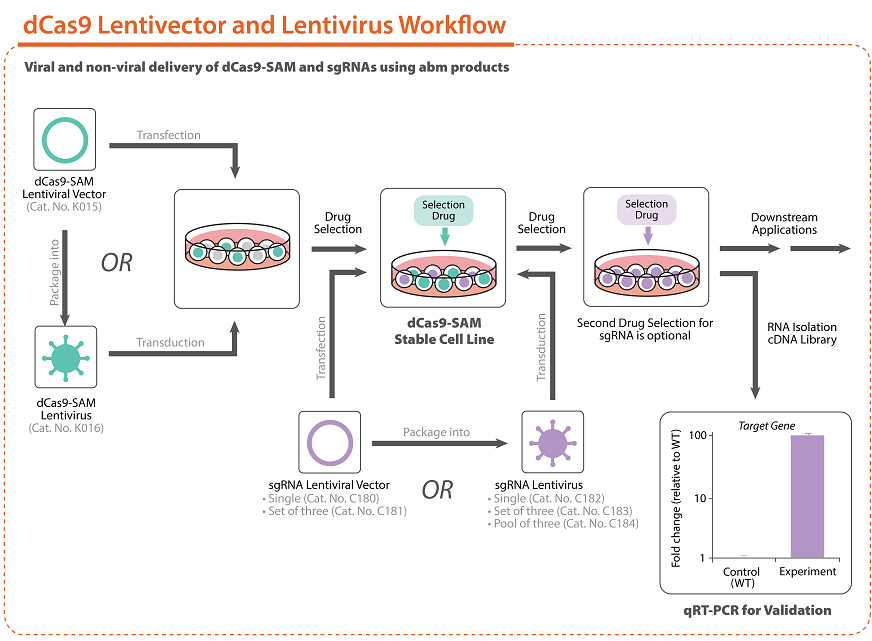 ---
Related Links
Let us know which gene(s) you like to activate
CRISPRa Screening Libraries

| Description | Cat# | Size | Price | | |
| --- | --- | --- | --- | --- | --- |
| dCas9-SAM (Synergistic Activation Mediator) Fusion Expression Lentivector for CRISPRa, plasmid DNA | K015-ABM | 10 ug | 312 € | DETAILS | Add to Cart |
| dCas9-SAM (Synergistic Activation Mediator) Fusion Expression Lentivector for CRISPRa, lentiviral particles (1 x 10e7 IU/ml) | K016-GVO-ABM | 300 ul | 966 € | DETAILS | Add to Cart |
| Scrambled sgRNA Lentivector, plasmid DNA | K018-ABM | 1 ug | 144 € | DETAILS | Add to Cart |
| Scrambled sgRNA Lentivector, lentiviral particles (1 x 10e7 IU/ml) | K019-GVO-ABM | 300 ul | 588 € | DETAILS | Add to Cart |