CRISPR Human sgRNA Libraries for Gene Knockout
GeneCopoeia recently launched a number of smaller, pathway- and gene group-focused CRISPR sgRNA libraries, which offer several key advantages over the whole-genome libraries.
What are CRISPR sgRNA libraries?
CRISPR sgRNA libraries are collections of hundreds-to-thousands of plasmids, each expressing a unique chromosome target-specific single guide RNA (sgRNA), which, in the presence of Streptococcus pyogenes Cas9 causes double-strand breaks (DSBs) in the chromosome (Figure 1). DSBs can be repaired by nonhomologous end joining (NHEJ), which leads to knockout mutations.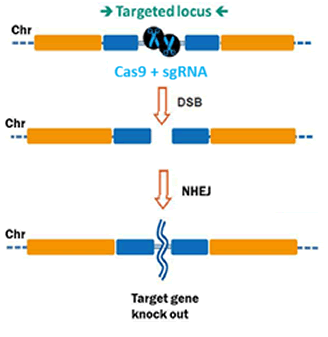 Figure 1.
Pathways for repair of DSBs induced by genome CRISPR by non-homologuous recombination (NHEJ)
CRISPR sgRNA libraries enable researchers to knock out many genes simultaneously in mammalian cells, opening the door to many applications, such as drug target identification, drug target validation, phenotypic changes, and reporter assays. CRISPR can make a complete knockout of all alleles of a gene, whether their transcription products are localized to the nucleus or cytoplasm.
How are CRISPR sgRNA libraries used?
Using sgRNA libraries is straightforward. However, it is important to have a "readout", (observable phenotype or assay) in order for the libraries to be useful (Figure 2). Briefly, sgRNA libraries are generally used as pools of lentiviral particles, although the plasmids can also transfect cells as DNA. GeneCopoeia library clones contain sgRNA target sites, but not Cas9, which is required. So you will need to either co-transfect /co-transduce your cells with sgRNAs and Cas9, or transfect/transduce a cell line already stably expressing Cas9. For lentiviral transduction, it is recommended first to establish a cell line stably expressing Cas9; the large size of Cas9 limits the viral titer, so transduction is more efficient with the sgRNAexpressing lentiviruses alone. In any case, cells are transfected with DNA or infected with the lentiviral pools, followed by screening for the response of interest.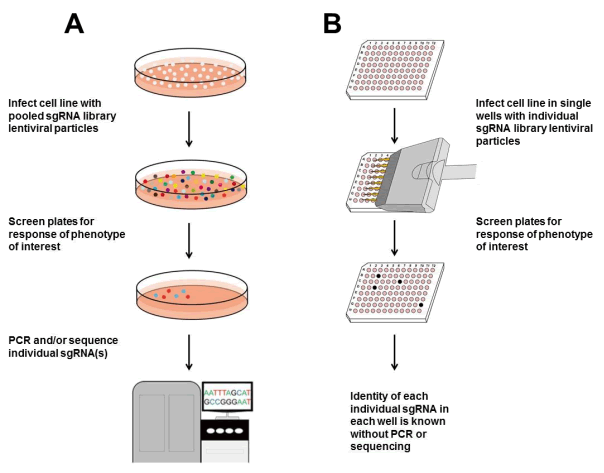 Figure 2.
Basic workflow for using CRISPR sgRNA libraries.
A.
Pooled screen. Cells are infected with each sgRNA library pool. Infected pools are screened for the desired readout or phenotype. Pooled cells are subjected to Sanger sequencing for individual sgRNAs, or deep sequencing to look for over- or underrepresentation of individual sgRNAs.
B.
The GeneCopoeia CRISPR sgRNA libraries are available either as pools or individual sgRNAs. If desired, cells can be infected with lentiviruses expressing individual sgRNAs. Plates or wells are screened for the readout or phenotype of interest. Individual sgRNAs corresponding to the phenotype of interest are already known without sequencing.
Examples of some screening readouts include:
• Cell death. Cells carrying lethal knockouts will be underrepresented in a pool of surviving cells.
• Drug resistance: Cells resistant to a drug of interest will be overrepresented in the pool after applying drug treatment.
• Reporter assay: Cells that lose the ability to express a fluorescent reporter (e.g. GFP) will be underrepresented in the population after FACS.
After the readout method or assay is applied, DNA sequencing is used to identify which sgRNAs are either under- or over-represented in the pools. For a very large, whole-genome scale library, it is necessary to use next-generation sequencing to identify these sgRNAs targeting candidate genes.

Each sgRNA is individually constructed, sequence-verified, and cultured in E. coli before pooling, in contrast to other CRISPR sgRNA libraries, which are constructed from the beginning as pools.
Advantages of GeneCopoeia's CRISPR sgRNA libraries over other sgRNA libraries:
• Individual construction of each sgRNA makes it possible to purchase the libraries either as pools or as individual clones.
• Sequence verification provides high quality of each sgRNA.
• Individual construction and culturing of each sgRNA ensures the best representation in pools.
• Small library sizes reduce the amount of work and time spent on analyzing your results. You can screen the library for candidates using either Sanger or next-generation sequencing.
• Our library sgRNAs are cloned into a very versatile vector backbone (Figure 3), which can be used for either direct transfection of cells, packaging into lentiviral particles, or in vitro transcription.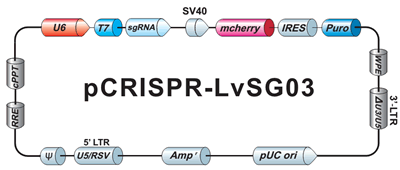 Figure 3.
Plasmid backbone carrying individual sgRNAs in the GeneCopoeia Genome-CRISPTM CRISPR sgRNA libraries.
Another significant advantage of the GeneCopoeia Genome-CRISPTM CRISPR sgRNA libraries is that, because the sgRNA clones are individually constructed before pooling, researchers can order custom libraries in which we "mix and match" sgRNA clones from different libraries. In addition, we can also create custom CRISPR sgRNA libraries targeting new sets of genes,
please contact us for a quote
.
| Description | Cat# | Size | Price | | |
| --- | --- | --- | --- | --- | --- |
| CRISPR human sgRNA library: Innate kinases and ubiquitin ligases (pooled bacterial stock) | L01-LS03-B1-GC | ~1 ml for each sublibrary | 6193 € | DETAILS | Add to Cart |
| CRISPR human sgRNA library: Innate kinases and ubiquitin ligases (pooled lentiviral particles) | L01-LS03-P1-GVO-GC | 2,5 x 10^6 TU in 25 ul for each sublibrary | 6193 € | DETAILS | Add to Cart |
| CRISPR human sgRNA library: Innate kinases and ubiquitin ligases (pooled transfection-ready plasmid DNA) | L01-LS03-F1-GC | 10-15 ug for each sublibrary | 9276 € | DETAILS | Add to Cart |
| CRISPR human sgRNA library: Key genes in 50 pathways (pooled bacterial stock) | L07-LS03-B1-GC | ~1 ml for each sublibrary | 4987 € | DETAILS | Add to Cart |
| CRISPR human sgRNA library: Key genes in 50 pathways (pooled lentiviral particles) | L07-LS03-P1-GVO-GC | 2,5 x 10^6 TU in 25 ul for each sublibrary | 4987 € | DETAILS | Add to Cart |
| CRISPR human sgRNA library: Key genes in 50 pathways (pooled transfection-ready plasmid DNA) | L07-LS03-F1-GC | 10-15 ug for each sublibrary | 6789 € | DETAILS | Add to Cart |
| CRISPR human sgRNA library: Nuclear hormone receptors (pooled bacterial stock) | L02-LS03-B1-GC | ~1 ml for each sublibrary | 4175 € | DETAILS | Add to Cart |
| CRISPR human sgRNA library: Nuclear hormone receptors (pooled lentiviral particles) | L02-LS03-P1-GVO-GC | 2,5 x 10^6 TU in 25 ul for each sublibrary | 4175 € | DETAILS | Add to Cart |
| CRISPR human sgRNA library: Nuclear hormone receptors (pooled transfection-ready plasmid DNA) | L02-LS03-F1-GC | 10-15 ug for each sublibrary | 5766 € | DETAILS | Add to Cart |
| CRISPR human sgRNA library: Oncogenes (pooled bacterial stock) | L04-LS03-B1-GC | ~1 ml for each sublibrary | 7506 € | DETAILS | Add to Cart |
| CRISPR human sgRNA library: Oncogenes (pooled lentiviral particles) | L04-LS03-P1-GVO-GC | 2,5 x 10^6 TU in 25 ul for each sublibrary | 7506 € | DETAILS | Add to Cart |
| CRISPR human sgRNA library: Oncogenes (pooled transfection-ready plasmid DNA) | L04-LS03-F1-GC | 10-15 ug for each sublibrary | 11245 € | DETAILS | Add to Cart |
| CRISPR human sgRNA library: Protein kinases (pooled bacterial stock) | L06-LS03-B1-GC | ~1 ml for each sublibrary | 12849 € | DETAILS | Add to Cart |
| CRISPR human sgRNA library: Protein kinases (pooled lentiviral particles) | L06-LS03-P1-GVO-GC | 2,5 x 10^6 TU in 25 ul for each sublibrary | 12849 € | DETAILS | Add to Cart |
| CRISPR human sgRNA library: Protein kinases (pooled transfection-ready plasmid DNA) | L06-LS03-F1-GC | 10-15 ug for each sublibrary | 17121 € | DETAILS | Add to Cart |
| CRISPR human sgRNA library: Tumor metastasis genes (pooled bacterial stock) | L03-LS03-B1-GC | ~1 ml for each sublibrary | 2426 € | DETAILS | Add to Cart |
| CRISPR human sgRNA library: Tumor metastasis genes (pooled lentiviral particles) | L03-LS03-P1-GVO-GC | 2,5 x 10^6 TU in 25 ul for each sublibrary | 2426 € | DETAILS | Add to Cart |
| CRISPR human sgRNA library: Tumor metastasis genes (pooled transfection-ready plasmid DNA) | L03-LS03-F1-GC | 10-15 ug for each sublibrary | 3665 € | DETAILS | Add to Cart |
| CRISPR human sgRNA library: Tumor suppressor genes (pooled bacterial stock) | L05-LS03-B1-GC | ~1 ml for each sublibrary | 6024 € | DETAILS | Add to Cart |
| CRISPR human sgRNA library: Tumor suppressor genes (pooled lentiviral particles) | L05-LS03-P1-GVO-GC | 2,5 x 10^6 TU in 25 ul for each sublibrary | 6024 € | DETAILS | Add to Cart |
| CRISPR human sgRNA library: Tumor suppressor genes (pooled transfection-ready plasmid DNA) | L05-LS03-F1-GC | 10-15 ug for each sublibrary | 9022 € | DETAILS | Add to Cart |
| Scrambled sgRNA control CCPCTR01-LvSG03 Purified Lentifect Lentiviral Particles (Old cat # LPPCCPCTR01L03-025) | LP506-025-GVO-GC | 25 ul x 1 vial | 407 € | DETAILS | Add to Cart |
| Scrambled sgRNA control CCPCTR01-LvSG03 Purified Lentifect Lentiviral Particles (Old cat # LPPCCPCTR01L03-100) | LP506-100-GVO-GC | 25 ul x 4 vials | 861 € | DETAILS | Add to Cart |
| Scrambled sgRNA control for pCRISPR-LvSG03 | CCPCTR01-LvSG03-B-GC | Bacterial stock | 188 € | DETAILS | Add to Cart |
| Scrambled sgRNA control for pCRISPR-LvSG03, purified plasmid, endotoxin free | CCPCTR01-LvSG03-10-GC | 10 ug | 240 € | DETAILS | Add to Cart |