CRISPR Cas9 SmartNuclease Genome Engineering System: Vector-based
PrecisionX Cas9 SmartNuclease All-in-one Plasmids
• Specific genome cleavage using gRNAs
• Easy gene knockouts
• Efficient genome engineering
• Double the number of potential targets available through the use of an H1 promoter
• Increase specificity and reduce off-target cuttting with H1-driven gRNA Expression
The System Biosciences CRISPR Cas9 SmartNuclease Portfolio
:
•
Cas9 SmartNuclease All-in-one Plasmids
Wild-type and mutant CRISPR/Cas9 plasmids
•
Transfection and Injection-ready Cas9 mRNA and gRNA Synthesis Kit
Ready-to-use synthetic Cas9 mRNA for in vivo applications
•
Cas9 Lentiviral Vectors and Pre-made Virus
Transduce primary cells and make stable Cas9 editing cell lines
•
Compatible HR Donor Vector Collection
(see link below)
•
New: Multiplex gRNA Cloning Kit to clone multiple gRNAs into a single Cas9/gRNA vector
(see link below)
Genome Editing using guide RNAs
The recent discovery of the CRISPR/Cas9 complex has provided researchers an invaluable tool to target and modify any genomic sequence with high levels of efficacy and specificity. The system, consisting of an RNA-guided nuclease (Cas9) and guide RNA (gRNA) complementary to a target sequence, allows for sequence-specific cleavage of target loci across the genome.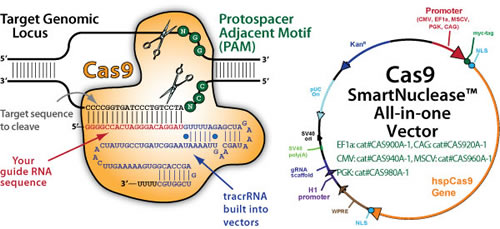 The type II prokaryotic CRISPR (Clustered Regularly Interspaced Short Palindromic Repeats) system, originally discovered in the bacterium Streptococcus pyogenes, that works as a mechanism to defend against viruses and foreign DNA, has provided a revolutionary tool for targeted genome engineering with simple elegance.
The system uses a nuclease, CRISPR-associated (Cas9), that complexes with small RNAs as guides (gRNAs) to cleave DNA in a sequence-specific manner upstream of the protospacer adjacent motif (PAM) in any genomic location. The CRISPR-Cas9 system is comprised of separate guide RNAs known as the crRNA and tracrRNA. These two separate RNAs have been combined into a single RNA to enable site-specific mammalian genome cutting through the design of a short guide RNA. SBI has built a series of all-in-one CRISPR-Cas9 cloning vectors with different promoter options. These cloning vectors will express a human codon-optimized Cas9 nuclease as well as any gRNA sequence of your choice linked to the tracrRNA. Simply design the gRNA for the genome target DNA sequence and clone into the Cas9 SmartNuclease™ vector for efficient genome engineering. The PrecisionX™ Cas9 SmartNuclease™ Vector products are the subject of pending US and foreign patent applications.
Cas9 SmartNuclease Vectors
To make the RNA-directed Cas9 system more efficient, affordable, and convenient to use, SBI has developed the all-in-one, programmable PrecisionX™ Cas9 SmartNuclease and Nickase expression vectors, including a human codon optimized Cas9 (hspCas9) or Cas9 mutant (Cas9 Nickase) along with a custom guide RNA (gRNA) consisting of a chimeric crRNA-tracrRNA transcript expressed from a single construct. In addition, these vectors are offered either untagged or with built-in fluorescent markers (GFP or RFP) for tracking transfection efficiency into target cells, and also carrying a T7 promoter for in vitro transcription of Cas9 mRNA and gRNA for in vivo applications (e.g. oocyte microinjections).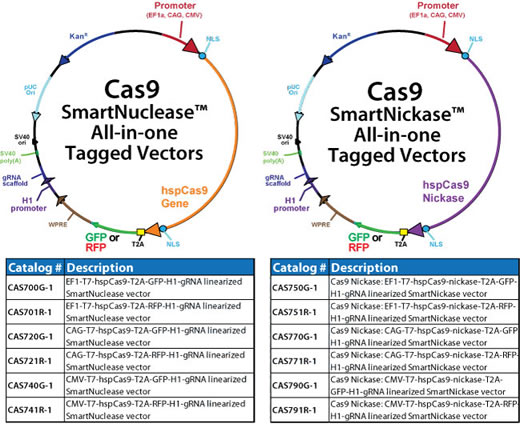 SBI´s all-in-one SmartNuclease and Nickase expression constructs include the following core features:
1) The hspCas9 and Nickase used in this system include two nuclear localization signals (NLS) at the N-terminus and C-terminus to ensure efficient import of the hspCas9 protein into the nucleus.
2) The expression vectors also contain a Myc-tag at the N- terminus for ease of detection and purification of the recombinant Cas9 protein.
3) To facilitate diverse applications of the system, hspCas9 and Nickase may be expressed from a number of different commonly utilized promoters that are active in mammalian cells.
4) The hspCas9 and Nickase is followed by a regulatory element called WPRE (Woodchuck virus post-transcriptional regulatory element) to boost gene expression and stabilize the mRNA transcript.
To avoid reconstituting the CRISPR/Cas9 RNA processing machinery, a custom gRNA (crRNA-tracrRNA chimeric transcript) can be generated from the pre-cut, ready-to-use linearized vectors through the use of annealed oligonucleotide duplexes encoding the 20bp target sequence upstream of PAM, with the gRNA expressed under the control of a robust H1 polymerase III promoter. SBI´s programmable, all-in-one vector format allows for highly flexible targeting of any genomic loci in the form of N20NGG.
SmartNuclease Vectors Utilize the Versatile H1 Promoter for More Targetable Sites & Increased Specificity
As recently published in Nature Communications (Ranganathan, et al. 2014) and featured in BioTechniques, the H1 promoter offers significant advantages over using the U6 promoter to express guide RNAs for CRISPR/Cas9 genome engineering. Because the U6 promoter has a strict requirement to initiate transcription with a G residue, using an H1 promoter – which can express RNA starting with any nucleotide – doubles the number of targetable sites available in the genome. Ranganathan and colleagues also demonstrated that the level of expression from H1-promoter driven gRNAs results in lower off-target cutting and increased specificity compared to systems using a U6 promoter for gRNA expression. SBI's all-in-one CRISPR/Cas9 SmartNuclease plasmids use the H1 promoter for gRNA expression – offering maximum specificity and availability for genome targets. CRISPR/Cas9 H1 promoter all-in-one vectors are only available from SBI!
Reference: Ranganathan V, Wahlin K, Maruotti J, and Zack DJ. Expansion of the CRISPR-Cas9 genome targeting space through the use of H1 promoter-expressed guide RNAs. Nat Commun. 2014 Aug 8;5:4516. doi: 10.1038/ncomms5516
Cloning gRNA into Cas9 SmartNuclease™ Vectors
The general workflow of the cloning, validation, and transfection of the gRNA/Cas9 expression construct into cells is simple. First, design two DNA oligonucleotides that are sense and antisense sequences of the target DNA which is 20 bp upstream of the Protospacer Adaptor Motif, PAM (5´ - NGG - 3´). Anneal the two oligonucleotides to generate a duplex to clone the duplex directly into the provided linearized CRISPR-Cas9 vector by ligation. Transform into competent cells and grow the clones using LB/Kanamycin. Confirm the correct clones by plasmid construct sequencing. Your Cas9 SmartNuclease construct is now ready !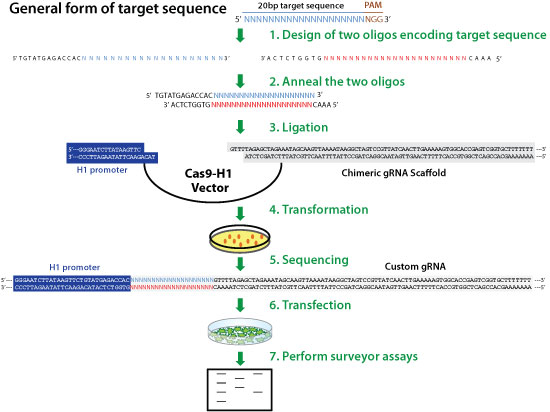 Briefly, here are the steps involved in the process:
1) Design two DNA oligonucleotides that are sense and antisense sequences of the
target DNA which is 20 bp upstream of the PAM (5´ - NGG - 3´)
2) Anneal the two oligonucleotides to generate a duplex
3) Clone the duplex into the provided linearized Cas9 vector by ligation reaction
4) Transform into competent cells and grow in LB/ Kanamycin plate (50 ug/ml)
5) Confirm positive clones by direct sequencing
6) Transfect sequence-verified all-in-one construct into mammalian cells using standard transfection protocols
7) Perform Surveyor Nuclease assay (or other suitable mismatch cleavage assays) to check the site-specific genome cleavage, or perform homology recombination assays for genome modification using a suitable donor vector.
For more details, please view the Cas9 SmartNuclease Vector User Manuals (see links below)
Mutant Cas9 SmartNickase for Paired Nicking
SBI´s SmartNickase all-in-one vector series features an amino acid mutation at position D10A in Cas9 resulting in the inactivation of the nuclease catalytic activity and converting Cas9 to a "nickase" enzyme that makes single-stranded breaks at the target site.
In order to enhance CRISPR Cas9 based genome engineering specificity and avoid potential off targets effects, a pair of gRNA can be used with SmartNickase to generate double nicking with 5´overhang. This also favors homologous recombination at the target site when using HR vectors and lowers the rate of NHEJ (non homologous end joining).
Please follow the guideline below for paired gRNA selection and design.
Schematic illustration of generating 5´ overhang double strand DNA breaks using paired gRNAs with hspCas9 (D10A) SmartNickase:
Please note that only gRNA pairs creating 5´ overhangs with less than 8bp overlap between the guide sequences were able to mediate detectable indel formation (Ran et al. 2013). To achieve high cleavage efficiency using Cas9 Nickase with paired gRNAs, make sure each gRNA is able to efficiently induce indels when coupled with wilde-type Cas9.
The paired gRNA Nickase approach and sample data using AAVS1 paired gRNAs and the Cas9 SmartNickase mRNA (CAS504A-1) are shown below.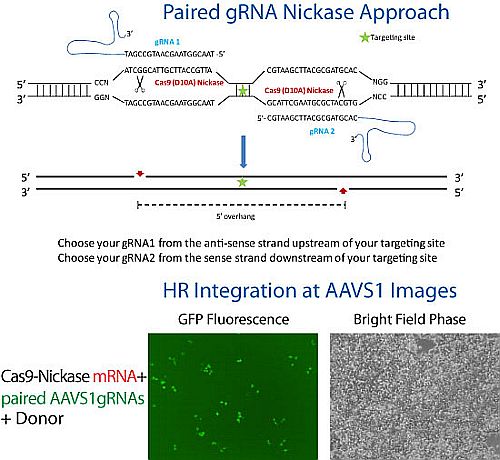 A Cas9 double mutant (DM) vector (EF1-hspCas9-DM-H1-gRNA linearized NullNuclease vector, catalog# CAS805A-1-SBI, with changes at amino acid positions D10A and H840A completely inactivating both the nuclease and nickase activities, is also available.
---
Related Links
Citations, References, User Manuals, Application Notes
Examples for Gene Knockout and Editing by Cas9 SmartNuclease
Compatible Homologous Recombination Donor Vector Collection
Lentivirus based CRISPR Cas9 SmartNuclease System
RNA-based CRISPR Cas9 SmartNuclease System for in vivo
Multiplex gRNA Cloning Kit

---
PDF-Downloads
- Will open in new browser window
Application Note: Single Nucleotide Gene Editing
Application Note: Gene Tagging
Application Note: Gene Knock-Out

| Description | Cat# | Size | Price | | |
| --- | --- | --- | --- | --- | --- |
| SmartNuclease Vector (GFP-tagged): EF1-T7-hspCas9-T2A-GFP-H1-gRNA (linearized plasmid DNA) | CAS700G-1-SBI | 10 rxn | 909 € | DETAILS | Add to Cart |
| SmartNuclease Vector (GFP-tagged): CAG-T7-hspCas9-T2A-GFP-H1-gRNA (linearized plasmid DNA) | CAS720G-1-SBI | 10 rxn | 909 € | DETAILS | Add to Cart |
| SmartNuclease Vector (GFP-tagged): CMV-T7-hspCas9-T2A-GFP-H1-gRNA (linearized plasmid DNA) | CAS740G-1-SBI | 10 rxn | 909 € | DETAILS | Add to Cart |
| SmartNuclease Vector (RFP-tagged): EF1-T7-hspCas9-T2A-RFP-H1-gRNA (linearized plasmid DNA) | CAS701R-1-SBI | 10 rxn | 909 € | DETAILS | Add to Cart |
| SmartNuclease Vector (RFP-tagged): CAG-T7-hspCas9-T2A-RFP-H1-gRNA (linearized plasmid DNA) | CAS721R-1-SBI | 10 rxn | 909 € | DETAILS | Add to Cart |
| SmartNuclease Vector (RFP-tagged): CMV-T7-hspCas9-T2A-RFP-H1-gRNA (linearized plasmid DNA) | CAS741R-1-SBI | 10 rxn | 909 € | DETAILS | Add to Cart |
| SmartNuclease Vector (untagged): EF1-hspCas9-H1-gRNA (linearized plasmid DNA) | CAS900A-1-SBI | 10 rxns | 876 € | DETAILS | Add to Cart |
| SmartNuclease Vector (untagged): EF1-T7-hspCas9-H1-gRNA (linearized plasmid DNA) | CAS700A-1-SBI | 10 rxns | 876 € | DETAILS | Add to Cart |
| SmartNuclease Vector (untagged): CAG-hspCas9-H1-gRNA (linearized plasmid DNA) | CAS920A-1-SBI | 10 rxns | 876 € | DETAILS | Add to Cart |
| SmartNuclease Vector (untagged): CAG-T7-hspCas9-H1-gRNA (linearized plasmid DNA) | CAS720A-1-SBI | 10 rxns | 876 € | DETAILS | Add to Cart |
| SmartNuclease Vector (untagged): CMV-hspCas9-H1-gRNA (linearized plasmid DNA) | CAS940A-1-SBI | 10 rxns | 876 € | DETAILS | Add to Cart |
| SmartNuclease Vector (untagged): CMV-T7-hspCas9-H1-gRNA (linearized plasmid DNA) | CAS740A-1-SBI | 10 rxns | 876 € | DETAILS | Add to Cart |
| SmartNuclease Vector (untagged): MSCV-hspCas9-H1-gRNA (linearized plasmid DNA) | CAS960A-1-SBI | 10 rxns | 876 € | DETAILS | Add to Cart |
| SmartNuclease Vector (untagged): PGK-hspCas9-H1-gRNA (linearized plasmid DNA) | CAS980A-1-SBI | 10 rxns | 876 € | DETAILS | Add to Cart |
| SmartNuclease AAVS1 Positive Control Kit (includes CAS601A-1, EGIP 293T reporter line, AAVS1/GFP rescue donor, and primers for Surveyor assay) | CAS605B-1-GVO-SBI | 1 kit | 1568 € | DETAILS | Add to Cart |
| SmartNickase Vector (GFP-tagged): EF1-T7-hspCas9-nickase-T2A-GFP-H1-gRNA (linearized plasmid DNA) | CAS750G-1-SBI | 10 rxn | 909 € | DETAILS | Add to Cart |
| SmartNickase Vector (GFP-tagged): CAG-T7-hspCas9-nickase-T2A-GFP-H1-gRNA (linearized plasmid DNA) | CAS770G-1-SBI | 10 rxn | 909 € | DETAILS | Add to Cart |
| SmartNickase Vector (GFP-tagged): CMV-T7-hspCas9-nickase-T2A-GFP-H1-gRNA (linearized plasmid DNA) | CAS790G-1-SBI | 10 rxn | 909 € | DETAILS | Add to Cart |
| SmartNickase Vector (RFP-tagged): EF1-T7-hspCas9-nickase-T2A-RFP-H1-gRNA (linearized plasmid DNA) | CAS751R-1-SBI | 10 rxn | 909 € | DETAILS | Add to Cart |
| SmartNickase Vector (RFP-tagged): CAG-T7-hspCas9-nickase-T2A-RFP-H1-gRNA (linearized plasmid DNA) | CAS771R-1-SBI | 10 rxn | 909 € | DETAILS | Add to Cart |
| SmartNickase Vector (RFP-tagged): CMV-T7-hspCas9-nickase-T2A-RFP-H1-gRNA (linearized plasmid DNA) | CAS791R-1-SBI | 10 rxn | 909 € | DETAILS | Add to Cart |
| SmartNickase Vector (untagged): EF1-hspCas9-nickase-H1-gRNA (linearized plasmid DNA) | CAS800A-1-SBI | 10 rxn | 876 € | DETAILS | Add to Cart |
| SmartNickase Vector (untagged): EF1-T7-hspCas9-nickase-H1-gRNA (linearized plasmid DNA) | CAS750A-1-SBI | 10 rxn | 876 € | DETAILS | Add to Cart |
| SmartNickase Vector (untagged): CAG-hspCas9-nickase-H1-gRNA (linearized plasmid DNA) | CAS820A-1-SBI | 10 rxn | 876 € | DETAILS | Add to Cart |
| SmartNickase Vector (untagged): CAG-T7-hspCas9-nickase-H1-gRNA (linearized plasmid DNA) | CAS770A-1-SBI | 10 rxn | 876 € | DETAILS | Add to Cart |
| SmartNickase Vector (untagged): CMV-hspCas9-nickase-H1-gRNA (linearized plasmid DNA) | CAS840A-1-SBI | 10 rxn | 876 € | DETAILS | Add to Cart |
| SmartNickase Vector (untagged): CMV-T7-hspCas9-nickase-H1-gRNA (linearized plasmid DNA) | CAS790A-1-SBI | 10 rxn | 876 € | DETAILS | Add to Cart |
| Cas9 Null Nuclease Vector: EF1-hspCas9-DM-H1-gRNA (linearized plasmid DNA) | CAS805A-1-SBI | 10 rxn | 876 € | DETAILS | Add to Cart |