CRISPR Cas9 SmartNuclease Genome Engineering System: RNA-based for in vivo applications
Injection or Transfection-ready Cas9 mRNA and T7 based gRNA Production
To make the gRNA-directed Cas9 system more efficient and convenient to use for in vivo applications such as nucleic acid injections, SBI has developed a CRISPR/Cas9 mRNA system, which includes a T7 gRNA cloning and production vector and a T7 gRNA producing kit as well as functionally-validated Cas9 Wildtype and Nickase mRNAs with or without tags.
To avoid reconstituting the CRISPR/Cas9 RNA processing machinery, a custom gRNA (crRNA-tracrRNA chimeric transcript) can be generated from the ready-to-use linearized T7 gRNA cloning vector (cat# CAS510A-1-SBI) through the use of annealed oligonucleotide duplexes encoding the 20bp target sequence upstream of PAM (NGG). As the custom gRNA is under the control of T7 promoter, it is ready for in vitro transcription (IVT) with the T7 gRNA synthesis kit (cat# CAS510A-KIT-SBI).
Data shown: The AAVS1 gRNA sequence was cloned into the CAS510A-1-SBI T7 vector and scaffolded-gRNA targeting the AAVS1 site was generated in vitro. These gRNAs were co-transfected with the Cas9 synthetic mRNA in combination with the AAVS1 HR vector harboring a GFP marker. The activities of the Cas9 mRNA + AAVS1 gRNA transfection was compared with that of the EF1 Cas9 SmartNuclease-AAVS1 gRNA all-in-one vector system. Cells were imaged for GFP fluorescence after 3 days.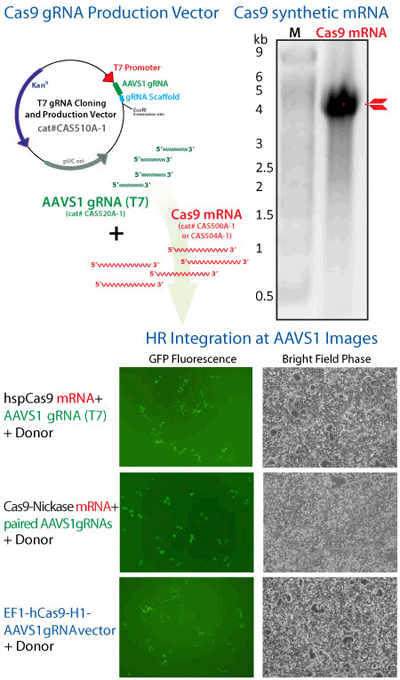 For more details, please view the Cas9 SmartNuclease RNA User Manual (see link below)
---
Related Links
Cas9 SmartNuclease RNA User Manual

| Description | Cat# | Size | Price | | |
| --- | --- | --- | --- | --- | --- |
| T7 gRNA Cloning and Production Vector (linearized plasmid DNA) | CAS510A-1-SBI | 10 rxn | 712 € | DETAILS | Add to Cart |
| T7 gRNA Cloning and Production Kit (includes vector CAS510A-1-SBI and T7 IVT synthesis reagents) | CAS510A-KIT-SBI | 1 kit | 818 € | DETAILS | Add to Cart |
| T7 gRNA PCR Primer Mix (5 uM) | CAS510A-PR-SBI | 50 assays | 185 € | DETAILS | Add to Cart |
| SmartNuclease (Wildtype Cas9) mRNA (Eukaryotic version) (untagged) (injection- and transfection-ready) | CAS500A-1-SBI | 20 ug | 514 € | DETAILS | Add to Cart |
| SmartNuclease (Wildtype Cas9) mRNA (Eukaryotic version) (GFP-tagged) (injection- and transfection-ready) | CAS530G-1-SBI | 10 ug | 468 € | DETAILS | Add to Cart |
| SmartNuclease (Wildtype Cas9) mRNA (Eukaryotic version) (RFP-tagged) (injection- and transfection-ready) | CAS531R-1-SBI | 10 ug | 468 € | DETAILS | Add to Cart |
| SmartNickase (Cas9 Nickase Mutant) mRNA (Eukaryotic version) (untagged) (injection- and transfection-ready) | CAS504A-1-SBI | 20 ug | 514 € | DETAILS | Add to Cart |
| SmartNickase (Cas9 Nickase Mutant) mRNA (Eukaryotic version) (GFP-tagged) (injection- and transfection-ready) | CAS534G-1-SBI | 10 ug | 468 € | DETAILS | Add to Cart |
| SmartNickase (Cas9 Nickase Mutant) mRNA (Eukaryotic version) (RFP-tagged) (injection- and transfection-ready) | CAS535R-1-SBI | 10 ug | 468 € | DETAILS | Add to Cart |
| Control: AAVS1 gRNA (injection- and transfection-ready) | CAS520A-1-SBI | 10 ug | 404 € | DETAILS | Add to Cart |