CRISPR Cas9 ROSA26 Safe Harbor Targeting System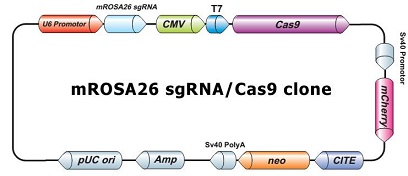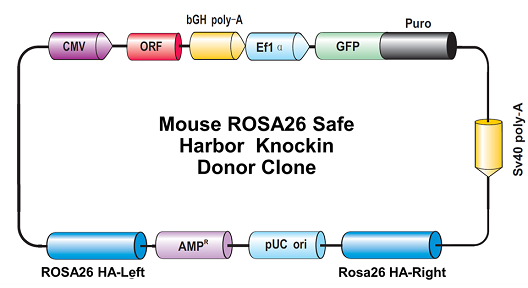 Genome-CRISP™ CRISPR-based mouse ROSA26 safe harbor gene knockin plasmids. Top: All-in-one clone expressing both CRISPR-Cas9 nuclease and one sgRNA targeted to the mouse ROSA26 site on chromosome 6.
Bottom: Donor clone for integrating a transgene of interest into the ROSA26 locus.
Both plasmids are used to simultaneously co-transfect cells. Selection for puromycin resistance leads to knockin of the DNA sequences between the left homologous arm (HA-Left) and right homologous arm (HA-Right).
---
Related Links
| Description | Cat# | Size | Price | | |
| --- | --- | --- | --- | --- | --- |
| Genome-CRISP mouse ROSA26 safe harbor gene knock-in kit | SH054-GC | 200 rxns | 1494 € | DETAILS | Add to Cart |
| Genome-CRISP mouse ROSA26 safe harbor gene knock-in kit (without donor) | SH050-GC | 200 rxns | 1283 € | DETAILS | Add to Cart |
| Genome-CRISP Cas9 mouse ROSA26 Safe Harbor knockin kit-Puro | SH062-GC | 200 rxns | 1705 € | DETAILS | Add to Cart |
| Genome-CRISP Cas9 mouse ROSA26 Safe Harbor knockin kit-Hygro | SH063-GC | 200 rxns | 1705 € | DETAILS | Add to Cart |
| Genome-CRISP Cas9 mouse ROSA26 Safe Harbor knockin kit-Neo | SH064-GC | 200 rxns | 1705 € | DETAILS | Add to Cart |
| All-in-one (Cas9 + sgRNA) clone targeting mouse ROSA26 | SH150-GC | 10 ug | 967 € | DETAILS | Add to Cart |
| DC-DON-SH02 expression vector for restriction enzyme cloning (ROSA26 knockin) | SH250-GC | 10 ug | 471 € | DETAILS | Add to Cart |
| pEZ-SH02 expression vector for LxR recombination cloning (ROSA26 knockin) | EZ013-GC | 10 ug | 471 € | DETAILS | Add to Cart |
| Cas9 ROSA26 knockin donor clone-Puro | SH350-GC | 10 ug | 544 € | DETAILS | Add to Cart |
| Cas9 ROSA26 knockin donor clone-Hygro | SH351-GC | 10 ug | 544 € | DETAILS | Add to Cart |
| Cas9 ROSA26 knockin donor clone-Neo | SH352-GC | 10 ug | 544 € | DETAILS | Add to Cart |
| RFP ROSA26 knockin donor clone | SH358-GC | 10 ug | 544 € | DETAILS | Add to Cart |